Rendezvous Hall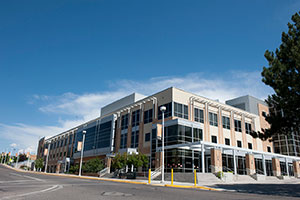 Rendezvous, completed in 2007, is comprised of 3-bedroom and 4-bedroom suites.
Each suite has a private bathroom, washer and dryer, and a common area with couch and chairs.
There is access to a 24-hour computer lab and front desk operations.
Preference at Rendezvous Hall is given to upperclassmen and members of the University Honors Program.
Rendezvous Information:
Bedroom
Bedroom size - approximately 9' X 11'
Vertical blinds on windows
Twin long bed (38 1/2"W x 84 3/8"L x 36"H) - fits mattress size 36"W x 80"L (black metal/maple wood)
Wardrobe (36"W x 78"H x 24"D) one drawer at bottom
Desk (42"W x 30"H x 24"D) and chair; pencil drawer and locking drawer
2 Dressers under bed (two drawers each) (30"W x 21"H x 23 ½ "D)
Bed is not lofted
Key locks on bedroom doors
Bathroom
Double sink in bathroom
Shower/tub and toilet in separate room
Will need to bring shower curtain/toilet paper
Living Room
1 couch; 1 chair
Basic cable television
Kitchen
Medium size refrigerator
No stove
Sink

Kitchen cabinets
General Information
Air conditioned
Washer/dryer in each suite-not coin operated
Bengal cards are used to enter the building
Wireless internet connection