Choirs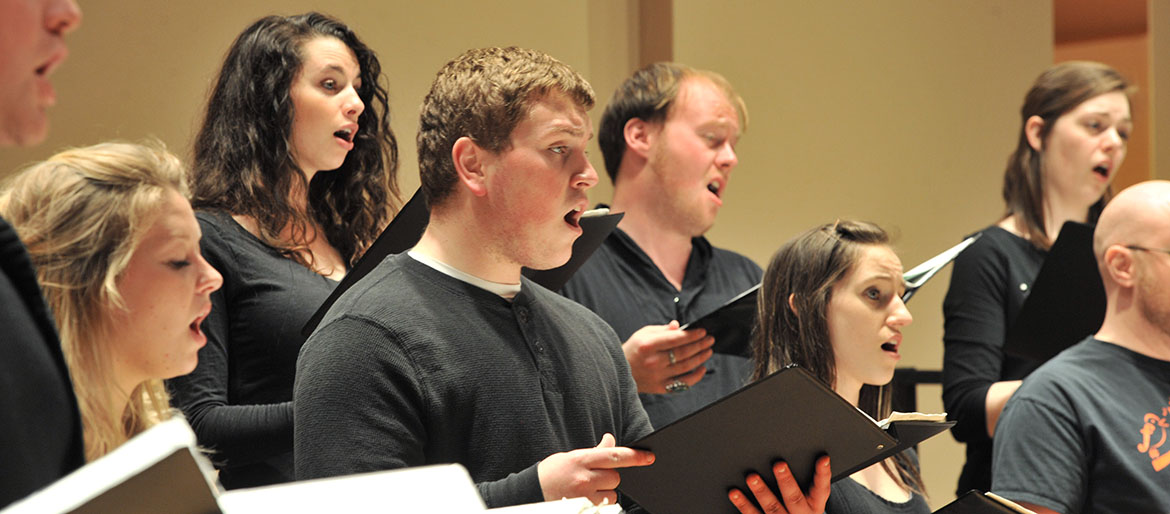 Audition Information
Auditions for BM, BME, BA, BS, or minor in voice at Idaho State University must include two (2) selections of a contrasting nature taken from art song, oratorio or operatic literature.
Students should sing in at least one other language than English; those auditioning as performance majors should select two languages besides English.
Singers wishing to audition for any of the ISU Choirs may do so in person during the first week of classes. Scholarships are awarded on the basis of talent, academic achievement, and choral participation.
To set up an admission and/or scholarship audition, and to receive appropriate materials, contact the Department of Music at (208) 282-3636, or write to:
Idaho State University
Department of Music
Campus Box 8099
Pocatello, ID 83209
Vocal Ensembles
Concert Choir
ISU's 60 to 70 voice mixed ensemble studies and performs choral music ranging from chant to contemporary.
Orchestral, brass, and wind ensembles often join Concert Choir in performing large symphonic works. In addition to performing on the Pocatello campus, Concert Choir regularly schedules tours throughout the Northwest.
Scholarships for vocalists are awarded on the basis of outstanding musical skills and are available to all members, regardless of degree program.
Chamber Choir
Chamber Choir is a select group of 20 to 24 singers. This group's size and repertoire demands singers to be of high caliber in their musical and vocal skills.
This choir sings concerts in local churches, and on the ISU campus.
In addition, Chamber Choir takes an international tour every 2 years. Recently, this choir has sung in Austria, Czech Republic, Germany, Hungary, Italy, Portugal, and Spain.
Women's Choir
Founded in 1995 by its present director, Professor Kathleen Lane, the ISU Women's Choir has grown steadily in membership and quality.
This fine organization is opened to all campus members as well as faculty and staff. Women's Choir will often join other choral ensembles, as well as instrumental ensembles in performing the classics and other fine repertoire.
Camerata Singers
Boasting a long singing tradition in the Pocatello community, the Camerata Singers are affiliated with the University.
Opera at ISU
Offered every spring semester, Opera Workshop features scene work from the early Baroque to the present, and full-length opera and musical theater productions created in collaboration with Theatre ISU.
Previous opera productions have included Carlyle Floyd's Susannah, Strauss's Die Fledermaus, Purcell's Dido and Aeneas, Puccini's Gianni Schicchi, Gilbert and Sullivan's The Mikado, and Lehar's The Merry Widow.
Joint musical theater productions have included A Funny Thing Happened on the Way to the Forum, and Man of La Mancha.
Vocal Scholarships
Mormon Tabernacle Choir Scholarships
This scholarship endowment was created following a performance by the Mormon Tabernacle Choir in Jensen Hall in June 2005. Scholarships are awarded to full-time vocal music majors.
ISU Choir Scholarships
Scholarships are awarded to singers for participation in one or more ISU choral ensembles. Awards are made to singers on the basis of an audition regardless of major.
ISU Department of Music Scholarships
Academic, service, talent, and financial need scholarships are available to full-time majors and minors in music.
Scholarships are awarded on the basis of talent, academic achievement, and choral participation.
To set up an admission and/or scholarship audition, and to receive appropriate materials, contact the Department of Music at (208) 282-3636, email music@isu.edu or write to:
Idaho State University
Department of Music
921 S 8th Ave., Campus Box 8099
Pocatello, ID 83209-8099