ISU Partners with Community to Respond to Coronavirus Pandemic

From converting Dyer Hall first to an emergency respiratory care clinic and then to a Covid-19 testing clinic, to redesigning the layout of the Campus Health Clinic, Idaho State University responded to University's and the community's needs to face the challenges of the coronavirus epidemic.
And ISU will continue to do so.
"ISU has been involved with the community throughout the coronavirus pandemic," said Ron Solbrig, former director of the ISU Health Center, who retired in mid-June. "I think that is pretty special and unique for the university and President Satterlee to put an emphasis on we are part of the community, we are responsible for the community, and we will help the community in any way we can."
Early planning focused on determining if Reed Gymnasium and Holt Arena could be used for alternative hospital locations if the Portneuf Medical Center hospital was overburdened.
Through mid-June and maybe longer, Dyer Hall on the ISU campus behind Reed Gym was being used as a Covid-19 testing center, in cooperation with Southeastern Idaho Public Health, Express Lab and ISU.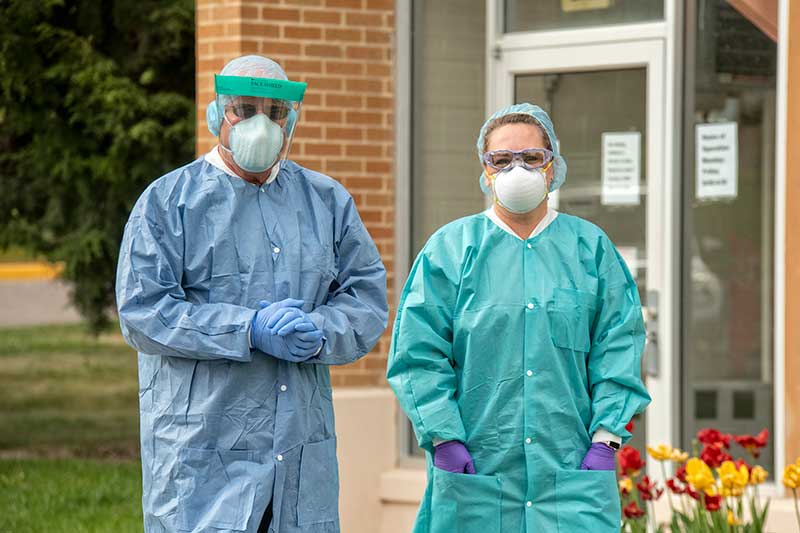 Dena Daniels and Dave Martin dressed in protective lab clothing
"We are letting them use our facilities for convenience," Solbrig said. "The testing we are doing here are the PCR nasal swab tests that test for the presence of the virus itself. So this is a test to be done when people are ill, so if they have symptoms that might suggest that they have coronavirus this is the way to diagnose coronavirus."
The site offered a fast turn-around time of 24 to 72 hours for results. Through late May, about 250 people had been tested at the clinic, including 10 positive results.
"The Dyer Hall testing facility is as fast of a place as any to get results in Southeast Idaho, which is really, really important because we need to know as rapidly as possible if people have disease so we can get them isolated can and get their contacts isolated and then test the people who are around them," Solbrig said.
The Dyer Hall COVID-19 clinic was being operated for two-week increments, and plans were to keep it running as long as there was demand. If operations cease, the hall can again be used in the upcoming year if the need for it arises again.
"We are planning on keeping Dyer Hall not occupied in the fall so that, if we will get a
burst of coronavirus again, we are going to need to get this up and running again," Solbrig said.
Dyer Hall is an ideal facility to host this type of COVID-19 testing because it is easy to find, it has plenty of room and is isolated and doesn't pose a risk of contaminating anyone else when visitors drive through.
It is also so good for this purpose because early in the coronavirus pandemic planning Dyer Hall was converted to be used as a potential emergency respiratory care clinic.
"We got it designed and refitted as a Coronavirus Community Respiratory Care Center so if the emergency rooms in the hospital got overwhelmed we were going to have health care providers doing clinical visits in Dyer Hall for the community," Solbrig said.
The clinic would have been staffed by local health care workers, staff from the Southeastern Idaho Health Department and from ISU. New handicapped-accessible curbing was put in front of Dyer Hall, hand-sanitizer stations were installed throughout. If the pandemic does hit Pocatello and Southeast Idaho in force, this facility can also be used as a respiratory care center if the need arises.
Dyer Hall wasn't the only ISU facility that was redesigned because of COVID-19 – so was the ISU Health Center. The center was redesigned for the upstairs was designated for treating respiratory illnesses, to isolate those patients from the rest of the clinic. Patients with respiratory symptoms can now enter through the backdoor of the clinic and there is designated parking for them in the Dental Hygiene parking lot.
The ISU Health Center has also offered drive-up nasal swab COVID-19 testing.
"We've also done drive up pulse oximetry, testing people's oxygen levels out in the parking lot so they never have to come into the building, and we've been going x-rays on our patients who have been having respiratory symptoms," Solbrig said. "We redesigned our whole clinic flow to manage coronavirus."
"President Satterlee has made a strong effort again to be sure that ISU, as part of its responsibility to the community, is helping the community respond so it is not just ISU taking care of ISU, it is ISU is part of the community and we are taking care of the community as well."