During recent renovations, an asbestos abatement team discovered a piece of Idaho State University history hidden under the tiles and carpet in Frazier Hall.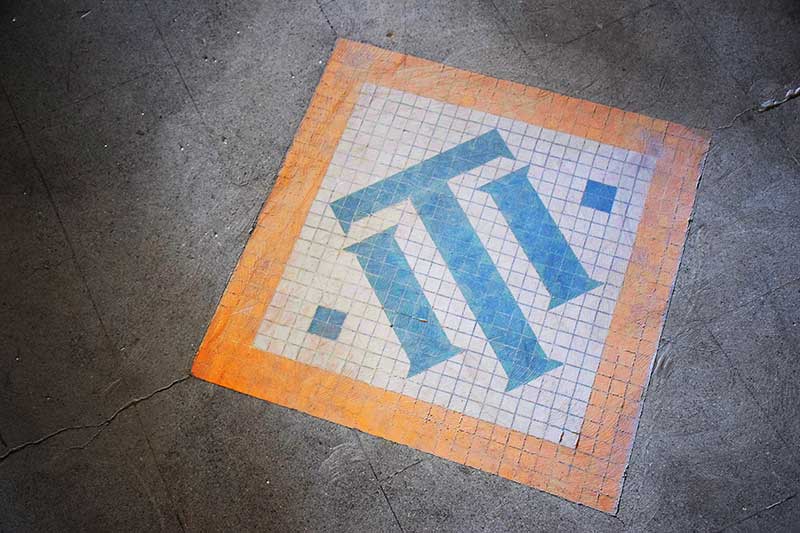 The mosaic tile that was discovered during the renovation process of Frazier Hall
In the entryway to the building lay a mosaic from the days of the Idaho Technical Institute, which would later become ISU. Featuring an interlocking Idaho Technical Institute logo and white, orange and green tiles, the mosaic may be as old as Frazier Hall, which was built in 1924.
Workers began the project, which included updating the second, third and fourth floors of the building, in August. When the renovation is complete, the Department of Communication, Media and Persuasion, currently housed in both Frazier Hall and the Kegel Liberal Arts Building, will move entirely to Frazier Hall.
Department Chair Jim DiSanza, who has been with Idaho State University since 1989, said that the Idaho Technical Institute mosaic is not the only surprising artifact to be discovered in the Frazier Hall renovations.
"Frazier always produces some really interesting artifacts and surprises in the building whenever it's remodeled," DiSanza said. "We found a box of really old — from the early 1900s — photo magazines. These have been sitting in the vault in Frazier. We looked up these magazines and they apparently included drawings and photos and were string-bound so that people could take them out, and frame them, and hang them in their homes."
Originally the Academy of Idaho, what is now Idaho State University became the Idaho Technical Institute in 1915, and served as a vocational trade school and junior college. Under President Charles R. Frazier's leadership, the Idaho Technical Institute grew substantially and expanded its traditional academic course offerings, leading to calls for it to become a four-year college.
Frazier Hall, which was named after Charles R. Frazier, was built in 1924 and is the oldest building still standing on campus. The Idaho State Legislature allotted funds to the Idaho Technical Institute to build Frazier Hall at the point that the Institute's traditional college course offerings grew to require all the space in Swanson Hall. Frazier Hall originally housed administrative offices, an auditorium, large lecture rooms and the library.
Since Frazier Hall was intended to house the library, it was built to carry substantial weight. This is why, DiSanza said, the building was able to survive many remodels and extensions.
DiSanza and senior project manager Todd Adams confirmed that there are potential plans to preserve the mosaic in Frazier Hall. Preservations options may include raising the mosaic on a pedestal in its current location, or cutting out the mosaic to hang on a wall in Frazier Hall.
"Idaho State University's story is profound and inspiring," Alumni Director Ryan Sargent said. "Knowing our history helps us to know that we overcome challenges and obstacles just like Bengals before us did. It helps us value grit and vision. To know that we must move forward and put our knowledge and abilities to use in the service of our families, friends, colleagues and neighbors. Idaho State Bengals have a powerful heritage of applying our education to empathize with others and enrich our communities with greater meaning, happiness, health and fulfillment."