Fried Rice with Microgreens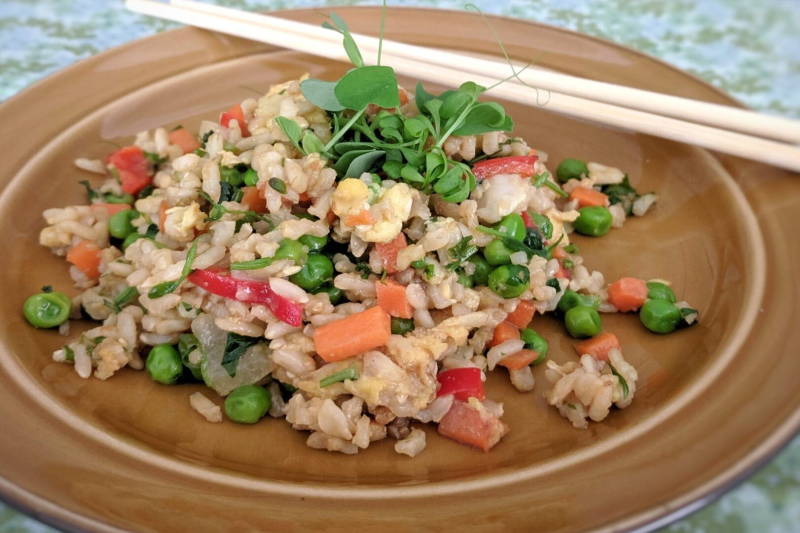 Ingredients:
4-5 cups cooked and chilled brown rice
3 tablespoons butter, divided
2 large carrots, peeled and cubed small
1 medium onion, chopped small
1 small red pepper, chopped (optional)
3 cloves garlic, minced fine
1 cup frozen peas
3-4 lightly beaten eggs
1 cup pea or other microgreens, chopped
4 green onions, thinly sliced
1/4-1/3 cup soy sauce
3 teaspoons sesame oil
4 teaspoons oyster sauce
salt and pepper
Instructions:
Preheat a large skillet or wok to medium-high heat.
Add 2 tablespoons of butter to the pan. When it has melted, add the onion and stir until translucent, about 3-5 minutes. Add the carrot (and bell pepper if using) and cook until slightly tender.
Add the garlic and cook until fragrant, not brown. (1-2 minutes)
Slightly turn the heat up a notch and add the brown rice and frozen peas. Cook and stir the mixture until the rice and peas are hot. (3-4 minutes)
Push all of the ingredients to one side of the pan and add 1 tablespoon of butter to the empty side. Once the butter has melted, add the lightly beaten eggs. Let the eggs cook for a minute or two, then scramble them. Once the eggs are fully cooked, mix in with the rice.
Add the green onion, soy sauce, sesame oil, and oyster sauce. Cook a few more minutes until the mixture is hot. Season with salt and pepper to taste.
Remove from heat and add microgreens. Serve immediately.
Notes:
You can personalize this and change up the vegetables with green beans or mushrooms. Add leftover meat from the night before right before you add the eggs. Fried rice is a great way to stretch your ingredients and reuse leftover food in a different meal.