Grow. Learn. Share.
Learn to grow Microgreens and Tiny Tim Tomatoes with us! Learn all about growing your own produce and how to incorporate what you grow into your daily meals for yourself and your family!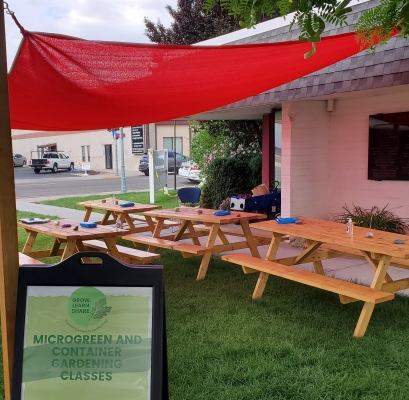 Learn to grow your own nutritious Microgreens!
Microgreens are ultra-nutritious tiny vegetables that are grown indoors on a table or window sill in just 10 days from seed to harvest. Grow fresh veggies in a tiny area inside your home, year-round. Very easy to grow for ages 3-103, microgreens are the perfect beginner's garden as well as an excellent addition for the experienced gardener. No special lights are needed.
In this class, you will learn the why and the how of growing microgreens. Learn from a Microgreen Master Gardener and come away with two planted trays as well as full written instructions. Gain interesting and unique ideas on using what you grow to increase your nutrition at each meal.
Would you like us to host a class for your group, family reunion, or emergency preparedness fair? Contact us at irh@isu.edu to request a class!