Cap & Gown
How to Order
Come to Grad Finale
February 16 & 17
10 am - 3 pm
ISU Bookstore
Deadline to buy commencement regalia online: March 31
You may also order from the bookstore over the phone (208) 282-3237.
If you live out of town, shipping options are available.
Approved Commencement Dress
black robe
black mortarboard
colored tassel
hood - for graduate students
honors cords and/or stoles
Distinction and Honors Cords
Idaho State University recognizes outstanding student scholarship in baccalaureate and associate degree graduates by granting the following distinctions:
Summa Cum Laude (gold honor cord): to those having an Idaho State University GPA of 3.950-4.00
Magna Cum Laude (silver honor cord): to those having an Idaho State University GPA of 3.750-3.949
Cum Laude (white honor cord): to those having an Idaho State University GPA of 3.500-3.749
Acknowledgement of academic achievement at commencement will be based on the student's cumulative ISU GPA at the conclusion of the term prior to the ceremony. Distinction recorded on the diploma and final official transcript, however, will be based on all semesters completed.
Where to get them
University Honors Distinction cords (Cum Laude, Magna Cum Laude and Summa Cum Laude) are available through the Registrar's Office.
Veteran Regalia
The Student Veterans of America - ISU Chapter and the Veteran Student Services Center are proud to offer veteran graduation stoles for purchase. The custom embroidered stoles are available to graduating students who have served in the US military or ISU-ROTC program. Branch-specific stoles can be ordered at the Veteran Student Services Center on the 3rd floor of Pond Student Union building. Order forms must be submitted with payment by November 15, 2021. Cost per stole is $69.00. All proceeds will be used to support the programs and activities of the Student Veterans of America - ISU Chapter.
For Veteran honor cords, contact the military education benefits coordinator in the Office of the Registrar.
FAQ: Cap & Gown
---
Can I wear a borrowed cap and gown?
You are welcome to borrow regalia, but please make sure you wear the appropriate robe for your degree level (undergraduate, master's and doctoral). All robes should be black
On what side do I wear my tassel?
Undergraduates wear their tassels on the right side prior to Commencement.
Graduate students wear the tassel on the left.
Can I decorate my cap?
Yes, but when considering ornamentation, we ask that you honor the achievements being celebrated and respect the dignity of the occasion.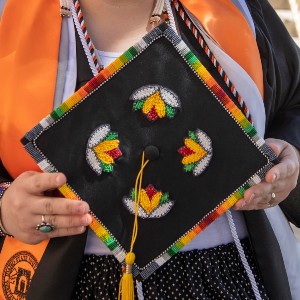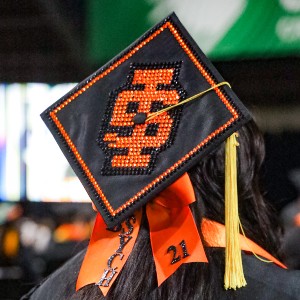 Where do I get a stole of gratitude?
Stoles of gratitude can be purchased at the University Bookstore along with your regalia.