Speech-Language Pathology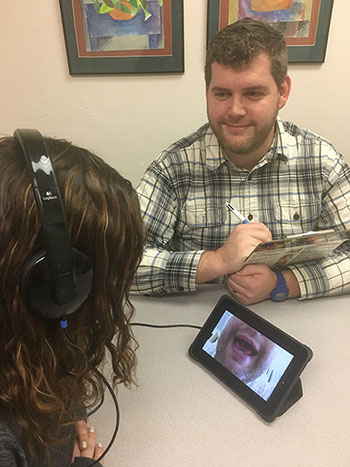 Regarding GRE's: The Idaho State University Speech-Language Pathology Program values diversity and resilience in our graduate students and future professionals. It was important that we eliminate any policies or procedures that could reduce access to our program or limit our review of deserving students from diverse backgrounds. Therefore, we have made the decision to no longer use or consider GRE scores in our admissions process.
The Speech-Language Pathology Program at Idaho State University offers coursework at both the undergraduate and graduate levels. Students can elect to take the speech-language pathology emphasis track for the Bachelor of Science (B.S.) degree in Communication Science and Disorders as a means of preparing them to enter our Master of Science (M.S.) in Speech-Language Pathology graduate program. Our department also offers the pre-professional program. This one-year leveling sequence prepares students who have successfully earned a degree in an unrelated field with the necessary foundational knowledge and skills to enter our Master of Science in Speech-Language Pathology graduate program.
The Idaho State University Department of Communication Sciences and Disorders strive to promote professionalism among students as it fosters an environment committed to excellence in education and the practice of speech-language pathology. The curricula have been developed in accordance with the academic requirements for certification by the American Speech-Language-Hearing Association (ASHA), and The National Council of Accreditation of Teacher Education (NCATE)/Council for Exceptional Children (CEC).
CSD Courses & Suggested Course Sequence
Master of Science in SLP Course Sequence Online Program
Master of Science in SLP Course Sequence Campus Program