Research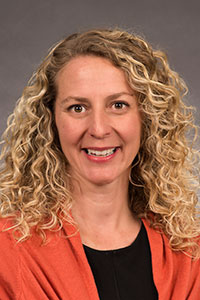 Kristina Blaiser, Ph.D., CCC-SLP
Associate Professor
Office: Meridian Health Science Center, Room 594
Twitter:@ISUHATCHlab
Facebook: https://www.facebook.com/HearInIdaho/
The Idaho State University HATCH (Helping Adults Talk to Children) Lab on the Meridian campus is under the direction of Kristina Blaiser, PhD CCC-SLP. The primary focus of the HATCH lab is to ensure that families have access to high quality intervention services regardless of their geographic location. The HATCH lab focuses on research related to early intervention and assessment practices with children who are deaf/hard-of-hearing. The lab focuses on systematic use of technology to facilitate adult learning such as integrating tele-intervention (TI) into the delivery of early intervention services such as using telehealth technology to optimize clinical outcomes. Since 2015, faculty and students (graduate and undergraduate) from the HATCH lab have received over $285,000 of external funding, been involved in six publications, and 28 international and national presentations.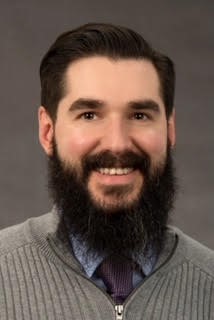 Kris L. Brock, Ph.D., CCC-SLP
Assistant Professor (AAC)
Office: Office: Meridian Health Sciences Center, Room 808D
Instagram: @AACCT_Lab
Facebook: https://www.facebook.com/groups/AACIdahoState/
Dr. Kris Brock directs the Idaho State University Assisting Adults and Children to Communicate using Technology (AACCT) Lab on the Meridian campus. Dr. Brock has extensive training with respect to cognitive psychology, human factors (the psychology, effectiveness, and efficiency of how humans interact within a system), and multimedia learning (e.g., animations). This training has prepared him combine these areas with AAC. Specifically, Dr. Brock has two lines of research investigating the effects of interface displays and symbol format across various communicative outcome measures in children with developmental disabilities and stroke survivors with nonfluent aphasia. The AAC child research line focuses on using animations to enhance communicative outcomes in children with developmental disabilities. Additionally, he indirectly investigates how technology-based AAC impacts the child's working memory system. The AAC aphasia line focuses on the working memory resources required to communicate using an AAC system. Additionally, Dr. Brock enjoys adapting aphasia treatments to include AAC, because AAC is not a last resort therapy nor does it produce substandard outcomes when compared to natural speaking interventions.
Outside of AAC, Dr. Brock is working with colleagues to investigate pre-requisite course requirements for entry into a graduate Communication Sciences and Disorders (CSD) programs. His team is investigating the rationale behind why CSD programs across the nation have such variable pre-requisite course requirements.
Currently, Dr. Brock is writing several grants to provide funding for these studies and to pay student workers to assist with data collection. Since 2015, Dr. Brock has included over 25 students in his lab, which has resulted in several publications and conference presentations. At those conferences (e.g., ASHA), Dr. Brock has assisted students in developing 60- to 90-minute seminars as well as poster sessions. The AAC Lab has five publications with three under review (2018) and two more undergoing preparations for publication.
Dr. Brock is seeking dedicated students who are diligent academics that follow direction, critically think, and want to stand out from the crowd. Serious undergraduate students, who undergo training with Dr. Brock, will conduct research independently as part of the pre-professional development process. Finally, Dr. Brock is seeking Master's level students to conduct thesis projects that will ultimately be submitted for publication in a peer-reviewed state, national, or international journal.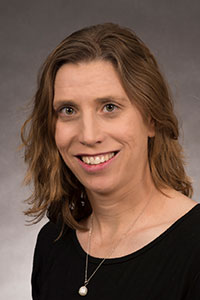 Alycia Cummings, Ph.D., CCC-SLP
Assistant Professor
Office: Meridian Health Science Center, Room 587
The Brain and Behavior Lab (BBLab) is a developmental neuropsycholinguistic research laboratory in the Department of Communication Sciences and Disorders at Idaho State University - Meridian. Our research focuses on the underlying mechanisms of developmental speech sound disorders and incorporates treatment techniques that can help remediate speech impairments. By recording brain activity (i.e., electroencephalogram or EEG), we are discovering how children with speech sound disorders perceive and produce speech sounds. Through our speech treatment programs, we are creating efficient and effective intervention methods. Our studies currently involve children between the ages of 3 and 7 years who are native speakers of English.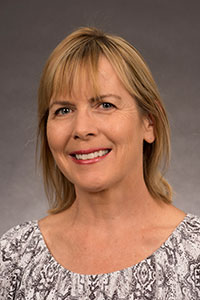 Beth Guzi, M.S., CCC-SLP, LPC
Clinical Professor
Office: Meridian Health Science Center, Room 545
Beth has collaborated with faculty in the Department of Counseling with qualitative clinical research in the area of grief and loss associated with aphasia. She also is interested in research pertaining to group therapy for persons with neurological impairments.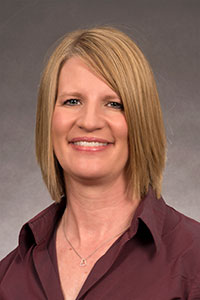 Amy Hardy, M.S., CCC-SLP
Clinical Associate Professor
Online Coordinator
Office: Meridian Health Science Center, Room 548
Student Supervision, Pediatric Dysphagia, Language Disorders
As a Clinical Faculty member, Amy Hardy is currently working on providing therapists and caregivers objective ways to increase outcomes in pediatric feeding. Speech Language Pathologist must actively engage the client and caregiver and implement a positive learning and therapeutic environment to promote successful oral intake. In addition, Amy is working to improve outcomes in the clinical supervision process. Supervision is a vital aspect of our profession and requires an informative approach that is evidence based and models' best practices. This project continues and is showing positive responses and improvements in the supervision process.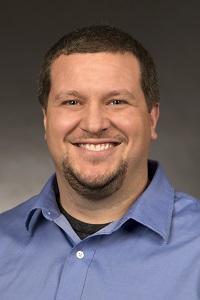 Daniel Hudock, Ph.D., CCC-SLP
Associate Professor
Program Director
Founder/Director of the Northwest Center for Fluency Disorders (NWCFD)
Office: Pocatello, SPA Building 68, Room 322
Dr. Hudock has two primary areas of research.
First is a clinical and translational track investigating the functional (emotional, psychological, and social) impacts people who stutter (PWS) experience because of their communication disorder, including holistic approaches to stuttering therapy in collaboration with mental-health professionals.
Second is the use of bio-psychophysiological measures (electro-dermal skin conductance response, heart-rate variability, and eye-tracking) to investigate sender-receiver dynamics during communication and high-density electroencephalography (EEG). With this, he specifically uses time-frequency analysis in EEGLab to examine the neural sensori-motor mu rhythm in speech perception and production of fluent and disfluent speakers.
Dr. Hudock is a person who stutters and understands that stuttering is much more than just how someone talks, but very often includes negative thoughts and feelings about themselves that has far reaching impacts. Due to his personal and professional experiences with stuttering he has founded the Northwest Center for Fluency Disorders, which in collaboration with the Departments of Communication Sciences and Disorders and Counseling at Idaho State University, offers annual interprofessional intensive stuttering clinics. The adolescent and adult clinic is a two-week residential interprofessional clinic where clients who stutter are paired with one graduate SLP and Counseling student to work with them throughout the clinic using Acceptance and Commitment Therapy (ACT). Much of his first area of research examines training and clinical procedures through this experience for client and student outcomes. Dr. Hudock frequently has students involved in his projects at many levels, often presenting at state, regional, and national conferences (ASHA) as well as appearing as authors on many of his scholarly works.
Joni G. Loftin, M.S.P., CCC-SLP, COM
Clinical Professor
Associate Chair, Co-Director SLP Program
Certified Orofacial Myologist
Office: Meridian Health Science Center, Room 538
As a practicing SLP and certified Orofacial Myologist, Joni has collaborated with colleagues and graduate students in studying the potential relationships in predicting the risk for developing oropharyngeal dysphasia from the presence of oromyofacial disorders, the effects of tongue tie on swallowing, and the effectiveness of specific exercises as tongue strengthening procedures in the treatment of tongue thrust. She has also worked with faculty in the department of Dental Hygiene in establishing Interprofessional Education and Interprofessional Practice opportunities for students in Speech-Language Pathology and Dental Hygiene. These have centered on assessment and treatment of oromyofacial and concomitant disorders, and have included identifying the primary themes of student reflection about each other and about self with the other, and of student perceptions on teaching and being taught by the other profession.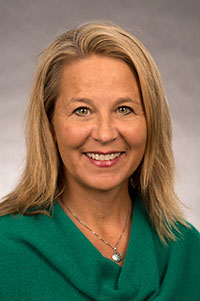 Wendy Morgan, M.S., CCC-SLP
Clinical Associate Professor
Clinical Coordinator, Pocatello Campus
Office: SPA Building 68, Room 222
As clinical faculty in Communication Science and Disorders, Wendy has presented locally and nationally on a variety of topics. Wendy incorporates clinical case studies from adult neurogenic clients as well as presenting established Interprofessional Education and Interprofessional Practice opportunities for students in Speech-Language Pathology. Wendy's clinical research collaborates with graduate students and faculty in the department of Occupational Therapy and Audiology.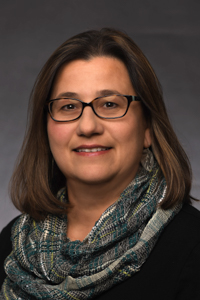 Diane Ogiela, Ph.D, CCC-SLP
Assistant Professor
Office: Meridian Health Sciences Center, Room 589
The Child Language and Developmental Neurolinguistics Lab in the Department of Communication Sciences and Disorders Department at Idaho State University-Meridian Health Science Center conducts research on language development and disorders in school-age children. Our research has two tracks. The first track focuses on examining the underlying mechanisms of morphosyntactic processing in children with Specific Language Impairment (SLI), a disorder that is characterized by significant language difficulties in the absence sensory or general cognitive disabilities. We use electroencephalography (EEG) to record and analyze brain activity during various language tasks in order to better understand how children with SLI process language in comparison to children and adults with typical language. Our second research track focuses on understanding the morphological, syntactic and semantic aspects of language that present challenges for children with SLI. Additionally, several student research projects have focused on evaluating language assessment practices with school-age children in order to provide adequate access to language intervention for children with SLI.
The Child Language and Developmental Neurolinguistics Lab is always eager to involve strong and engaged undergraduate and graduate students in a variety of projects (e.g., thesis, independent study, etc.). Many past students involved in the lab have co-authored and presented work at state, regional and national conferences such as the ISHA Convention, the ASHA Convention and the Symposium on Research in Child Language Disorders.
Families who would like to have their children participate in language studies should feel free to contact Dr. Ogiela or the lab at 208-373-1870 or email us at langlab@isu.edu.
Heather Ramsdell-Hudock, Ph.D., CCC-SLP
Associate Professor
Office: SPA Building 68, Room 330B
Most speech and language disorders are currently not identified until children begin to speak, and thus critical learning and treatment periods are missed in development. Dr. Heather L. Ramsdell-Hudock, CCC-SLP is working to change all that through research at ISU's newly-built Infant Vocal Development Laboratory. Infant prelinguistic vocal behaviors predict later language abilities, but identifying those infants and toddlers at risk for future speech and language difficulties is challenging because normal vocal development is variable and unstable. Adding further complication, the methodology commonly used to study prelinguistic infant vocalizations in research settings is cumbersome, tedious, and unsuitable for clinical practice. Thus, implementation of refined and natural procedures for documentation of infant vocalizations would be expected to provide an efficient means of tracking development, thereby increasing the translational potential of this line of research.
A promising development in this regard derives from recent work on caregiver perception of early infant sounds as a means of identifying infants at risk for developing a speech and/or language disorders. In particular, caregiver report may be more functional than traditional methodology for tracking vocal development because caregiver perception directly influences caregiver/infant interaction and shapes future speech development and word learning. The long-term goal of research conducted in the Infant Vocal Development Laboratory is to contribute to the development of evidence-based strategies for early identification of infants and toddlers at risk for speech and/or language disorders later in life. Currently, cross-sectional and longitudinal research methodologies are being used to track caregiver perspective of vocal development from infants who are both typically developing, and infants who are at risk (those who have experienced one or more of the following conditions prior to 7 months of age: pre- and perinatal problems; ear, nose, and throat problems; swallowing/sucking problems; and/or a family history of speech and/or language problems).The rationale for this line of research is that its successful completion is expected to provide new evidence on the ability of caregiver report to accurately identify discrepancies in speech and language development among infants.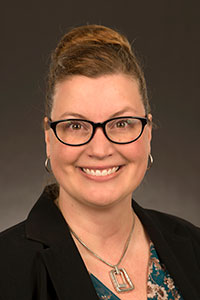 Victoria (Tori) Scharp, Ph.D., CCC-SLP
Assistant Professor
Office: SPA Building 68, Room 314B
The Scharp Language and Brain Lab at Idaho State University on the Pocatello campus is spearheaded by Victoria (Tori) Scharp, Ph.D., CCC-SLP. Broadly, the research interests for the SLAB Lab include: cognitive and psycholinguistic bases of neurological communicative disorders, semantic and discourse comprehension, nature and treatment of right hemisphere communication processes and disorders, and acquired neurogenic language disorders in adults.
Currently, Dr. Scharp's primary lines of research include:
how temporal processing cues are integrated with both linguistic and world knowledge to facilitate language comprehension
collaborating with the clinical faculty on the Meridian campus to examine the efficacy and functional outcomes for both students and clients who engage in a 1 week intensive aphasia treatment program and
collaborating with faculty across the Division of Health Sciences to track functional outcomes for the interprofessional case experience held at Idaho State University's Thomas Geriatric Symposium.
Shauna L.H. Smith, M.S., CCC-SLP
Clinical Associate Professor
Clinic Director
Office: Meridian Health Sciences Center, Room 549
Dysphagia in Adult Neurological Disorders and Head and Neck Cancer Patients, TBI, Interprofessional Treatment Approaches to Dysphagia and TBI, Voice, and Clinical Education and Specialty Clinics
Shauna is currently the Clinic Director for the SLP Program and has developed the ISU Dysphagia Clinic treating challenging cases of dysphagia (swallowing disorders) in individuals with neurological disorders or head and neck cancer. She is also in the process of creating an opportunity to provide transgender voice and communication services within group and individual sessions to provide students with exposure to this underserved population that requires specialty training. She has co-authored research projects regarding use of video-review feedback in the training of student clinicians during their clinical application experiences, as well as research regarding the effectiveness of electronic medical record systems in the university clinic setting. Shauna has presented nationally and regionally regarding interprofessional collaboration between mental health counselors and SLPs in the treatment of mild TBI and swallowing disorders. These presentations have been in conjunction with mental health counselors with areas of interest and experience in working with the psychosocial/emotional difficulties associated with these disorders. Conferences have included both SLP conferences and mental health counselor conferences.