Creating a worldwide network of successful professionals since 1970.
OUR MISSION is to advance understanding of politics and policy through research, discussion and interactions. As scholars, we strive to push the boundaries of knowledge through original research; as teachers, we engage students with issues, concepts and skills to generate broad-based knowledge; and as community members, we encourage all to think critically, question the expected, and contribute an informed discussion to politics and public life. We believe in learning about the world around us, thinking critically about issues, and communicating clearly and persuasively.
OUR FACULTY are nationally and internationally renowned experts in their fields, dedicated teachers, and members of our communities. These individuals address the courts, legal arguments, Russian politics, public-private partnerships, narratives, border politics, health politics, the politics of science and technology, environmental politics, and capacity building within developing countries.
OUR VISION is to support excellence in research and teaching about politics and government at the local, state, federal and international levels. In addition, we focus on service, working to create stronger communities at ISU, within Pocatello and Southeast Idaho, and beyond.
OUR STUDENTS are diverse individuals from around the world, engaging their interests, working to change their lives and preparing to change the world. OUR ALUMNI are educators, government officials, business leaders, technology developers, and entrepreneurs.
Our Story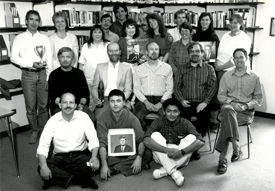 Idaho State University was originally chartered on March 11, 1901 under the signature of Governor Frank W. Hunt as the Academy of Idaho. The Academy was divided into two schools: the Technical School and the Preparatory School. In 1915 its name changed to Idaho Technical College until 1927 when it was renamed The University of Idaho Southern Branch. Two years after the end of World War II the State Legislature voted to upgrade the Southern Branch from a two-year junior college to a full four-year Baccalaureate granting institution and its name changed to Idaho State College (ISC).
Political Science has been part of the school's offerings since the turn of the century when Jesse E. Retherford taught the subject at the Academy. It was not until 1947 that a B.A. was granted specifically in Political Science within the Division of Social Science. In 1959 the degree's name was changed to that of a B.A. in Government. Under the direction of Hobert P. Sturm, Idaho State College established an Institute of Government in March 1949. It was designed for citizens of Idaho and their public officials as a clearing house for discussion on current problems of government. Joseph Hearst served as chair during the turbulent period of the sixties. His widow, Priscilla Hearst, later became one of the stalwart patrons of the Frank Church Symposium on International Affairs while his daughter, Alice L. Hearst, currently teaches in the Department of Government at Smith College. John Eyre served as chair from about 1970 until Victor Hjelm took over in 1977.
Dr. Victor Hjelm was the Department of Political Science's fourth chair, leading the department from 1977-1980 and 1981-1984. He then became Dean of the College of Arts and Sciences in 1984 and served until his retirement in 2001. Dr. Richard H. Foster, who served as Chair from 1980-1981 and from 1984-2005, has had the longest tenure as department chair. He also won the Distinguished Teacher Award. Between the 1970s and 2013, the Department was home to the student-run International Affairs Council and the annual Frank Church Symposium on International Affairs, with Dr. Foster (1975-2008), Dr. Lybecker (2007-2011), and Dr. Anderson (2013-2013) serving as program director for the International Studies program until the program left Political Science in 2013.
The department currently has eight full-time faculty with over 120 total undergraduate and graduate majors. We continue to offer the BA, BS, MA, MPA, and DA degrees. Our student organizations include the Pi Sigma Alpha Honor Society, Political Science Club, and the Law Club.
As we move well into the 21 st century, ISU, and the Department of Political Science continue to be dedicated to our missions. ISU is a broad-based regional public doctoral university committed to providing accessible, high quality education, and a full range of academic programs in the liberal arts and professional fields. ISU and the Department of Political Science remain dedicated to excellence in undergraduate and graduate teaching, research and scholarship, and to professional and public service.
About Pocatello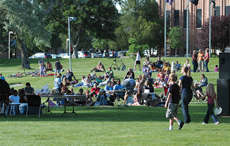 Pocatello, Idaho (population of 54,810) is located in southeastern Idaho. Pocatello is named for Chief Pocatello who lived from 1815 to 1884 and was a member of the Shoshoni Native American tribe. Historically, Pocatello was a railroad and transportation town.
The city is located at the intersection of Interstate 15 and Interstate 86. Pocatello is 165 miles (2.5 hours by car) north of Salt Lake City, 158 miles (2.50 hours) south of West Yellowstone, Montana, and 240 miles (3.5 hours) southeast of Boise, Idaho.
Pocatello, like many communities in the West, has undergone economic transformation and has been named in Forbes magazine as one of the best places to live because of its low cost of living and high quality of life.
What Do People in Pocatello Do for Fun?
Outdoor Recreation
Surrounded by public lands (BLM, Forest Service), Pocatello is home to a multitude of outdoor recreation activities including cross country ski races, marathons, triathlons, and fun runs, and bike races.
Downhill skiers can not only visit Grand Targhee but in 20 minutes can be on the slopes at the Pebble Creek Ski area, families and beginners can try the gentle slopes and deep snow of Pomerelle 90 minutes away to the west or drive 2.5 hours northwest to the internationally famous Sun Valley.
Cross country skiers have a multitude of trails to explore both within minutes of the ISU campus and regionally.
Since Pocatello is surrounded by public lands, both road bikers and mountain bikers have almost unlimited opportunities for biking both in Pocatello and in the region. More gentle family bike riding is available on the Portneuf Greenway system throughout town.
Hikers have hundreds of miles of trails (both Bureau of Land Management and Forest Service lands) within 10-15 minutes of ISU.
River enthusiasts have the upper Portneuf River, Snake River, Henry's Fork, South Fork of the Snake River, Snake River, Big Lost River, Silver Creek, Salmon River and many other rivers and creeks to enjoy for fly-fishing, rafting, kayaking, photography, and bird watching.
Cultural Activities
With Idaho State University as an important part of the community's cultural life, cultural events include the Pocaroo music festival, a bluegrass festival, a music and wildflower festival, summer concerts, a symphony, a nationally recognized performing arts center, and art festivals.
Nearby
Within a two and a half hour drive (less than 200 miles) of Pocatello are internationally famous national parks, ski resorts, rivers, and mountains. Heading north one can break off to the west and visit Craters of the Moon National Monument or turn to the east to visit Grand Targhee, a mountain resort just 136 miles away on the western edge of Grand Teton National Park.
Along the way are two important sites for policy buffs. Idaho National Labs was home for the development of nuclear energy and in 1955 nearby Arco, Idaho had the distinct privilege of being the first atomic powered city in the world. On the way to Grand Targhee (the Ghee to locals) is the site of the historic 1976 Teton Dam failure.
Heading a bit further north one can explore the St. Anthony Sand Dunes. Though Yellowstone National Park is probably the most recognizable and popular attraction in the region, the least accessed entrance to the Park is accessible from South East Idaho. Even closer to Pocatello, families from Pocatello like to visit Lava Hot Springs (30 miles from Pocatello) for swimming and year round hot pool soaking.