Hospital Medicine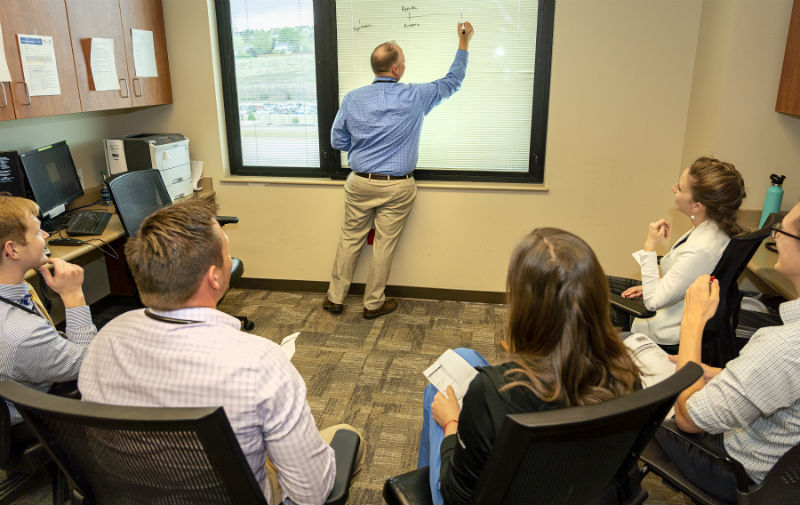 Our Hospital Medicine training is a mixture of inpatient and outpatient time. Resident interns complete 4 blocks of inpatient medicine, each block consists of 3 weeks inpatient and 1 week outpatient. The second year includes 2 blocks of night float (inpatient medicine), plus 3 blocks of medicine subspecialty (cardiology, Pulm/ICU, and neurology). Third year residents complete a final 2 blocks of inpatient medicine.

The inpatient service is 4-resident team plus an attending, typically covering a census of 1220 patients and 12 critically ill patients. Common diagnoses include community-acquired pneumonia, hospital-associate pneumonia, CHF exacerbations, COPD exacerbations, chest pain, sepsis/shock, pancreatitis, diabetic ketoacidosis, PEs, and stroke.
Our attendings are 50% Internal Medicine trained and 50% Family Medicine trained. The hospitalist service works together with the residency service to ensure that we have the right balance of patients to ensure excellent learning, with our census being neither too light nor excessive. During our time on internal medicine we continue with 12 half-days in clinic to provide our patients with continuity of care.
ICU/Pulmonology, Cardiology, and Neurology
Our medicine subspecialty blocks give us one-on-one time with community attendings for clinical teaching both in the hospital and the office.

We help with pulmonary, cardiology, and neurology consults. We are taught ventilator basics and develop critical care skills. We interpret EKGs and review different cardiac diagnostic modalities. We are taught the keys to a thoughtful neurologic work up and a skillful exam.
We are fortunate to have the support of the medical community.
Night Float
The night-float rotation is considered a learning-rich experience and residents will have completed 8 weeks of float by graduation. The float resident is responsible for taking care of the entire service overnight and completes admissions. Autonomy is developed, though faculty are always available.