Connecting
Idaho State Bengal Bridge is your answer to kick off college before the fall semester and this is your chance to enroll. Work with a dedicated and passionate faculty member to get individualized information and guidance related to academic success and form relationships with fellow students in the cohort.
Don't let Covid-19 mess up your start to college. Come level up your knowledge! Idaho State Bengal Bridge will help you discover how to interact and connect in this new digital reality. Whether you are on your couch or kitchen counter, Bengal Bridge is about creating powerful memories wherever you are! Come find out how technology and your faculty can prepare you for your academic future.
Community Service Projects
Bengal Bridge car wash fundraisers have brought in $1,654 to the Bengal Bridge Endowment. These car washes have been in collaboration with local businesses, Phil Meador and Autozone in Pocatello. The funds raised are used to provide students with scholarships and emergency relief.
In 2019, Bengal Bridge created a student-driven community-based service project program tied to each ACAD 1104 section, which produced over 20 community-based service projects (e.g., Caldwell Park Cleanup, Personal Protective Care Packages for Nursing Students, Gateway Transitional Care Fundraiser, Red Hill Trail Conservation Education Project, and Kids Summer Activity Project at Caldwell Park) and included 216 participating students.
Student Quotes
"I am excited to continue my college career in the fall and be able to show my sister the amount of help you can get from this university." -Anonymous Bridge Student 2016
"I am happy at school. Leaving Bengal Bridge, I feel like I am ready for my college experience. I am pretty happy and confident I can do well!" -Anonymous Bridge Student 2016
"My mom sat me down and said that I needed to do this. She said it was an incredible opportunity and I needed to take it. It ended up being one of the best summers of my life." -Anonymous Bengal Bridge 2014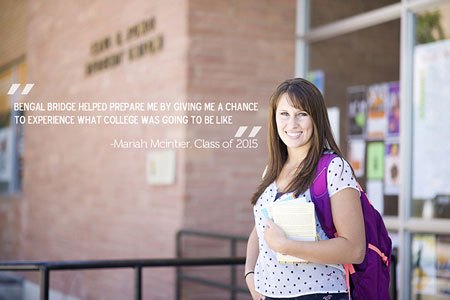 "This program has really been a good experience that has helped me become more myself. I have enjoyed all my classes and my teachers are all really helpful. I find it really cool how much one-on-one time you can have with your professors/instructors here at Bengal Bridge. I am surprised that I am sad to leave Bengal Bridge, but I have really enjoyed the experience I have gotten here and hope to create more memories like this later on." -Anonymous Bridge Student 2016
"If I owe anything to this semester, it would probably be what I got from my professors. Unlike high school, I feel these professors helped me grow and succeed while also pushing me to discover who I am. As I turn the page on this chapter in my story, I am glad I was fortunate enough to experience such a great program. For the fall semester, I will enter with no fears and more motivation than ever to succeed." -Anonymous Bridge Student 2016
"Through this program I learned about quality of time spent versus quantity. I got better at focusing during lectures and taking notes so, when I studied it was more than memorization and I didn't need to spend tons of time re-teaching myself." -Anonymous Bridge Student 2016