Motor Pool
Our motor pool is a group of motor vehicles whose use is shared on a short-term basis by the personnel of Idaho State University.

We take pride in maintaining and operating a diverse rental fleet that caters to your specific needs. We are here to provide reliable and convenient transportation options.

Renters are agreeing that they acknowledge and agree to comply with the Idaho State University's Acceptable Vehicle Use Agreement. As an operator, you are responsible for ensuring the safety of both occupants and the vehicle, regardless of road type or weather conditions. In accordance with University policy 9020, Transportation Services may suspend driving privileges and impose charges for cleaning and repairs in the event of poor driving behavior.
Available Vehicles
Due to high demand, a 48-business hour notice is required for reservations.
Notice: If you will not be using the reserved vehicle(s), please cancel your reservation 24 hours in advance. If not canceled within this time frame, there will be a one-day charge for the reserved vehicle(s) based on the specific vehicle(s) daily rate.
Our fleet of passenger vehicles is intended for use on paved surfaces. While limited incidental use in graveled parking lots is acceptable, the primary usage should be on paved roads.
Local Sedans:
Chevrolet Malibu and
Impala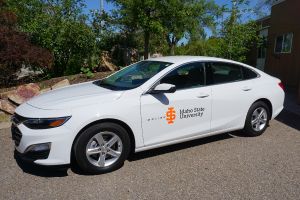 Amount Available: 7

Cost/Day: $15

Cost/Mile: $0.53

Passengers: 5
Distance Sedans:
Chevrolet Malibu and Impala
Amount Available: 6

Cost/Day: $15

Cost/Mile: $0.53

Passengers: 5
Minivans: Dodge Grand Caravan
Amount Available: 3

Cost/Day: $20

Cost/Mile: $0.53

Passengers: 7
SUVs: Chevrolet Suburban
Amount Available: 3

Cost/Day: $153

Cost/Mile: Free up to 200 miles/day and $0.23 after plus fuel

Passengers: 9
12-Passenger Vans: GMC Savana
Amount Available: 4

Cost/Day: $105

Cost/Mile: Free up to 200 miles/day and $0.23 after plus fuel

Passengers: 12
Trucks: Chevrolet Silverado
Amount Available: 2

Cost/Day: $122

Cost/Mile: Free up to 200 miles/day and $0.23 after plus fuel

Passengers: 6
Cargo Trailers: Enclosed Trailers
Amount Available: 4

Cost/Day: $20
PARKING & TRANSPORTATION SERVICES vehreq@isu.edu (208) 282-2625 625 E Humbolt St Pocatello, ID, 83209