Research Data Center at Idaho State University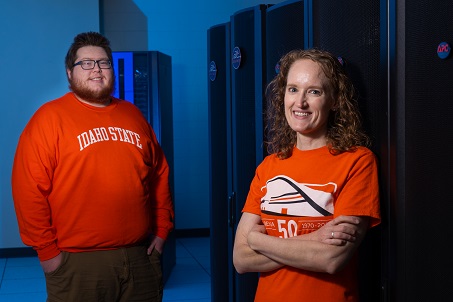 Idaho State University's Research Data Center (RDC) is a university-wide facility dedicated to supporting and enhancing the research capabilities of ISU faculty, staff, and students through a centralized hyper-converged infrastructure of virtual machines (VM). These capabilities are available to ISU's research community through the university's network. This facility has 10/40 Gbps intra-RDC network connectivity, a dedicated data transfer node, and substantial compute capabilities with over ½ TB of RAM.
If you are interested in our Research Computing Webinar Series, send an email to rdc@isu.edu to request access. Revisit this page for upcoming webinars.
Research Computing Open Office hours are every Wednesday from 11am to 1pm. You can join the Zoom meeting here or chat with Michael Ennis in person in Business Administration Room 317A.
High-Performance Cluster Server Resources
The RDC houses three high-performance computing servers which include Thorshammer, Minerve, and the newest one Ragnarok. The Falcon supercomputer is hosted at the C3 facility at INL.
HPCs
Minerve
Computing
128 total cores
9 compute nodes
16 GB memory per compute node
32 GB memory on the head node
Storage
Thorshammer
The head node and 8 compute nodes contain a total of 144 Intel® Xeon® E5-2600 v4 Cloud Series CPU cores.
128 Total 2.1 GHz cores on the compute nodes
16 Total 2.1 GHz cores on the head node
Computing
288 cores with HT enabled
768 GB total high performance ECC system memory
4 GB memory per compute node processor core
16 GB memory per head node processor core

Storage
104 TB of RAW storage space
Approximately 73 TB USEABLE storage space for data on head node
1.0 TB RAW storage space for data for each compute node

Networking
1 Gbps path high performance network backplane
48 port Gig-E switch
Ragnarok
One head node with eight Nvidia RTX 3090 GPUs.
Computing
83,968 total CUDA cores

1.70 GHz Boost Clock for GPU cores
192 GB of GDDR6X Memory for GPUs
264 GB memory on the head node
Storage
15 TB of RAW Storage Space

Approximately 12 TB USEABLE storage space for data on head node
Falcon
Eight leader nodes and 969 compute nodes with dual Xeon E5-2695 v4 2.1GHz CPUs.
Computing
34,884 total

cores with HT enabled

124 TB Total High Performance ECC System Memory
Storage
1.3 PB of parallel, Lustre file storage
Networking
The following documents are available for users interested in utilizing the RDC's resources.
Research Data Center Procedures
Research Data Center Virtual Machine Resource User Agreement
Research Data Center Existing Server User Agreement

The following Power Point presentation gives general info on using the RDC and its resources as well as additional contact information.

How to access and use the RDC

The following video gives information on how to use Globus for data transfer.

Using Globus at Idaho State University

The following documents are draft grant applications. They can be used as a reference or modified by RDC users who are applying for grants that will utilize RDC resources.

RDC_Template_ISU_DataManagementPlan_NSFFormat

RDC_Template_ISU_FacilitiesEquipmentOther_NSFFormat