Madisen Hillebrant-Openshaw, Experimental Psychology graduate student, receives postdoc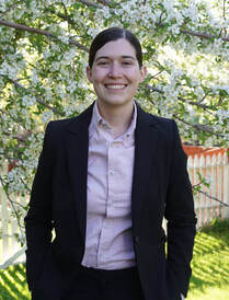 Madisen Hillebrant-Openshaw will be working as a postdoctoral associate on a NIMH funded multi-site study in the RADD lab in the Department of Psychology and Neuroscience at the University of Colorado Boulder and in the CoPE lab in the Department of Psychology at Brandeis University. The longitudinal study is focused on emerging adult college students and investigates neurocognitive risk and resilience for internalizing psychopathology.
Dr. Joshua Swift receives ISU's 2023 Outstanding Researcher Award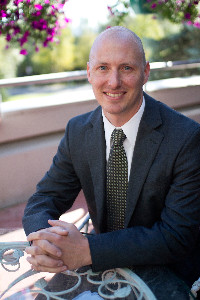 Joshua K. Swift, Ph.D. is an Associate Professor in the Department of Psychology and a core faculty member in the Clinical Psychology Doctoral Program. He has been a faculty member at Idaho State University for the past seven years. Prior to that he was a faculty member at the University of Alaska Anchorage. He completed his doctoral degree in clinical psychology at Oklahoma State University, a doctoral internship at SUNY Upstate Medical University, and his undergraduate degree in psychology at Brigham Young University. In the Department of Psychology at ISU he teaches graduate courses on ethics and clinical supervision and undergraduate courses on psychopathology and clinical psychology.
Dr. Swift is a psychotherapy process and outcome researcher. In conducting this research he focuses on identifying processes and developing methods for encouraging treatment-seeking in individuals with a mental health need, retaining clients in psychotherapy once they have begun it, and maximizing the gains that clients can experience while in treatment. He has published nearly 100 peer-reviewed journal articles and a book on premature termination in psychotherapy, and has over 100 professional conference presentations. In conducting this research he collaborates with colleagues across the globe, including the recent completion of a Fulbright Award in Taipei, Taiwan.
Clinical Ph.D. Program Alumnus on Jeopardy!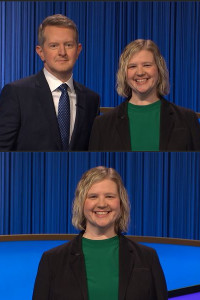 Kendra Westerhaus, an alumnus of the ISU Clinical Psychology PhD program, and one of our local supervisors, will be featured on Jeopardy! Yes, THAT Jeopardy! The episode will air on Monday, Feb 13th.
Dr. Xiaomeng (Mona) Xu receives Excellence in Teaching Award
Dr. Xiaomeng (Mona) Xu, Experimental Psychologist and Director of Experimental Training, has won the Excellence in Teaching award from the Society for the Teaching of Psychology! She was selected for the Jane S. Halonen Teaching Excellence award for early career psychologists. The award is based on the following five criteria: (1) effective teaching; (2) mentoring student professional development; (3) advancing teaching and learning through scholarship; (4) advancing teaching and learning through service; and (5) training high school, community college, or college/university teachers. Congratulations Dr. Xu!
Lyn McArthur awarded State Leadership Award by APA's Committee of State Leaders
We are so pleased to share the news and recognize Lyn McArthur was awarded the State Leadership Award by APA's Committee of State Leaders. Lyn is an alum of our program who has gone on to provide notable advocacy and leadership in Idaho. She has led efforts to increase access to behavioral health and telehealth services across the state. We offer our heartfelt thanks and appreciation to Lyn for her efforts, which directly affect training opportunities for our students. Thank you -- and congratulations, Lyn!
Dr. Joshua Swift Receives a Fulbright Award to Taiwan

Dr. Swift has received a Fulbright Award to conduct research and teach in Taiwan during the Spring 2022 semester. The Fulbright Program is the flagship international educational exchange program sponsored by the U.S. government and is designed to forge lasting connections between the people of the United States and the people of other countries, counter misunderstandings, and help people and nations work together toward common goals. For Dr. Swift's specific award he will be affiliated with the Department of Educational Psychology and Counseling at National Taiwan Normal University. He will collaborate with colleagues at National Taiwan Normal University to conduct research studies examining stigma, preferences, and treatment outcomes for mental health service use by K-12 teachers in Taiwan. He will also teach two courses designed to help future mental health providers further develop their psychotherapy skills and competencies.
Bindal Makwana, clinical psyc student, accepts postdoc fellowship in neuropsychology at the Pittsburgh Concussion Center
We are happy to announce that Bindal Makwana will be a postdoctoral fellow in neuropsychology at the University of Pittsburgh Medical Center Sports Medicine Concussion Program UPMC Fellowship Brochure 2020. The Center is one of the most well known research and training centers on sports related concussion in the nation. Bindal has successfully defended her thesis in December 2020. She will be joining the Pittsburgh program after finishing her internship in 2021.
Rhett Mullins, Clinical Psychology graduate student, awarded Air Force Health Professions Scholarship
We are pleased to announce that Rhett Mullins, Clinical Psychology graduate student, has been awarded an Air Force Health Professions Scholarship. He is one of only 7 students nationally to receive this scholarship this year! Congratulations!!!