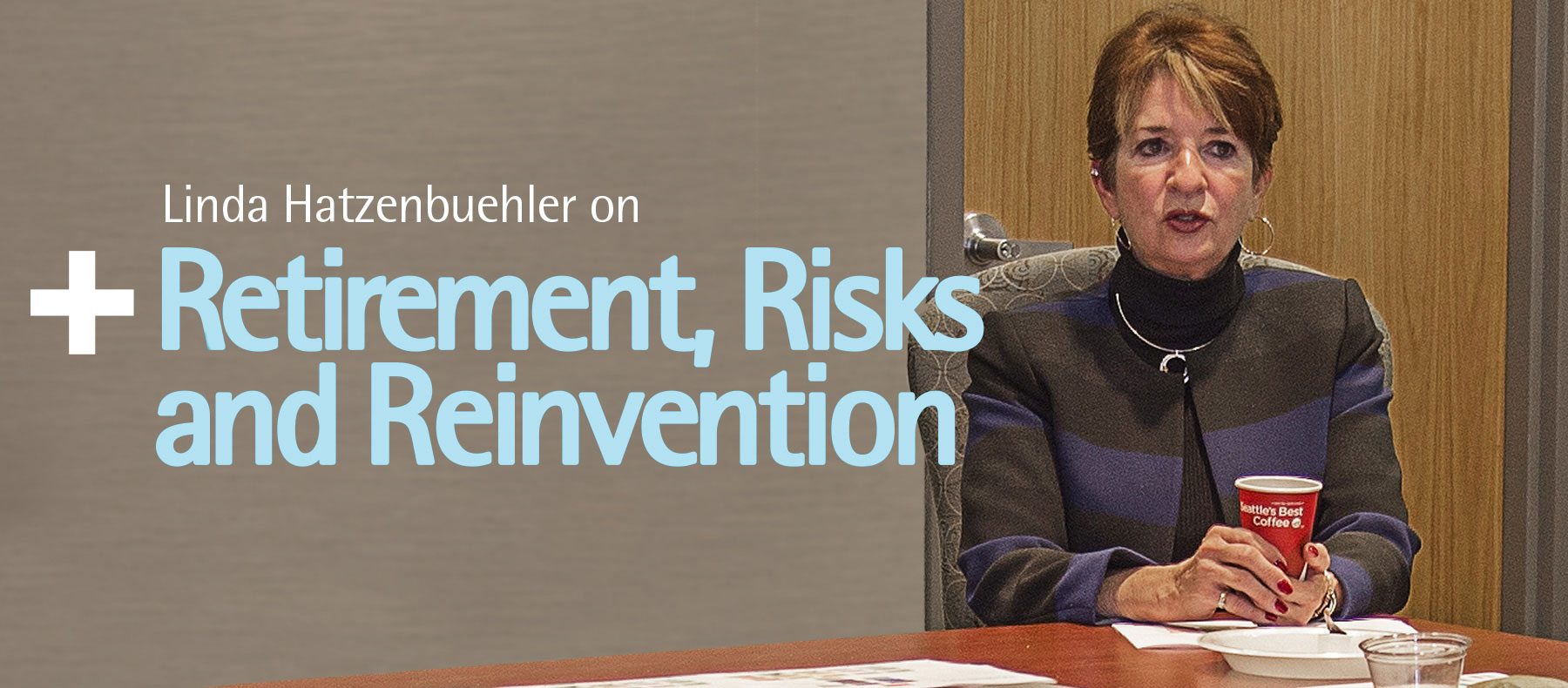 In the summer of 1976, clinical psychologist and doctoral candidate Linda Hatzenbuehler was sitting in her office at the Idaho Department of Health and Welfare in Pocatello when her phone rang.
It was the chair of Idaho State University's psychology department, telling her a psychology professor had just resigned. Would she be interested in taking his position until a permanent replacement was found?
The one-year appointment came with a perk. Hatzenbuehler would have unlimited access to ISU's computer center to analyze data for the doctoral dissertation she was completing through Kent State University. The downside? There was no guarantee she'd have a job in a year.
"I decided to take the risk," Hatzenbuehler said.
And it paid off.
That year, she not only completed her Ph.D. in clinical psychology, but landed a permanent faculty position and began a storied career at ISU spanning 40 years.
Dec. 31, Hatzenbuehler retired as vice provost and executive dean of the Kasiska Division of Health Sciences, drawing praise from colleagues and the University's top brass.
"Dr. Hatzenbuehler is recognized for her dedication and service in providing access to health care programs that serve the state," said ISU President Arthur C. Vailas.
"Her legacy is sure to have a lasting impact throughout our campuses and the state," said Rex Force, ISU's vice president for health sciences.
On a Wednesday afternoon in early November, Hatzenbuehler discussed her ISU journey, her passion for health professions education and why having a parasite named after her was … well, a gift.
the early years
By the time Linda Hatzenbuehler was a junior in high school, she knew she wanted to be a psychologist.
"I was always fascinated by human behavior," she said, sitting in her office in historic Gravely Hall.
The Cleveland, Ohio native earned a bachelor's degree in psychology at John Carroll University and her master's in clinical psychology at Kent State University before moving to Pocatello in 1972 with husband, Ron, who was taking a teaching position at ISU.
Her first four years in the Gate City were spent working in mental health and clinical services for the Idaho Department of Health and Welfare before taking the temporary faculty position at ISU.
As a permanent hire, the young psychology professor quickly caught the eye of University leaders who tapped her for administrative roles. From 1983 to 1986, she served as acting associate dean of the former College of Arts and Sciences.
From 1986 until June 2009, she served as dean of the Kasiska College of Health Professions—a position in which she guided the growth of ISU's health professions programs and created the Institute of Rural Health.
Under Hatzenbuehler's watch, ISU added new programs — including nurse practitioner, physician assistant studies and occupational therapy—transforming campuses in Pocatello and Meridian into national destination sites for health professions education.
"I think the growth in the health professions is one of my greatest accomplishments because in a lot of cases we did it on a dime. We were able to take advantage of our own creativity," she said.
consummate leader
In 2010, when Hatzenbuehler became executive dean and vice provost of the newly created Division of Health Sciences, her responsibilities intensified. She was now in charge of ISU's largest academic unit with a $30 million budget, 22 nationally accredited professional programs, 17 outpatient clinics, 175 faculty members and more than 3,000 students.
As a leader, Hatzenbuehler stressed the importance of collaboration and interprofessional education in the delivery of health care. At meetings, department heads would discuss issues as a team, eliminating the rivalries and silo mentality that can beset an organization.
A clinician with a passion for research, Hatzenbuehler encouraged faculty and staff to pursue scholarship and scientific discovery. Former associate dean and professor emeritus, Delane Kritsky, was so grateful for her support that, in 2009, he named a parasitic worm found in the gills of an Australian fish— Haliotrematoides hatzenbuehlerae –in her honor.
"It just blew me away," Hatzenbuehler recalled with a laugh. "I think my comment at the time was 'gifts are really important and that was the perfect gift."
The Linda Craine Hatzenbuehler Endowed Fund
In 2015, ISU alumni, faculty, staff and Hatzenbuehler's former students established the Linda Craine Hatzenbuehler Endowed Fund in her honor to support the Kasiska Division of Health Sciences.
Support may include equipment maintenance, faculty recruitment and capital projects.
To make a gift or pledge, contact the Idaho State University Foundation at (208) 282-3470 or contribute online. If you contribute online, select "other" in the "direct my gift as follows" box and write in The Linda Craine Hatzenbuehler Endowed Fund. You may also indicate in the "comments" section that you want your gift to go to the fund.
reinvention
This past spring, she taught an upper-level psychology course on clinical psychology and the law while continuing to work part time as a forensic psychologist for the Idaho judicial system.
One of two board-certified forensic psychologists in Idaho, she evaluates the mental health of people facing adjudication in criminal and civil courts.
"We are not advocates for the person. Our role in the whole process is to provide an objective assessment of the individual on behalf of their attorney or judge," she said.
Never one to sit on the sidelines, Hatzenbuehler is looking forward to beginning a new chapter in her life.
"It's time for me to do other things and reinvent myself," she said.
And count on her taking a risk or two along the way. After all, that risk she took back in 1976—the temporary faculty position in the Department of Psychology—turned out pretty well.