Outstanding Student Awards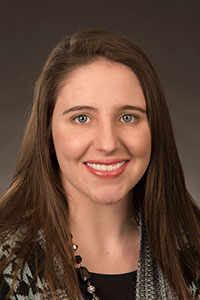 Krystal Noelle Scott
College of Business
Krystal Noelle Scott graduated in May with a degree in physical education and business management. Originally from Rupert, Scott started college at age 16 and has been a leader in Chi Alpha Campus Ministries at ISU for five years. During this time, she also took part in several service trips including teaching English in China, working with Free International to raise awareness on human trafficking and worked with impoverished communities. She participated in the Career Path Internship (CPI) program in the College of Business as an undergraduate advisor and was first runner-up for CPI of the year in 2015-16. Scott received several scholarships including the State of Idaho Opportunity, Idaho Promise, Rotary Club, Magic Valley Dairy, Minidoka Bowman, Gooding Basque Association, ASISU four-year, T. Kim Allen and the James Luper scholarships. She has been named to the Dean's list eight times.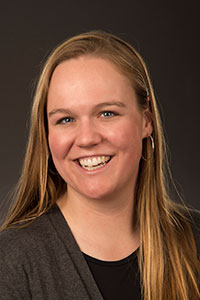 Claire Jorgensen
College of Education
Claire Jorgensen is from Boise where she grew up with her parents and brother. She learned basketball post moves from her dad in their driveway and the nuances of gardening from her mother. These experiences taught her life lessons of hard work, resiliency and commitment. She carried these lessons with her in her activities as a student. Jorgensen is a member of Kappa Delta Pi International Education Honor society, serving as its president in 2015-16; a member of SHEPHERD Club, ISU Student Orientation leader, Bengal Visit Day panelist and a member of Chi Alpha. Jorgensen was named Student of the Year in the Department of Physical Education in 2015. She recently earned her degree in physical education and health education.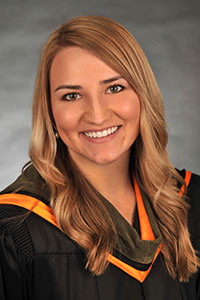 Sabrina J Sherwood
College of Pharmacy
Following her graduation from Timberline High School in Boise, Sabrina J Sherwood came to Pocatello and ISU to complete her undergraduate coursework where she particularly enjoyed her courses in chemistry, health sciences and medical ethics. During her collegiate career, she was the recipient of scholarships for pharmacy students including the Pharmacy General, J. Garner Memorial, Michael T. & Robyn Prime, Gehrke-Moore Phi Delta Chi, David & Jane Chu, Walgreen's Diversity Glenn W. Corbett, Kasiska and ASISU scholarships. Sherwood graduated in May with a Pharm D. degree and a wealth of experience gained due to her involvement in the university community and her curriculum. She served as the College of Pharmacy Senator for two terms 2014-2016 and was Senate President, was on the ISU Student Conduct Board from 2011-2014, vice-president of Phi Delta Chi Professional Pharmacy Fraternity, fundraising for St. Jude's Children's Hospital and attended several local and national pharmacy meetings. She was invited to present at the Idaho Society of Health-System Pharmacists on Hepatitis C virus therapies. Her 2015 research project was accepted for presentation at a national pharmacy meeting and presented to the Dean's Advisory Council for the College of Pharmacy about Mayo Clinic experience and curriculum improvement suggestions. She will pursue a clinical pharmacy residency specializing in solid organ transplant services.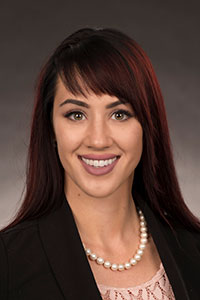 Cierra Meiline Johns
College of Technology
Originally from Pocatello, Cierra Meiline Johns graduated with an Associate of Science degree in respiratory therapy and a Bachelor of Science degree in health science. She received scholarships from Norco and ASISU. Johns is the membership chair of Mortar Board National Honor Society and serves on the Respiratory Therapy advisory board as vice-chair. In 2008, she was recognized for her volunteer work with the Association of Fundraising Professionals' Outstanding Youth in Philanthropy. Since that time, she has continued her volunteer work with the Idaho Food Bank, Toys for Tots, Bannock Humane Society, Bannock Youth Foundation and Big Brothers-Big Sisters. She credits her academic success to her grandparents Butch Johns and Melissa Swain for their encouragement and support.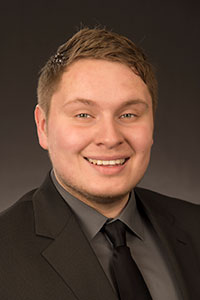 Kylle Strunk
College of Arts & Letters - Fine Arts & Humanities
Kylle Strunk had no formal training in classical music when he arrived at ISU, but his passion and hard work have been rewarded. Strunk received the David Missal Band scholarship, GAIA Arts & Letters scholarship and the Ruth S. and Chilton Phoenix Memorial Scholarship. He graduated with his Bachelor of Arts degree in music performance and a minor in visual communications. He has a 3.79 GPA. During his time at ISU, Strunk has been a member of the Student Activities Board and the Residence Hall Association. While performing with the Idaho State Civic Symphony, he has grown as a musician and has written compositions that have been premiered by the ISU Percussion Ensemble, ISU Chamber Orchestra, Idaho State Civic Symphony and Portland Percussion Group.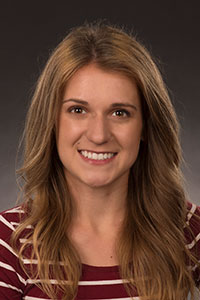 Ashley Tailor Sondag
College of Arts & Letters - Social & Behavioral Science
Ashley Tailor Sondag was born in Pocatello but her family moved shortly after her birth to Casper, Wyoming. She graduated from Natrona County High School as valedictorian of her class with an International Baccalaureate Diploma and was awarded the Principal's Trophy for her athletic and academic achievements. Sondag is the daughter of ISU alumni Becky and Corey Sondag. Her sister Shaelynn is also an ISU alumna. Sondag's mother, Becky, was inducted into ISU's Sports Hall of Fame in 2014. Sondag is also a member of the track and cross country team and has also served on the Student Athlete Advisory Committee and a member of the International Affairs Council. Sondag has been named to the Big Sky Conference All-Academic Team and has been on the dean's list every semester of her collegiate career. She has a 4.0 GPA. Sondag will graduate with honors and a double major of political science and international studies. She plans to continue as an athlete and graduate student at ISU next year and eventually pursue a law degree and work to protect the environment.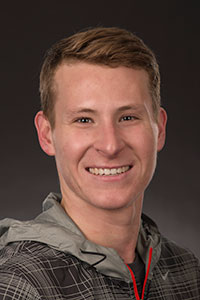 Andrew Kaler
College of Science & Engineering - Engineering
Andrew Kaler came to ISU from Camas, Washington, after being recruited for the ISU track and field and cross country programs. Kaler was the recipient of the Samuel H. Bennion Honors Scholarship, Bob Thompson Memorial Engineering Scholarship, Freshman Leadership Scholarship and the Jay W. Glasmann Scholarship. During his collegiate career as an honors program student and a student athlete, Kaler has been named Big Sky All-Conference Scholar Athlete four times and has been on the Dean's list every semester of his four years at ISU. He has a 4.0 GPA and will graduate in May with his degree in electrical engineering and mathematics. He will continue his education in the graduate program at ISU in the fall.
Pamela S. Ropski
College of Science & Engineering - Natural & Physical Sciences
Pamela S. Ropski graduated from Centennial High School in Meridian and came to ISU in 2013. She has received the Freshman 4-Year Scholarship, the Samuel H. Bennion Honors scholarship, Idaho Promise, Freshman Leadership scholarship, Honors Housing, ASISU Scholarship and the Douglas and Joy Heiner Pre-Medical Scholarship. During her collegiate career she was a member of the Chemistry Club, Pre-Health Professions Association, University Honors Program Club, Research for Chemistry Department and a cross country athlete from 2013-2015. She was recognized as the Biochemistry Student of the Year in 2015-16 by the American Chemical Society and awarded the Idaho State Board of Education Research Funding and the University Honors Program Research Funding. Ropski graduated in May with an Honors Bachelor of Science degree in biochemistry and has a GPA of 3.75. She will attend the University of Utah School of Medicine next fall to begin her medical education.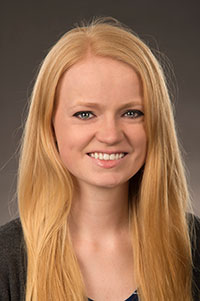 Natalie Rene Slagowski
Kasiska Division of Health Sciences
Natalie Rene Slagowski came to ISU from Meridian specifically to pursue a degree in medical laboratory science. She received multiple scholarships during her undergraduate career at ISU including the Presidential 4-Year Scholarship, John and Charlotte Huntington Scholarship, Samuel H. Bennion Honors Scholarship, Freshman Leadership Scholarship, Idaho Promise and Housing, Room and Board Scholarship. She was a member of the University Honors Program, First Year Transitions Mentor, Envoy and University Honors Program Mentor. Slagowski was an undergraduate research assistant through the Career Path Internship program. She will graduate in May with a bachelor's degree in medical laboratory science and a 3.82 GPA.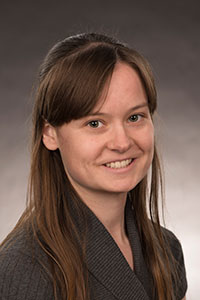 Emily M. Holcomb
School of Nursing
Raised in Wilder, Emily M. Holcomb attended the Idaho Virtual Academy, a public online academy, after the fourth grade. She was an excellent student and was awarded several scholarships, including the Kasiska 4-Year Scholarship, Freshman Leadership Scholarship, Idaho Promise, Samuel H. Bennion Honors scholarship, ASISU Scholarship, Bengal Retention Grant and ISU Junior-Senior scholarship. In addition to being a member of the University Honors Program, she was also a member of the Crossroads Christian Fellowship, Chi Alpha and the National Society of Collegiate Scholars. Holcomb is the first member of her family to obtain a college degree. She volunteered her time for the Susan G. Komen Race for the Cure and the Pocatello Homeless Stand Down. Holcomb will graduate in May with a bachelor's degree in nursing and has a GPA of 3.98.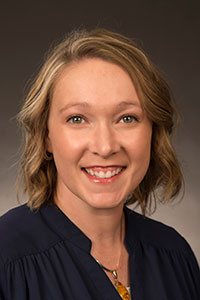 Jenifer Reader
Graduate School- Master's Candidate
Jenifer Reader will graduate in May with a Master of Science degree in health education and a GPA of 3.93. She moved to Pocatello 18 years ago and has worked as a registered dietitian nutritionist since completing a dietetic internship at Idaho State University in 2008. Reader has been recognized with multiple awards including the 20 Under 40 Idaho State Journal award, 2007 Outstanding Student from the Academy of Nutrition and Dietetics, ASISU Student of the Month – 2006, Idaho Central Credit Union Community Involvement Award – 2015 and Portneuf Cancer Center Community Oncology Service Award in 2006. She has received numerous scholarships that have assisted in her education. Reader enjoys teaching and has taught nutrition and family and consumer science classes at ISU since 2014.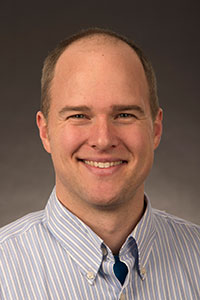 Jeffrey G. Howard
Graduate School- Doctoral Candidate
Jeffrey G. Howard's education has branched across literature, folklore, critical theory, professional writing and editing, and poetry and nonfiction writing. During his four years at ISU, in addition to his academic achievements, Howard married and he and his wife, Amy, now have two little boys. Howard received a graduate fellowship in 2014 running through the present, as well as the John M. and Charlotte Huntington Scholarship. His activities as a graduate student include membership in the English Graduate Student Association, Black Rock & Sage editor-in-chief from 2015 to the present, Sigma Tau Delta member, volunteer at Special Collections and Archives and a volunteer at the Marshall Public Library. He was recognized with the Ph.D. Teaching Excellence Award in 2015 for the Department of English and Philosophy and Prose Winner, Black Rock and Sage in 2014. Howard will graduate in May with his Ph.D. in English and the Teaching of English and has a 4.0 GPA.