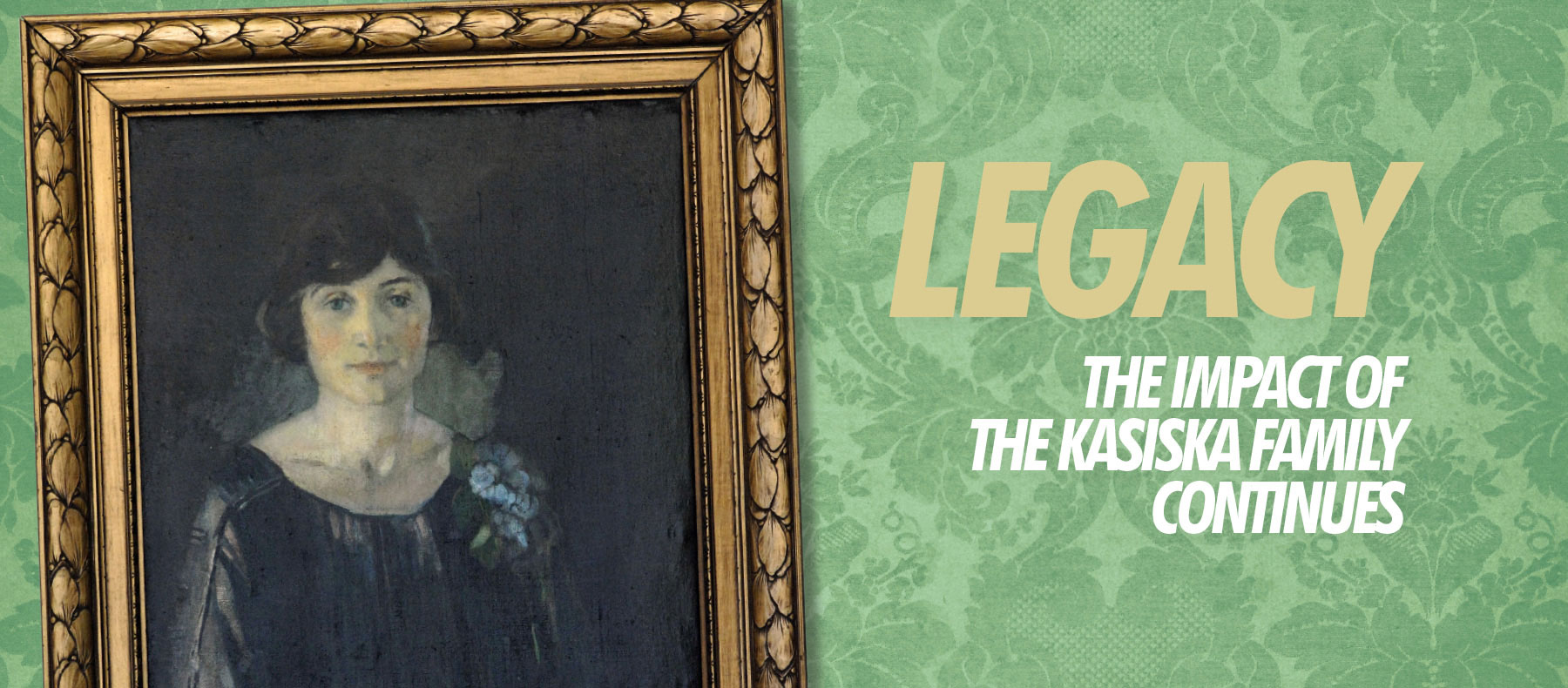 Idaho State University has named its largest academic unit in honor of an iconic Pocatello family whose financial support has helped thousands of students pursue careers in the health professions.
The Division of Health Sciences became the Kasiska Division of Health Sciences during a public ceremony Aug. 30 attended by ISU dignitaries, community leaders and members of the Kasiska Family Foundation board of managers.
"With all of our hearts we want to thank you for your vision and commitment to health care at ISU," university president, Arthur C. Vailas, told foundation members.
Since the late 1980s, the Kasiska Family Foundation has donated $17 million to ISU and pledged an additional $3 million, bringing the total gift to $20 million, said Alan Van Orden, who chairs the foundation's board of managers. The money has funded scholarships, health science programs, equipment, special events and conferences.
Philanthropic spirit
Kasiska support for ISU began in the 1960s and 70s, thanks to sisters Eva and Mabel who inherited their father's philanthropic spirit.
William Frederick Kasiska emigrated from eastern Europe in 1881 and settled in Pocatello in the late 1890s. A skilled financier and former Pocatello mayor, he amassed a fortune in business, banking, ranching and real estate. Kasiska, who died 1945, was known for helping young people finance their education or dipping into his pocket to help a friend in need.
"He always said he made his money here and he wanted to show his appreciation to the community that made it possible. It gave him great pleasure to help people and we like to carry on his work…'' said daughter Eva in an Idaho State Journal newspaper article published in February 1974.
That same article highlighted the Kasiska sisters' early support of ISU—Eva and Mabel were often the first in the community to donate to an academic program or annual scholarship drive.
"We like to think we are helping to attract worthwhile students to the university," Eva said.
Mabel died in 1976 and Eva in 1986, but their spirit of giving continues through the Kasiska Family Foundation. Since 1987, more than 6,700 ISU students have received Kasiska scholarships. Many have pursued advanced degrees—becoming nurse practitioners, physician assistants, pharmacists, speech-language pathologists and physical therapists. Others have chosen to practice in rural Idaho communities, improving access to quality health care for thousands of citizens.
---
Kasiska Scholarship Recipients
Grant Gundersen, nurse anesthetist
As a kid growing up in Blackfoot, Idaho, Grant Gundersen loved science and dreamed of a career where he could help people.
In 2005, he enrolled in ISU's four-year nursing program and received a Kasiska Family Foundation scholarship to help cover tuition and books.
"It would have been difficult without this scholarship. It was a blessing to my family to have it, said Gundersen, who was married with two young children at the time.
In 2008, Gundersen earned his bachelor's degree in nursing at ISU, then pursued a master's degree with a specialty in nurse anesthesiology at Gannon University in Erie, Pennsylvania.
As a certified registered nurse anesthetist or CRNA, he administers and monitors anesthesia under the supervision of an anesthesiologist, surgeon or other qualified medical professional.
Gundersen credits the Kasiska scholarship with giving him the time to focus on his ISU studies and maintain the good grades necessary to enter Gannon's highly competitive program.
Today, Gunderson, 33, is employed at Saint Alphonsus Regional Medical Center in Boise, fulfilling the dream of that science-loving kid from Blackfoot who wanted to help people.
Alyssa Brock, future occupational therapist
Honors student Alyssa Brock, 19, graduated from Meridian, Idaho's Rocky Mountain High School in spring 2016 and entered ISU as a sophomore, thanks to credits earned through dual-enrollment and advanced placement classes.
A health science major, Brock received a Kasiska scholarship, easing the financial burden on her family.
Brock's goal is to become an occupational therapist, a profession that will enable her to help people of all ages recover from injury, illness or learn to live with a mental or physical disability.
"I appreciate the holistic values of O.T.," she said.
Brock chose to study at ISU because of the friendly atmosphere on the Pocatello campus and the university's reputation as the state's leader in health professions education.
She thanks the Kasiska Family Foundation for its generosity. "The scholarship is allowing me to pursue my education more fully. The things I am learning today will allow me to improve lives tomorrow," Brock said.
Kylie Auger, pharmacist
Kylie Auger, 25, was the first in her family to go to college.
After graduating from Preston High School in southeastern Idaho, she enrolled in Brigham Young University, then transferred to ISU to study pre-pharmacy.
"I knew I wanted to do something in the medical field and pharmacy seemed interesting," she said.
Thanks to a Kasiska scholarship and additional financial aid, she was able to complete her pre-pharmacy studies with limited debt before enrolling in the ISU College of Pharmacy's rigorous doctorate program.
Auger, who graduated last spring with a Pharm.D., manages a Walgreens' pharmacy in Twin Falls.
She loves her job—especially interacting with customers and providing health education.
Auger is grateful to the Kasiska Family Foundation for helping her achieve her career dream.
"I say to them, 'Thank you for believing in me and making an investment in my future.' I certainly plan to pay it forward," Auger said.