Campus Announcements
A Year for Opportunity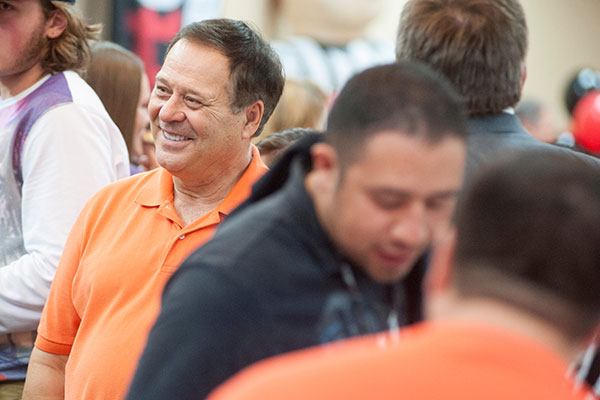 This has been an exciting year of change at Idaho State University. In early March, Gov. C.L. "Butch" Otter announced the creation of the Idaho College of Osteopathic Medicine, a private medical school located at the ISU–Meridian Health Science Center. Not only will this public-private partnership open incredible opportunities for our students and faculty to expand programs and create a more diverse learning environment, it will also benefit all Idahoans. Having a medical school in our state will help us to improve Idaho's doctor shortage and ensure that more Idahoans have access to quality medical care.
In April, Gov. Otter also announced that Idaho State University will enter into a pilot program this fall that will lock the cost of tuition for new freshman. Beginning this fall, new, first-time Idaho freshmen will be guaranteed the same tuition rate for four years. Finances are often a concern for college students across the country, and it's important to me that we continue to attract Idaho's best and brightest students.
Great things are happening at ISU, as we continue to grow and evolve to create the best learning experience for our students. Our students succeed when we work hard to ensure they have access to the latest technology, facilities and information, but they also succeed every day in our classrooms and laboratories, where our faculty are preparing them to become leaders in their fields. On page 24, you can read about Steven Hernandez, chief security information officer for the Office of the Inspector General for the U.S. Department of Health and Human Services. Hernandez was trained by faculty in College of Business's cyber security programs, which have not only trained today's high-ranking government cyber security experts, but are researching and developing today's standards for information security. It's just one example of our many programs that are helping to make a difference, not only for our students, but for our communities and our economy.
I am proud of all that we have accomplished this year, and I am proud of the legacy that our Bengal family has created and continues to create.
President Arthur C. Vailas, Ph.D.
Idaho Gets Med School
With approval from the State Board of Education, Governor C.L. "Butch" Otter announced a new public-private partnership to create Idaho's first four-year medical school at Idaho State University's Meridian Health Science Center.
The Idaho College of Osteopathic Medicine (ICOM) will be led by Dr. Robert Hasty, founding dean and chief academic officer. The privately funded school will be governed by a board of trustees consisting of local and regional physicians and health care executives. The ICOM will undergo an accreditation process through the Commission on Osteopathic College Accreditation, and classes are expected to begin in August 2018.
As part of the collaboration and affiliation agreement with ISU, the ICOM has agreed to a long-term land lease for its facility at ISU's Meridian Health Science Center. Construction of a roughly 80,000-square-foot, $32 million building to house the medical school will begin by or in February 2017. ICOM also will pay ISU for medical school students to use shared campus space or services. In addition, ICOM will provide for sharing medical school space and service with ISU students. The agreement provides for joint appointments and shared faculty and joint research between ISU and the ICOM.
"Today's announcement provides tremendous opportunities for Idaho State to partner with the Idaho College of Osteopathic Medicine on clinical research and academic programs," ISU President Arthur Vailas said. "This partnership will benefit the state and contribute to ISU's health care mission, core themes and strategic plan. We are excited to have a strong partner who will create future opportunities for our faculty, staff and students."
Otter said the new school will provide both educational and economic benefits.
"I'm confident that this groundbreaking partnership will benefit the health and wellbeing of citizens throughout Idaho and the region by helping to address our shortage of primary care physicians – especially in Idaho's underserved rural communities," Otter said. "This is a golden opportunity for us to train more health care professionals to meet our statewide needs while also attracting more Idaho students into the growing healthcare field. It's a once-in-a-generation chance for Idaho to address both our desire for better career opportunities for Idaho students and our need for more physicians."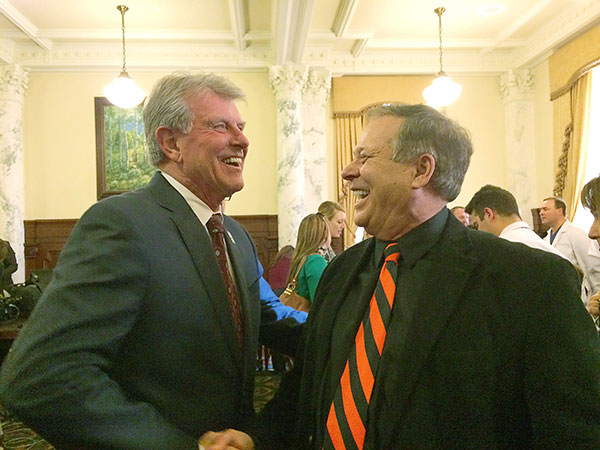 Tuition Gets Locked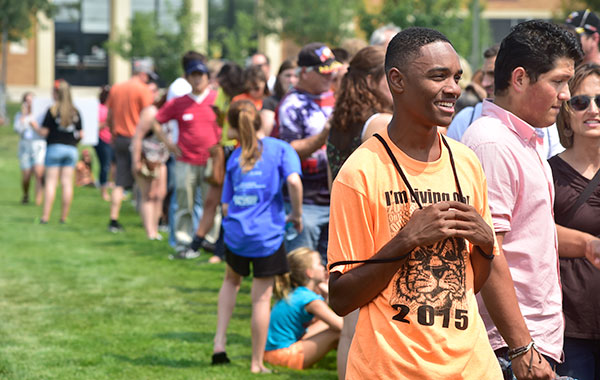 Gov. C.L. "Butch" Otter and ISU President Arthur Vailas announced in March the details of a pilot program that would ensure that base tuition rates for many undergraduate Idaho students remain the same for four continuous academic years.
Through the program, first-time, degree-seeking freshmen students who attend school for at least one semester and meet other criteria will have tuition costs locked at the same rate for up to four academic years.
"This new program will help students and their families better plan for their education and it gives students the incentive to complete their degrees in a timely manner," Vailas said. "We're pleased that Gov. Otter took the lead in this effort to help Idaho students pursue higher education knowing that their tuition will be locked as they complete their degrees."
The pilot program will begin at ISU in fall 2016. Only tuition rates will be locked in and not student fees.
To qualify, a student must be:
• an Idaho resident taking at least 15 credits per semester and maintaining a 2.0 GPA
• a degree-seeking, first-time freshman
• continuously enrolled fall and spring semesters, unless on active military duty, serving a religious mission or on humanitarian leave
Students, who may start any semester, must attend a semester to be eligible for the program. Idaho State University is the only institution in the state to pilot the program.
"I am thrilled to partner with Idaho State University to launch a Tuition Lock pilot," Otter said. "This program will begin to give families the kind of financial certainty they need as they map out their higher education goals. It is my sincere hope, that as the program develops a track record it will also give lawmakers the kind of certainty they need to support the concept at all of our colleges and universities."


For more information, contact the ISU Admissions Office, (208) 282-2475.
Idaho State University Intellectual Property Foundation Sets Stage for Economic Growth, Entrepreneurial Activities
Idaho State University's entrepreneurial and economic impact will significantly increase by the creation of the ISU Intellectual Property Foundation, Inc.
The ISU Intellectual Property Foundation, Inc., which was set up at the first of the year and has been operational since early April, is a not-for-profit 401(c)(3) foundation independent of the University.
"The IPF will run much like a traditional university tech transfer office, but with a slightly more focused purpose on job creation and economic development for Southeast Idaho, the entire state, and the region," said Christopher Fasel, ISU director of technology and the IPF's first CEO. "It will also promote collaboration with existing companies for collaborative research and technology development opportunities."
The IPF's board of directors is made up of ISU representatives, local and regional entrepreneurs and business people.
"It is a dynamic board and they are working very cohesively toward the goal of effectively finding a way to commercialize technologies developed by researchers, students and faculty here at ISU, as well as supporting entrepreneurial activities in the Pocatello, Meridian, Idaho Falls, Twin Falls, and other areas where ISU has a strong presence," Fasel said.
The IPF, however, won't solely be focused on the financial interests of the University.
"What we see as our mission is taking the intellectual capacity of the University and creating products and services that will make life better for everyone, but obviously for the citizens of Idaho, as a direct focus," Fasel said. "We are trying to create jobs and create new businesses that change peoples' lives. Whether it is a new medication that cures cancer or healthier energy production for a more sustainable environment, our first focus is to change the world and make lives better."
The IPF's services are broad and can be applied to a variety of academic disciplines.
"Oftentimes people have a misconception that only the STEM areas can contribute to commercialization, but that is not true," said Dr. Cornelis Van der Schyf, ISU vice president for research and dean of the graduate school. "Ideas that can be patented or trademarked can come from the full spectrum of academic disciplines, including – to use only a few examples – the humanities, or theatre arts or the College of Business."
The new IPF has its website set up and is putting together intellectual property review panels.
"Right now we are crossing our 'Ts' and dotting our 'Is', getting initial startup funding in place and we are well on our way," Fasel said. "We can immediately start reviewing new inventions for Idaho State inventors, determining which have the best possibility for achieving successful intellectual property protection as well as have a return investment from the market."
The University is rich with intellectual property possibilities.
"We are looking at everything from sustainable energy storage to the biotechnology and pharmaceutical areas, both central to ISU's mission to provide leadership in the health professions and serving the region and the nation through its environmental science and energy programs," Fasel said. "We have researchers working in so many different areas that we almost have more ideas than we are ready to handle. It's a really exciting time."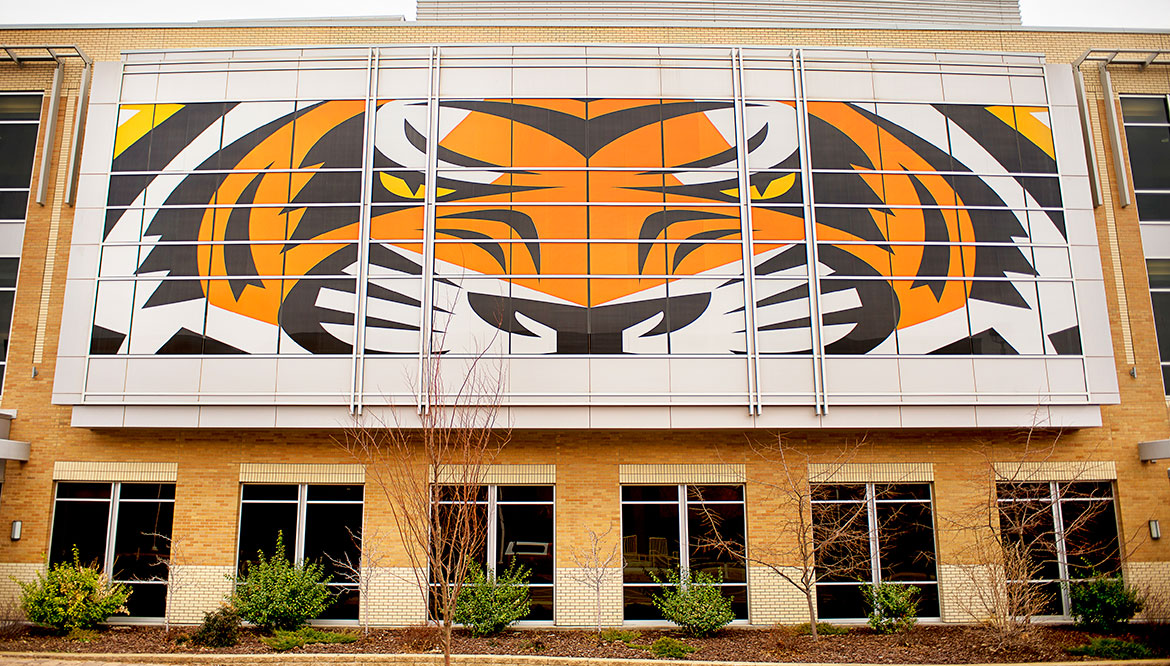 The Rendezvous Complex recently got a makeover with a two-story tall "Bengal Eyes" installation. The window art is a 2016 class gift, courtesy of the newly founded 1901 Student Alumni Group. The club was organized last year to renew old Bengal traditions and to start new ones. The group unveiled the installation at a March 11 Founder's Day Celebration with a free barbeque for students and the community. The "Bengal Eyes" will be a fixture on the building for the next eight years.
Benny's Pantry Opens in Idaho Falls
Benny's Pantry, an ISU Food Pantry designed to assist ISU students, staff and faculty in need, has opened a location in Idaho Falls at University Place.
The pantry distributes non-perishable foods in an effort to help relieve food insecurity in the ISU community. Clients may use their Bengal ID to shop the pantry without disclosing personal financial information.
The idea for an ISU campus food pantry was conceived by ISU First Lady Laura Vailas, a registered dietitian with professional experience in community nutrition.
"We know there are students and staff in Idaho Falls who could use the same kind of help Benny's Pantry has provided to the ISU community in Pocatello," Vailas said. "We don't want anyone lacking adequate, wholesome food."
Food donations to the Idaho Falls Benny's Pantry can be made to the Information Desk at the Bennion Union. Tax-deductible monetary
donations to Benny's Pantry can be submitted through the Idaho State University Foundation at
idahostatefoundation.org.
Giving is a Click Away
For many projects at Idaho State University, it doesn't take a huge gift to make a big difference, according to Kallee Valentine, director of annual giving at the ISU Foundation.
Community members have an easy way to support Idaho State University student clubs, departments and other groups.
The ISU Foundation recently launched crowdfunding sites supportisu.org and supportbengalathletics.org.
Many fundraising campaigns at Idaho State University are for worthy, but smaller causes, such as a recent campaign by the Department of Theatre and Dance to help bring children and assisted living residents to see a summer performance.
Through the sites, visitors can read about different causes, and see how their money can make a difference. On the Department of Theatre and Dance campaign, $30 was enough to give 10 students the chance to experience theatre, and $100 was enough to sponsor a bus full of students.
The sites are made for projects with goals of $5,000 to $25,000. A recent campaign asked for gifts to create a scholarship in honor of former football coach Dave Kragthorpe, who coached the national title-winning 1981 football team.
Unlike traditional crowdfunding sites, there are no fees for gifts, and all of the money donated goes directly to the cause. People can also share the campaigns on social media.
"It's a way for someone to give $5 and make a difference," Valentine said. "Even if people can't give, sharing is one of the things that makes these projects successful."