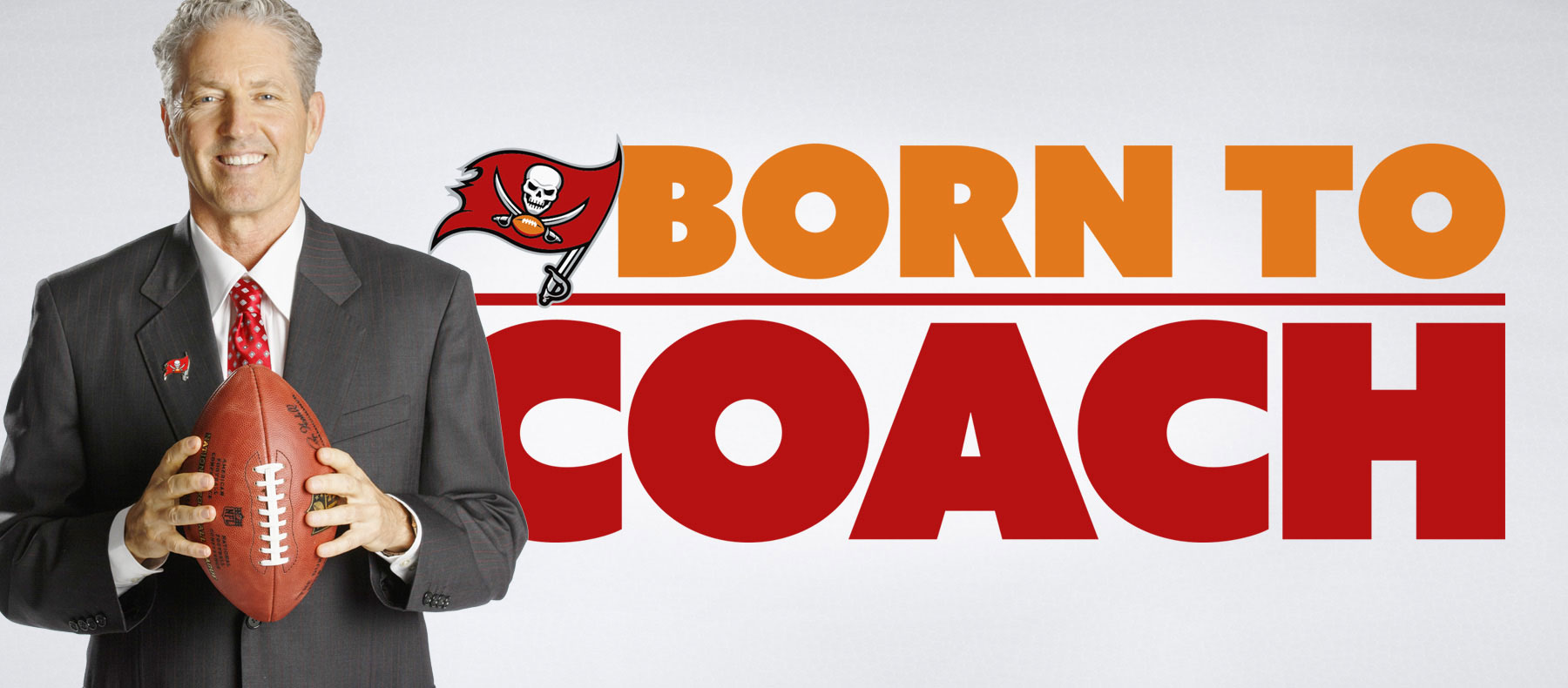 Born to Coach
Dirk Koetter was born to be a football coach
From his beginnings organizing neighborhood games, Koetter recently reached the pinnacle of coaching when he was named the head coach of the Tampa Bay Buccaneers of the National Football League.
Local Koetter observers were not surprised at his selection as an NFL head coach. The oldest child of Jim and Barbara Koetter, Dirk has been a coach-in-waiting almost since infancy. Jim Koetter is one of the most successful and influential coaches in state history. He head coached Highland and Pocatello High Schools a total of 23 years, earning many state titles. He coached at Idaho State University eight years--assistant head coach of the 1981 national championship team and head coach from 1983 to 1987. He will be inducted into the ISU Sports Hall of Fame in fall 2016.
"From my father I learned about what it takes to put in long hours towards achieving weekly and season-long goals," Dirk says. "I learned the fundamentals of quarterback play and how to attack defenses with the passing game, two areas where my Dad was ahead of his time. I also learned about loyalty, what I consider to be the number one characteristic of successful assistant coaches."
The Koetter parents say Dirk's coaching genes were obvious at an early age.
"He was probably 6 years old when he was the neighborhood organizer of all teams," Jim said. "Any games played, he was in charge."
"Dirk got the kids to play in our yard and he wasn't afraid to tell them what to do and where to go," adds Barbara.
Jim brought Highland game film home and Dirk studied it with him. After games the Koetters hosted get-togethers with the assistant coaches and Dirk would pay attention to their game analysis.
Dirk's football career at ISU included playing on the 1981 championship team. After he graduated, he became head coach at Highland and in 1984, at age 24, his Rams won the state championship.
ESPN pro football analyst and ISU alum Merril Hoge had the distinction of playing for Dirk at Highland and Jim at ISU.
"When I talk about the great coaches in my life, I start with Chuck Noll, but two guys that I would use in the same breath that were innovators and great teachers were Jim and Dirk," Hoge says. "The Big Sky Conference was using pro-style offensive concepts before any other conference in the country. When I was in high school, Dirk introduced these things and opened my mind to the style of offense I would need to know in the NFL."
Dirk joins former ISU teammate Marvin Lewis of the Cincinnati Bengals as an NFL head coach, making ISU one of three universities, the others being Pacific and USC, with two NFL head coaches.
His Tampa Bay appointment highlights a 33-year coaching career, 23 years as an offensive coordinator, 10 in the NFL and 13 in college, and 11 years as a head coach, nine in college and two at Highland High School.
Lewis was more than just Koetter's teammate. He was a close family friend.
"I spent nearly every Thanksgiving at the Koetters from 1977 to 1983," Lewis says, "as well as countless high school football games traveling with Dirk and Barb to see Jim coach and Brent Koetter play. I would travel most Friday nights of 1981 to high school games with Jim to look at players as a graduate assistant coach."
Statistics can mean almost anything the person citing them intends. But when it comes to Dirk's NFL coaching they are revealing. On the three teams where he coordinated offenses, every quarterback had the best results of his career.
Koetter spent five years with the Jacksonville Jaguars, 2007-11, and in 2007 David Garrard set the Jag record for passing efficiency. In Koetter's three years at Atlanta, Matt Ryan had the three highest passing yardage seasons in team history.
In 2015, Bucs rookie Jameis Winston threw for 4,042 yards, third most for a rookie in NFL history. Some of the credit has to rub off on Koetter, but he gives lot of it to Winston.
"The process with Jameis involved trying to play to his strengths and keeping him out of harm's way as much as possible," he says. "He made great progress because he is a very quick learner, a fearless competitor and an infectious leader."
Dirk fondly remembers his years at ISU and wishes the same for all its alumni and students.
"To all the current and former Bengals, I would say that we should be thankful and appreciative of our time there. I was fortunate to come in contact with a lot of people who helped lay the foundation for not only my career, but also my non-football life."
Dirk met his wife of 27 years, Kim, at ISU where she was an athlete and is a graduate.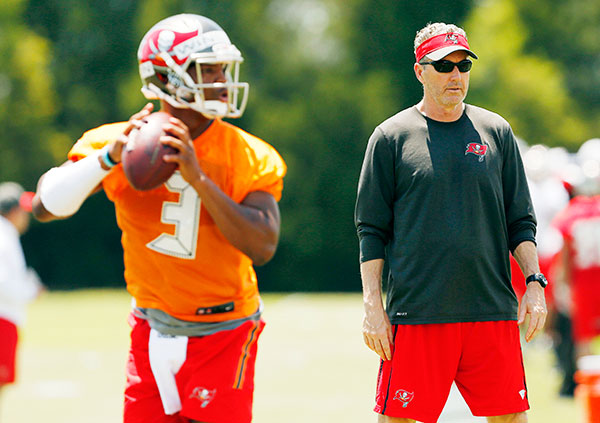 Dirk Koetter of the Tampa Bay Buccaneers during the May 2015 Rookie Mini Camp at One Buccaneer Place.
Photo by Matt May/Tampa Bay Buccaneers