Academic News
Pharmacy Partners to Offer Doctorate to Alaska Students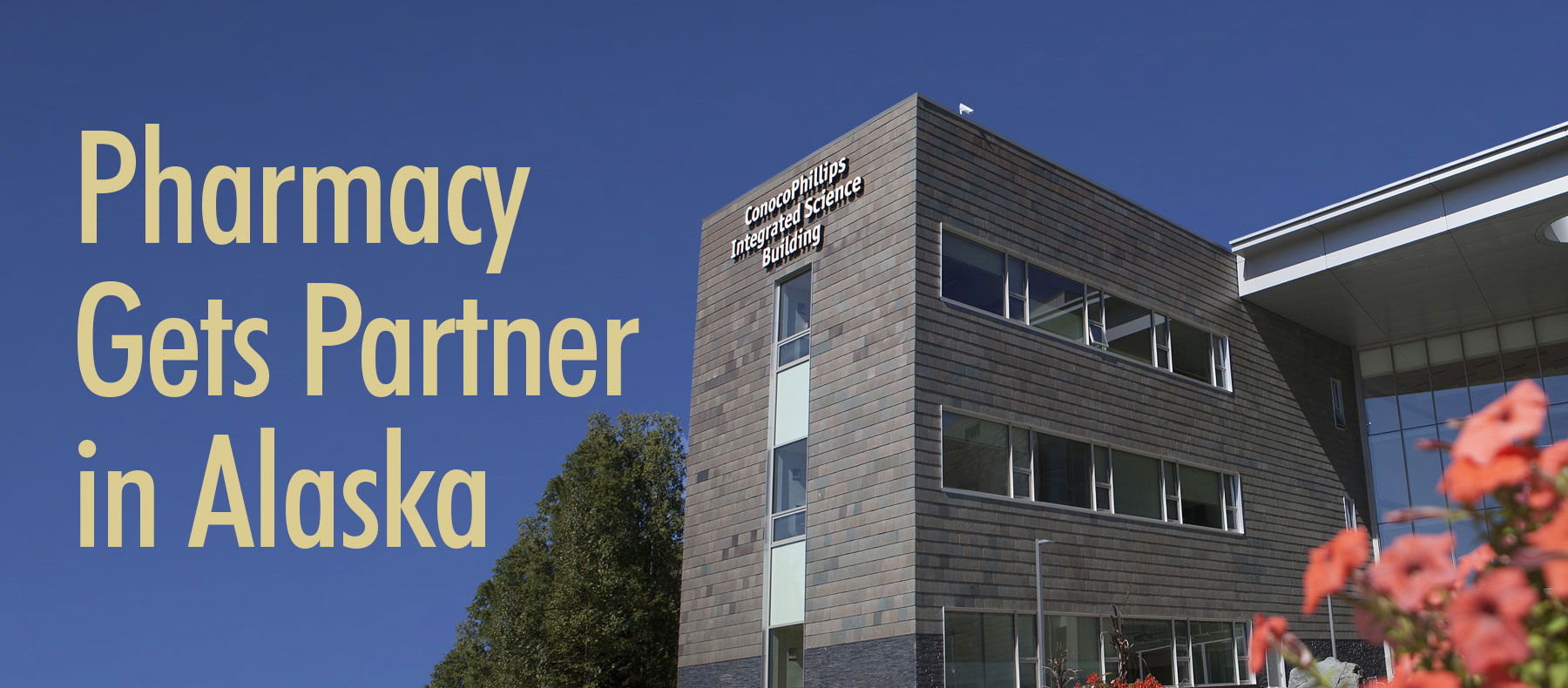 When Idaho State University tapped Dr. Tom Wadsworth to run its new pharmacy partnership at University of Alaska Anchorage, he was thrilled — even if it meant a 2,700-mile move from Idaho.
"It's been wonderful," he said during a phone interview from University of Alaska Anchorage as he waited for his Pocatello-based students to join him via a sophisticated video link. Thanks to distance-learning technology, Wadsworth is continuing to teach pharmacy classes in Pocatello and Meridian as he assumes his new role as ISU's assistant dean of Alaska programs.
The partnership—more than seven years in the making— will enable UAA students to earn a four-year Doctor of Pharmacy degree without leaving Alaska. ISU will award the degree, and the Alaska students will pay out-of-state tuition to Idaho State.
UAA students will have on-site instructors and connect to Pocatello and Meridian lectures via distance learning and video conferencing.
"(Alaska) students must have the exact same experience as Pocatello and Meridian students" for accreditation purposes, Wadsworth explained.
"Our state has had a long-standing need for pharmacy education," said Dr. Jan Harris, vice provost of UAA Health Programs. "UAA students leaving the state for pharmacy education may not return, and pharmacists from the lower 48 states often do not stay long term. This has been a particular burden to rural Alaska."
The joint program will recruit six to 10 students in its inaugural class which begins in fall 2016, said ISU College of Pharmacy Dean Dr. Paul Cady. Future classes will enroll up to 20 students, and ISU will hire more Alaska-based faculty as needs warrant.
UAA officials say they identified ISU as a good match because of ISU's long history of pharmacy education, emphasis on rural health and experience in multi-site delivery.
Wadsworth is no stranger to Alaska. For four years, he worked as a clinical pharmacist in Fairbanks before returning to Idaho to practice pharmacy and teach at ISU-Meridian.
Both he and Cady say the partnership will help the College of Pharmacy expand its education base and deliver high-quality advanced pharmacy education to an underserved region of the country.
"We are thrilled at the opportunity to work with the UAA system," said Cady.
For more information about the ISU-UAA joint pharmacy program, go to pharmacy.isu.edu/live/alaska.
'Second Chances' Made for a First-Rate Career
In the late 1960s, the ocean waves off Ventura, California, nearly derailed retiring Idaho State University biological sciences ecology professor Dr. Terry Bowyer's stellar academic career before it got started.
When he was attending Ventura Community College, he said, "It was better to go down to the beach than to class. It took me a while to grow up."
He was told his grades weren't good enough to go into science so he should go into another profession.
"The thing is, that in this country there are a lot of second chances in higher education and that just isn't the case in many other countries," said Bowyer. "Finally, I just decided I was going to do what I want and applied to Humboldt State, and got my B.S. in wildlife."

After serving in the Army reserves, he earned his Master of Science degree in wildlife at Humboldt State University and earned his Ph.D. at the University of Michigan.
Bowyer, 67, who will retire this spring, spent the last 12 years of his career working at Idaho State University, after 18 years at the University of Alaska Fairbanks and six years at Unity College in Maine. He has published about 210 academic works, including scientific papers and book chapters, specializing in the ecology of large mammals.
The quality of his work has not gone unnoticed. His vita lists 22 extramural and nine intramural awards, including several national and international honors.
More important to him than his research, however, are his students.
"What is exciting and what really matters is educating students," said Bowyer, who mentored 33 graduate students during his career including 16 Ph.D. students. "I get more joy out of that than anything else. That is something I am going to miss.
Bowyer's academic linage is impressive and his former students have pursued successful careers in academia and for wildlife management agencies.
University of Idaho Professor Janet Rachlow, who earned her master's degree under Bowyer at the University of Alaska Fairbanks, complimented her mentor.
"I was his first graduate student and I cannot believe how incredibly lucky I was to work with him," Rachlow said. "Terry and his wife, Karolyn, are like family and he has continued to be a mentor to me throughout my career."
One thing that stood out about Bowyer to Rachlow was his curiosity.
"He is super creative," Rachlow said. "His office was like a turnstile. Faculty and student would come in and ask a specific question or idea and leave with a whole suite of ideas."
Bowyer and his students have studied a variety of big game animals, including moose, elk, mule deer, white-tailed deer, bighorn sheep, Dahl sheep, muskoxen, reindeer, caribou, mountain lions, grizzly bears, coyotes and bobcats.
He and his students studied these animals in some stunning environments, from coastal ranges in California, to forested areas of Maine to Denali National Park in Alaska, to name a few.
"I've been really lucky with the study areas I've had," he noted.
One of his most memorial observations of animals in the wild were of a battle between bull moose in Denali National Park.
"The first time I saw a real fight between two bull moose was one of the most impressive things I've seen in my life," he said. "It's not sparring. These are fights to the death."
Another battle he observed ended with an older, alpha moose slipping and falling to the ground and then being gored to death by the challenger. After the big bull was down, other young bulls found the animal and continue to gore him long after the initial battle was over.
In his research, Bowyer said that he has always tried to mix the behavior and the ecology of animals into his studies.
"You should try to work at the interface of theory and application if you want to make an impact," Bowyer said. "It is important you just don't do applied work or you have to do it again and again, and it is a waste of time and money. You want to address questions about why things are happening and turn those around into potential applications."
In retirement, he'll continue doing research and writing, including plans to write a book on sexual segregation among big game animals. Bowyer plans to move to Estacada, Oregon, where he as purchased property near the Clackamas River.
Arts and Letters Creates Research Center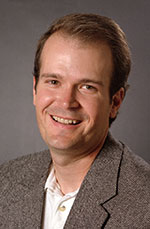 The Idaho State University College of Arts and Letters has opened a new center designed to encourage collaboration for research projects institution-wide.
The Integrated Research Center, which opened in December, was designed by faculty and staff members for students to have a designated space to collaborate on shared research interests and use advanced technology.
The center will be used to encourage integrated research that bridges different departments in the social and behavioral sciences, humanities and fine arts. Collaboration with other areas at ISU is also encouraged.
The center is equipped with computers equipped with visualization and transcription software, a 3D printer, scanner/plotter, eye tracker, EEG cap to measure brainwaves, other software for data analysis and visualization and a conference room to meet for collaboration.
"Ultimately we are here for students to learn. The better technology that faculty have to do their research, the more that students benefit," said Dr. Mark McBeth, associate dean of social and behavioral sciences. "The Integrated Research Center is also an attractive recruiting tool to get faculty and grad students alike to come to Idaho State and the College of Arts and Letters. The academic side of the Integrated Research Center cannot be stressed enough. Faculty can use the center for their classes. Giving students and faculty access to such technology is really what this all about in the end."
Influencing Change on the Portneuf River
By providing input and informational tools, Idaho State University researchers are assisting the citizens of Pocatello to create a new vision and plans for the Portneuf River running through the city.
Now confined largely to a concrete channel as it flows through town, the Portneuf River may one day be freer flowing, bordered by walkways, parks or other improvements envisioned by planners.
ISU researchers active in the National Science Foundation's Managing Idaho's Landscapes for Ecosystem Services (MILES) project have lent their expertise and knowledge to the City of Pocatello's Portneuf River Vision Study, a research project funded by U.S. Army Corp of Engineers.
The goal of the river vision project is to create a comprehensive plan for the Portneuf River from the Portneuf 'Gap' on the south edge of the city, downstream to the Fort Hall Indian Reservation boundary at Siphon Road. The project hopes to have a final project vision completed this summer to present to the Pocatello City Council in September.
The goals of MILES – a five-year statewide study in its third year being conducted by the state's public institutions – and the Portneuf River Vision study go hand in hand.
"The ISU MILES researchers have been and continue to be integral players and have provided mapping resources," said Hannah Sanger, City of Pocatello science and environment division manager and lead on the Portneuf River Vision Study. "The GIS (Geographic Information System) maps show the land ownership, where trails are and where the river used to be. Users can click on it and make comments and the public and everyone using the site can see it."
ISU MILES grant leads Dr. Donna Lybecker, professor of political science, and Dr. Colden Baxter, associate professor of biological sciences, are on the 26-member River Vision working group, comprised of members representing a wide variety of community organizations and interests.
"One of the goals of MILES is to connect people to ecosystem services," Lybecker said. "One of the big ways to do this for us was to connect the Portneuf River to the community."
Another of the big goals of the MILES project is to translate science findings into policy change for communities.
"And here we are, even before the MILES grant has ended, with an initial plan for the river and, if all goes well, by this time next year there will be an adopted long-term plan for the Portneuf River," Baxter said. "We will have assisted with catalyzing this project, and this an example of what it is we are supposed to be doing; one example of what we hope will be many more of this type of application of our science to our local communities."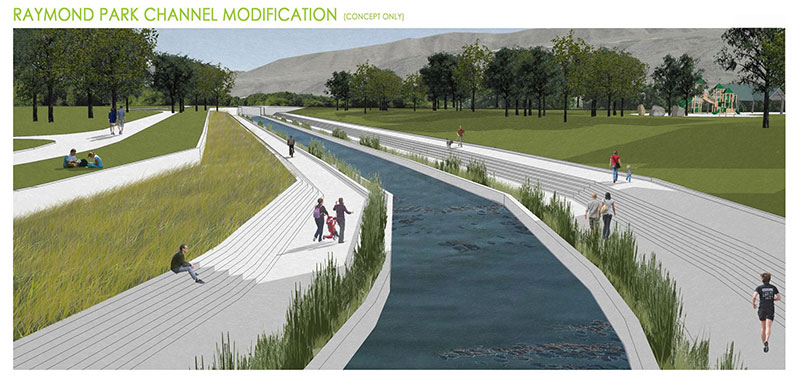 College of Technology Creates New Programs
Two new programs in the Idaho State University College of Technology will help students become better qualified for employment in a changing health care landscape.
With the help of a $1.5 million Department of Labor grant, the College of Technology will soon offer a three-semester pharmacy technology program, and a two-year occupational therapy assistant associate degree program beginning in fall 2016. The grant funding is part of a larger partnership with North Idaho College and Lewis-Clark State College. The grant is also funding a vet-to-nurse program, which offers a streamlined nursing program for veterans who served in medical capacities during their military service.
"We're excited and ready to create a larger portfolio for the College of Technology," said Paul Peterson, chair of the Department of Health Occupations in the College of Technology.
Both programs will train students for careers in growing areas of health care, Peterson says. The Idaho Department of Labor estimates a 32 percent statewide job growth in the next 10 years in the occupational therapy assistant field. For pharmacy technicians, the field is expected to grow 31 percent in Idaho over the next 10 years, requiring about 60 new technicians each year. Occupational therapy assistants make a median salary of $56,500, and average annual pay for pharmacy technicians in Idaho is $30,500.
Proposed federal legislation could mean that pharmacy technicians could require more education and certifications in the near future, and the College of Technology's new program will help fill the need, Peterson said.
"This is going to really open up the market," he said.
The programs will use a distributive model of education. Students will complete online, laboratory and face-to-face instruction. Faculty from the College of Pharmacy and the Master of Occupational Therapy program will collaborate with the College of Technology, and the programs will share laboratory space, giving students access to the latest in equipment and knowledge.
We're doing some super collaboration," Peterson said. "We're building career ladders and building bridges."
Both the occupational therapy assistant program and the pharmacy technician program will host their first students beginning in August, with between 12 and 15 students in each cohort.
Fulbright Heading to India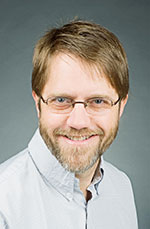 Dr. Alan Johnson, professor of English at Idaho State University, was recently awarded a second Fulbright Scholar grant to research and teach in India.
Johnson will travel to Chennai, in southern India, in August 2017 for nine months to research images of the environment and forest in Indian literature. He went to Mumbai, India, six years ago on a Fulbright Scholar grant to lecture and research literature and globalization for six months.
Being born and raised in India, Johnson has a strong connection to the country, and the majority of his research is focused on India.
After graduating high school, he left India to attend Southern Illinois University, where he received his bachelor's degree in English. After teaching a year in Egypt, Johnson continued his education in English, receiving his master's degree from the University of Virginia and his Ph.D. from the University of California, Riverside.
"My personal reasons for this Fulbright are interwoven with the institutional need," Johnson said. "These international exchanges are so important this day and age. Universities are all about exchanging ideas and the diversity of ideas, so a Fulbright is a perfect opportunity to make those connections with scholars across the world and bring them back to ISU."
Nursing SIM Lab Provides Realistic Situations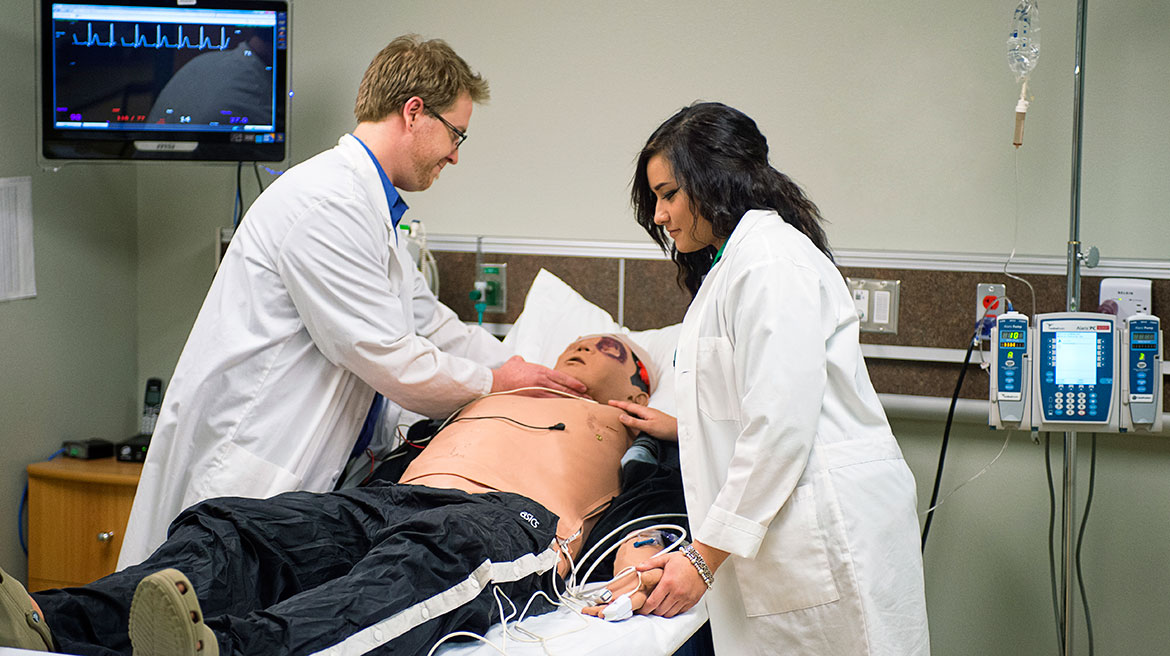 When Todd Hillman was earning his information technology degree, he didn't realize he would be spending part of his days shopping for wigs, or testing makeup to find the perfect tone to simulate bruises.
In addition to using his newly found skills in makeup artistry, Hillman, the IT specialist in the School of Nursing SIM lab, spends his days programming mannequins that can bleed, talk, convulse and have rising or lowering blood pressure. Words like "trach tube" are now part of his daily vocabulary.
"Every day is different," he said. "I had no medical background when I started. Now I can realize when the students are missing something. It's really neat to see the students progress."
The SIM lab, where students practice their skills on both mannequins and live volunteer patients, looks remarkably like a hospital. Rooms are equipped not only with beds, but with running water, working oxygen, carts, monitors and IV stands to deliver medication. In the center of the lab is a nurses station.
The atmosphere allows students to practice basic skills, like filling out paperwork in a way that meets current patient privacy standards, opening packages in a way that keeps them sterile, and moving around and working with real-sized patients in a real-sized hospital room. Cameras in each room allow students to review scenarios later to perfect their skills, or to share experiences with their peers.
In a nearby room, drawers filled with body parts line the walls. As they are learning new skills, students can begin practicing with just an arm or leg. There are also several levels of mannequins. Low-level mannequins are basically just bodies, Hillman says. Often, he uses them to add "family members" to a room during scenarios, so students can learn to complete their work with family members in a hospital room. Mid-level mannequins can be used for certain scenarios, such as one mannequin designed to give birth. The most sophisticated mannequins can provide students with experiences they might not see during their clinical rotations.
From another room, Hillman and ISU nursing faculty can make the mannequins talk or respond to medication. The "patients" have 14 pulse points, pupils that can react to light, and cry or moan in pain. They also have veins, so students can insert IVs.
For students, the mannequins provide a safe place where they can learn new skills, and deal with serious situations before they encounter them in a real scenario.
"It's much more realistic," says Susan Belliston, a clinical assistant professor. "When they have a mannequin actively dying, they don't have time to think. They're able to make mistakes without hurting anyone."
Nursing students do clinical rotations as part of their curriculum, but sometimes, especially in specialties that see fewer patients, students' real-life experiences can be limited. Students might not see a specific illness or health condition. Along with more rare medical scenarios, classes have experiences such as a simulated Ebola outbreak.
"They can have experiences that they otherwise might not," Belliston says. "We can guarantee students get to have a certain needed clinical experience."
A & P Laboratories Offer Learning Opportunities for High School and College Students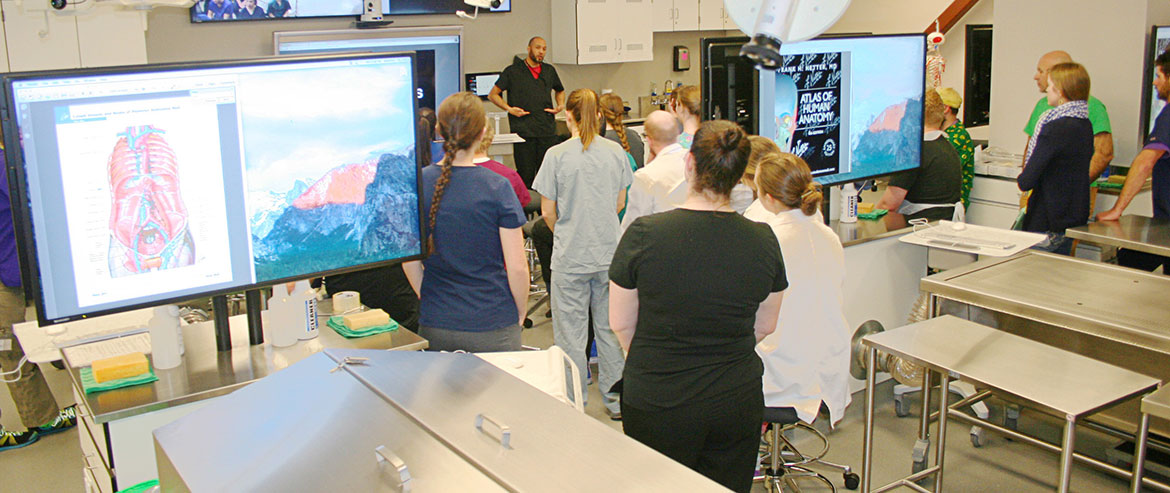 Since January, high school and college students have gathered at the ISU-Meridian Health Science Center three nights a week to study anatomy in the new L.S. and Aline W. Skaggs Treasure Valley Anatomy and Physiology Laboratories.
Dubbed the After School Anatomy Club, the students meet in the 12-station cadaver lab—the largest and most sophisticated lab of its kind in Idaho.
Participants include students from Idaho State University, Boise State University, College of Western Idaho and College of Idaho; juniors and seniors from seven Treasure Valley high schools; and students who've completed an undergraduate degree and are awaiting entry into a professional medical or health science program. Ages range from 17 to about 60, said laboratories manager Lorinda Smith.
Instructors organize students into smaller groups called "learning pods" to foster collaboration.
"They are learning anatomy, dissection skills, teaching, presentation and communication skills while getting experience working in an interdisciplinary lab environment," Smith said.
ISU physician assistant studies students—the first students to use the cadaver lab when it opened last fall—are using the After School Anatomy Club as an opportunity to get teaching experience and satisfy service requirements for their rigorous two-year master's program.
"The value is immeasurable," said physician assistant studies student Stephen Rivera, 27. Not only does the club reinforce what he's already learned, but it provides an opportunity to view the same material from a different perspective.
An added bonus is the opportunity to work with high school students such as 18-year-old Julianna Lambright, a senior at North Star Charter School who also serves as a lab intern.
"I love it. It's fun and a wonderful opportunity," said Lambright, who plans to study pharmacy at ISU-Meridian after she completes her pharmacy prerequisites.
The semester-long Anatomy Club was the brainchild of Smith and laboratory specialist Noah Harper who participated in a similar program at University of Utah where both taught before joining ISU last year.
Acceptance into the After School Anatomy Club is highly competitive. High school students, for example, had to submit a resume, letters of recommendation from teachers or other professionals and write a cover letter explaining why they wanted to participate.
The club is just one of several programs offered at the Meridian labs and benefitting the community. Students from Meridian's Renaissance High School have used the labs for lessons on the brain and nervous system. Other students have used the lab's virtual technology tools to explore the structure and function of the human body.
Smith says many students who use the labs have aspirations to become doctors, nurses or other health professionals.
"It's the only facility like it here in the Treasure Valley. We have something really special here, something all students can benefit from," she said.
Eddings Leaves His Mark
In his more than 30 years at Idaho State University, ISU Diversity Center Coordinator Ram Eddings has helped thousands of minority and at-risk students succeed.
"I would have quit school if it weren't for him," said April Robinson, '09.
When she came to college, Robinson was a 30-year old single mother. She met Eddings through TRiO, a federally funded program, which provides students with a variety of support services including advising, counseling and tutoring. To participate in one of the three TRiO programs, students must meet federal low-income guidelines, be a first-generation college student and have documented physical, psychological or a learning disability. Eddings was her TRiO advisor, and from the beginning, he changed her outlook.
"I went to TRiO and he helped me with my schedule and listened to my fears about returning to school," Robinson said. "He was very open and he listened and could relate to some of the obstacles that I've had."
Eddings, 66, has memories of riding in the back of the bus when he was growing up in Alabama, Texas and other places his family lived. He also remembers sleeping in the family car with his parents, even when nearby hotels had their 'vacancy' signs on.
He doesn't carry bitterness from those experiences. Instead, he concentrates on the lessons that his mother and his father, a career military man who worked in supply in the Air Force, taught him as the family moved from base to base during his childhood.
"I've always cared. That is how my parents taught me," Eddings said. "When I grew up, I was always taught you are no better than anybody else and my parents constantly told me that."
Listening is just one of Eddings' skills as a counselor, according to Dr. James "Byrd" Yizar, associate director of ISU's Student Success Center. Eddings was Yizar's advisor when he was a student-athlete at ISU.
"When I was a student, he (Eddings) was hard on me, not necessarily a disciplinarian, but he was a very on-task kind of advisor on the stuff that he saw that I needed to do to be successful," Yizar said. "Watching him over the year I've seen that he has a multiple set of skills that he uses working with students. If he needs to be a listener, he'll do that. If he needs to ride someone hard, he'll do that. He'll do whatever he sees is necessary to fulfill his role. I guess he can be an actor and play a variety of roles, or for a sports analogy, he is a player that can play a lot of positions."
Although he found working with TRiO students satisfying, Eddings said he couldn't pass up the chance to be the coordinator for ISU's Diversity Resource Center. The Center's purpose is to create and promote diversity programs and education for ISU students, faculty, and staff. Stacey Gibson, director of the ISU Office of Equal Opportunity/Affirmative Action and Diversity, credits Eddings with reviving the Diversity Resource Center.
"When Ram came over here almost two years ago, the center went from being lost and not having continuity, to becoming a significant piece on campus because of him and his leadership," Gibson said. "He comes early and stays late, and the center has done a complete 180 due to his efforts."
Eddings said he wants to see the Center continue to grow.
"We have a wide range of diversity on campus, but we need to be able to unify everybody and bring everyone together and we're working to make that happen," Eddings said. "We're pushing to get the Center to be a hub for unifying the campus. Some people still don't feel like it is a place they can come, yet, but it is a place for everyone, a place where you can meet people from all over the country and all over the world, and it's a good opportunity."