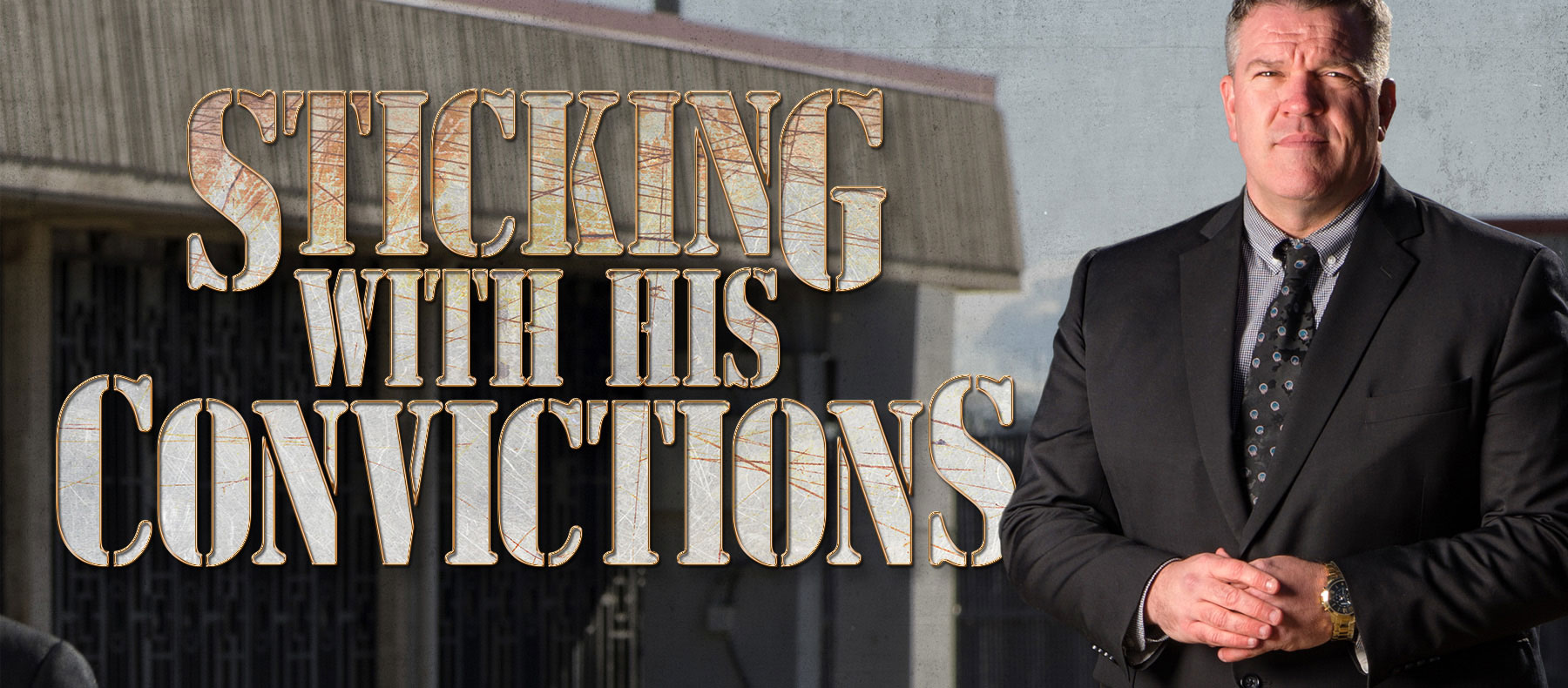 Kevin Kempf: How a former Pocatellan and Bengal became Idaho's corrections chief
Kevin Kempf walks the grounds of the Idaho Maximum Security Institute south of Boise on a bright February morning. He drops by a day room near E Block to visit with staff and inmates. He wants to know how they're doing, if things are running smoothly and if they have suggestions for improvement.
Kempf's visits are usually unannounced and can occur any time of day or night. No entourage. No fuss. It's the way this former inside linebacker for the Bengals does business as director of the Idaho Department of Correction.
At the helm since December 2014, Kempf has made some big changes in the way the department operates, drawing praise from state and community leaders, lawmakers and IDOC staff. As director, he oversees the department's 2,000 employees, nine prisons, four community re-entry centers and seven probation and parole districts.
Not bad for a kid from Pittsburgh who struggled with academics and took special education classes through high school.
But Kempf was one very smart kid. He wanted to play college football, but didn't have the grades to play for a four-year school. He could sit out a year and bring his grades up, but that wasn't an option for the ambitious teen. He wanted to play now so he sent video tapes to Ricks College (now BYU-Idaho), landed a spot on the team and moved to Rexburg sight unseen.
"I fell in love with Idaho. I say it all of the time … 'I was homesick for about five minutes,' " he said.
Kempf began to thrive academically, transferred to University of Arkansas where he played a year for the Razorbacks, then returned to Idaho in 1993 to play his senior year at Idaho State University.
"Frankly, there was no other place I wanted to go. Idaho State has a very rich football history and a great reputation in the Big Sky at the time. It was a win-win for me," said Kempf.
He enjoyed campus life, the community and his political science classes. When asked what he learned at ISU, he said leadership.
Corrections career
As director of the state's third largest agency, Kempf has learned to handle the pressures of working with diverse interests. A fan of social media, he takes to Facebook and Twitter to applaud employees for a professional achievement, solicit ideas or announce a new program. He's also a formidable ping pong player who can recite the lyrics to most any song by British indie rocker Morrissey.
It's really no surprise that Kempf chose a career in criminal justice. His two older brothers were police officers—one in Idaho and another who recently retired from the Connecticut State Police.
Kempf joined IDOC in 1995 as a correctional officer at the Pocatello Women's Correctional Center and loved the job. He's served the department in a variety of positions, including parole officer, investigator, warden, chief of prisons and deputy director.
Kempf finds the corrections industry fascinating and challenging—given the fact that 97 percent of Idaho's inmate population will walk the streets again.
"It's our responsibility to do something with them while in our custody. We have to educate them, change the way they think. And then as much as we can, structure their re-entry back into the community so they don't go back and commit crimes," he said.
IDOC supervises 24,000 offenders including inmates, parolees and felony probationers.
Under Kempf's leadership, IDOC is continuing to build on the strengths of the previous administration—including implementation of the Idaho Justice Reinvestment Initiative to improve inmate success— while eliminating practices and treatment programs that research shows do not work.
Drawing back the curtain
When Kempf took the director's job, he vowed to run the department as transparently as possible and he thanks Idaho Governor Butch Otter for letting him do so. Idaho lawmakers can show up unannounced any hour of the day or night, show their legislative badge and tour an IDOC facility.
Kempf says it's an opportunity for lawmakers to not only witness a dedicated corrections staff and a hard-working offender population, but an opportunity for lawmakers to suggest ways to improve operations.
"That's how we can make things better," he said.
---
ISU alumna creates website and playing cards to help solve Idaho cold cases
In fall 2013, Crystal Douglas was laid up in her Idaho Falls home with a broken ankle. With her physical mobility hampered, she started following social media sites.
One discussion piqued her interest—the unsolved cases of four Pocatello girls, kidnapped and murdered three decades earlier.
Douglas was a child living in Pocatello at the time. She remembers playing in the same park where two of the girls vanished in 1978 and recalled when a third and a fourth girl went missing several years later.
"I started thinking more about the cases and what became of them," Douglas said. She began scouring news archives, contacting law enforcement agencies for new information, and reaching out to families who carry the burden of uncertainty with them every day.
"It's like a weight that never comes off of them. Some days it may be heavy, other days it's excruciating," said Douglas, who graduated from Idaho State University in 2001 with a master's degree in counseling.
Her research took her beyond the Pocatello cases—to the discovery of dozens of unsolved missing-persons and homicide cases in Idaho. In a matter of months, Douglas had compiled a vast database of Idaho cases on her home computer and created a Facebook page to draw awareness to them.
In May 2014, she launched East Idaho Cold Cases, Inc., a website with background on unsolved Idaho cases from 1954 through 2012, including the cases of the murdered Pocatello girls.
Douglas believes many cold cases are simply stuck and in need of a nudge to make them warm again. She hopes people reading eastidahocoldcasesinc.com will provide that nudge with new or unreported information and contact police directly.
Cold-case playing cards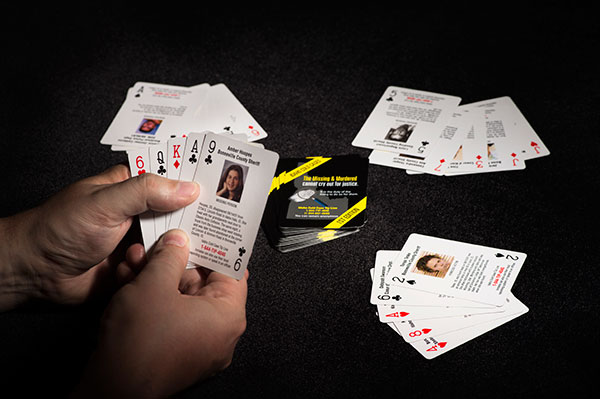 Douglas' work is gathering traction. About a year ago, Idaho Department of Correction Director Kevin Kempf came across a Facebook post by Douglas in which she suggested playing cards featuring Idaho cold cases. Other states, which have cold-case card programs, have credited the cards with helping solve crimes.
Kempf thought it sounded like a great idea, contacted Douglas and the two started working on card decks featuring cases from Douglas' website.
In January, 2,500 decks of Idaho cold-case playing cards became available to inmates serving time in Idaho prisons and jails.
"We know that in most crimes someone out there saw something or knows something and that includes our inmates," said Kempf. "We're hoping one of them will look at the cards and say 'you know, I know who did this' and have the courage to make a phone call to our anonymous tip line," he continued.
The project cost just over $7,700 with the Department of Correction kicking in $5,700 and Douglas adding $2,000 from her own pocket. Inmates can purchase a deck for $2 in the prison commissary.
Each deck contains 52 cards with an individual case appearing on the face of each card. Douglas says most cases were assigned to cards at random with the exception of 14-year-old Linda Diane Smith, who vanished from her Pocatello home June 14, 1981.
Her younger brother told police he awoke late one night to see a man carrying her from the house, his hand over her mouth to muffle her screams. Her remains were found 11 months later near East Center Street.
"Linda Smith's brother was just 9 at the time and his sister was always close to his heart. So it seemed fitting to put her on the Nine of Hearts," Douglas said.