Economics Career Outlook
Average Salary & Openings
$86,728 | overall average salary in Idaho for economists in 2021
5 | number of projected annual statewide openings through 2030
0.4% | projected occupation growth through 2030
Banking and Finance
Analysis and understanding of world, national, and local economic conditions are essential in decision relating to borrowing and loaning money for development and growth. Banks employ economists as both consultants and permanent employees.

Government
All levels of government seek advice from economists in order to make predictions about economic health, set economic policy and adopt appropriate tax structure.

Health Care
Combined with a degree in health administration or public health, an economics degree opens doors to work in hospital management or healthcare analysis.

Insurance
Economists help insurance companies make decisions about how they manage their underwriting, operations and claims.

Market Research
Both manufacturing and service industries employ economists to conduct research about their customers. Economists study how consumers make decisions and make predictions spending habits and market trends.

Teaching
Economic educators are increasingly in demand. Idaho is one of the many states that require economics education at the secondary level. With an advanced degree there are teaching opportunities at community colleges and universities.
Featured Graduates
Chad Peck
VP Credit Product Strategy at Fiserv (Former VP at Chase)
Economics, Class of 2000
I consider my economics degree from ISU the real foundation of my career. The depth and breadth of the the coursework I was able to study has continued to serve me well as I have progressed throughout each stage of my professional journey. The professors at ISU challenged me to think critically and analytically and those two skills have been most important in the business world that I work in. I would highly recommend an economics degree from ISU to anyone interested in challenging themselves academically and interested in entering and succeeding in a wide variety of fields.
Professional Development
The College of Business is home to the unique Professional Development program designed to prepare students for the career search beginning as early as their freshman year. Our Professional Development team will help students get setup with internships, networking opportunities and resume preparation. Learn more about the program.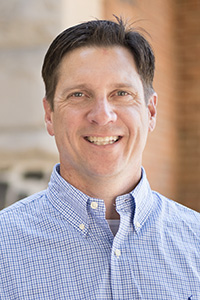 John Ney
Directory of Professional Development
(208)282-3637 | neyjohn@isu.edu

Tanya Betty
Administrative Assistant
(208)282-2504 | tanyabetty@isu.edu