Publishing Content
TerminalFour is separate from the website. They are on different servers. In order for the content on T4 to appear on the website, it must be published.
Only approved content can be published to the website.

Approved content and sections will publish to the website.
Pending content and sections will not publish to the website.
Inactive content and sections will not publish to the website. Making content inactive will remove it from the live website if it has been previously published.
To ensure that your content can be published, it is best to use the Save and Approve option when saving content.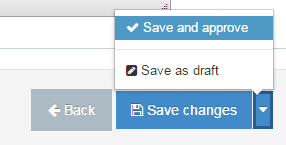 Publishing options
Publish Section
You can publish a section immediately (or within a few minutes) by clicking on the 'Publish section' button. Found at the top of the page when you open a section.

OR from the action menu in the site structure

Publish Branch
The 'Publish branch' feature will publish a section and all of its subsections.
If you have made several changes on different sections, you can go to the action menu of your home page, choose 'Publish branch', and all the changes will be published.
Certain sections are interconnected with navigation objects. They will only publish if the whole branch is published.
Examples of navigation object pages are:
left_sidebar
right_sidebar
staff_deirectory_entries
Faculty_and_Staff
If 'Publish section' doesn't seem to be working, publish your branch.
From the section action menu in the site structure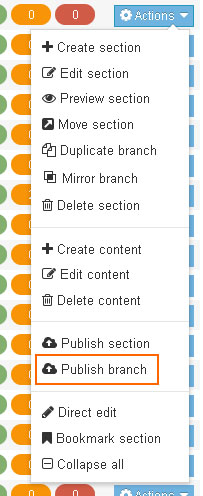 Auto-Publishing
The entire website is published every 2 hours.
Publishing cycles begin on the odd-numbered hours - 9:00, 11:00, 1:00, etc.
If your updates are not urgent, this is an easy publishing option.