About the Media Library
The Media Library stores all media files for use in content types.
Each department/office has a folder in which they can upload and store various types of files.
Department/office folders are found in Categorised > Libraries > [Department/office name]
There is not a set limit on how much a folder can hold. It's still best to make an effort to keep file sizes small and only upload what you need.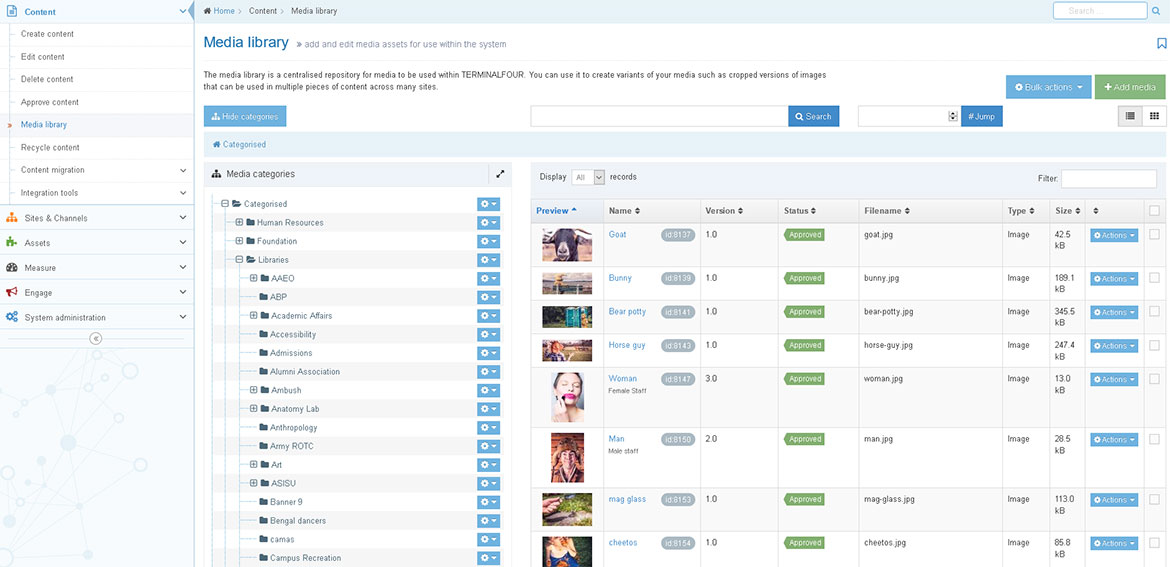 Images

File size
Should not exceed 1MB.
500kb should be large enough for most images.
An image over 1MB will have much larger dimensions than needed on the website. This will cause the image to load slowly. Pages with slow loading images are penalized by search engines.
For image dimension rules and suggestions, see Image sizes
File name
Letters, numbers, and dashes only.
No special characters: # () & !
The image will not be recognized by the database and will not display on your page.
PDFs

Before creating a pdf, consider if the content of the pdf could be displayed as regular content on a page.
Many people view the site on phones. Downloading and reading a pdf on a phone is much more difficult than on a full screen.
File size
Try to keep a pdf file size under 5MB.
Microsoft documents

Accepted file types:
doc
docx
dot
xls
xlsx
csv
ppt
pptx
potx
mpp
Microsoft files will prompt the user to download them since they can not be opened by browsers.
Audio files

Audio files can be played on pages using the Audio player content type.