Duplicate content
Duplicate creates a copy of a content type and allows you to put it on another page (section).
1. In the Action menu of the content type you want to duplicate, choose Duplicate
2. A window with your site structure opens
3. Click on the section where you want the duplicate to appear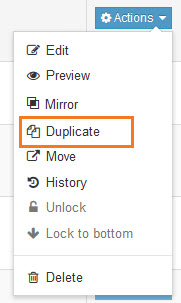 A change to the original content type has no effect on the duplicate content type.
The publishing status of a duplicate is Pending by default. Be sure to approve duplicates.
Bulk duplicate
By clicking on the checkboxes to the right of content types and using the Bulk actions button at the top of the content types list, you can duplicate multiple content types at once.