Aircraft Maintenance Technology
Program Description
The field of Aircraft Maintenance has a huge, largely unfilled demand. Aircraft Technicians perform all types of maintenance on airplanes, helicopters, gliders and balloons. They inspect, maintain and repair airframes, power plants, and the respective systems and components of various makes and models of aircraft. Technicians may overhaul and alter aircraft in accordance with Federal Aviation Administration regulations and guidelines. Technicians need a high degree of interpersonal skills as they interact regularly with aircraft owners and other maintenance personnel.
Based on regular scheduling, mechanics inspect the engines, landing gear, controls, instruments, structure and other parts of the plane and perform necessary repairs and adjustments. They are trained to disassemble the engine and check the parts for wear using sensitive measurement instruments. Worn or defective parts are repaired or replaced. Technicians may also repair aircraft fabric and sheet metal surfaces; measure the tension of control cables; or check for rust, distortion, and cracks in the fuselage and wings. They perform the maintenance or repairs as needed according to detailed Federal or Manufacturer's specifications. All inspections, maintenance and repairs are documented in the planes aircraft maintenance records.
Technicians are schooled in airframe related welding, aircraft structural design, hardware, electrical, hydraulic, as well as heating and air conditioning systems. Engine education encompasses both reciprocating and turbine design and operation.
Graduates Employed or Continuing Education Five-Year Average

97%
Idaho Median Income


$60,070
National Median Income


$65,380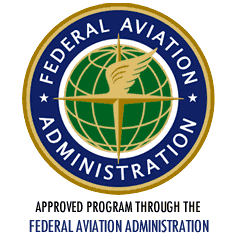 Program Overview
Program accepts students in August
Typical classroom hours are Monday through Friday from 8:00 a.m. to 3:00 p.m.
Program admits 25 students each year
Degree Options
Airframe and Powerplant Associate of Applied Science (2 years)
Powerplant Advanced Technical Certificate (2 years)
Airframe Intermediate Technical Certificate (1 year)
Bachelor of Applied Science (4+ years)
Career Opportunities
National and regional airlines
Airports, flying fields, and aircraft services
Aerospace product and parts manufacturers
Charter airlines
Minimum Test Scores
| | |
| --- | --- |
| SAT | Math: 360 |
| ACT | Math: 14 |
| ALEKS | Math: 14 |
Paying for College
You may apply for financial aid, scholarships, grants, and loans to help finance your college education. When you pay registration fees, you are a student of Idaho State University with the privileges and responsibilities of a college student. Additional opportunities include state-sponsored scholarships; examples include the Idaho Opportunity Scholarship for first time students and for returning students the Idaho Opportunity Scholarship for Adult Learners.
Programs Related to Aircraft Maintenance