Aircraft Maintenance Faculty
Michael Evans
Aircraft Technology Instructor
(208) 232-8485
Professional Work Experience
Commercial Pilot & Flight Instructor – 43 years
Airframe & Powerplant Mechanic – 36 years
FAA Inspection Authorization – 32 years
Instructor, College of Technology AIRM Program – 4 years
Career Highlights
Destroyer sailor, US Navy
Jump pilot and skydiver, Zephyrhills (Z-hills), Florida
Jump pilot, skydiver, & maintenance technician, Sky Unlimited, Montana
Pilot and Director of Maintenance, Cascade Air Charter
Pilot, skydiver, and aircraft maintenance technician for airshow team
Pilot and aircraft maintenance technician for Aerial Banners, Charleston, South Carolina
Instructor, ISU's Aircraft Technology Program
One of Your Favorite Professional Experiences
Mark Twain once wrote, "Find a job you enjoy doing, and you will never have to work a day in your life." Well, here I am, nearly ready to retire, and I still have not worked a day in my life. From the first day that my dad put a pillow behind my back and wood blocks on the rudder pedals so I could fly, I knew aviation would be my life's passion.
I have been incredibly blessed to have been involved with all facets of aviation. Whether it was sail planes, aerobatics, banner & glider towing, skydiving, or helicopters, you name it, I have done it.
Now I have been granted the opportunity to share my life's experiences with others. As an instructor for ISU's Aircraft Maintenance Technology Program, I am privileged to instruct others who have set their sights on becoming aircraft technicians. As the world of Aviation Technology continues to rapidly advance, I am excited to see graduates of the Aviation Technology Program enter the profession to advance it even further.
This is a picture of me just prior to an event. Pilot on right, Otto van Benton, would fly over the crowd at 2,000 feet then go inverted. I would drop out of the front open cockpit, go to canopy, and deploy the American flag. Otto would then go to smoke and fly circles around me while the announcer played the Star Spangled Banner.
A Great way to open football, baseball, rodeo, etc. events.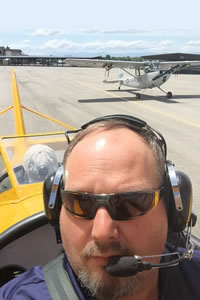 Barry Everett Jr.
Aircraft Technology Instructor
208-232-8485
Professional Work Experience
Worked as A&P and IA – 10 years
Owner/Aviation Maintenance Shop – 5 years
Director of Maintenance/Back country pilot – 2 years
Aerial photography pilot – 1 year
Career Highlights
Built a Navy N3N Biplane from the frame up
Teaching and instructing students and sharing the experiences I've had over the years
One of Your Favorite Professional Experiences
It's tough to choose just one experience over another when you're in Aviation. However, a few that come to mind are flying the N3N, flying a 206 into Sulfur Creek for the first time, and taking a plane that crashed and restoring it for the customer while watching him happily fly away. It has all been a great experience.