Aircraft Maintenance Faculty
Kent Roberts
Coordinator/ Clinical Instructor
Tonya Bolliger
Instruction Assistant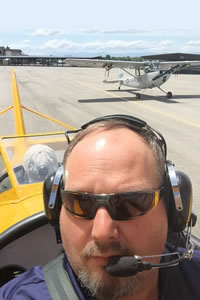 Barry Everett Jr.
Aircraft Technology Instructor
Professional Work Experience
Worked as A&P and IA – 10 years
Owner/Aviation Maintenance Shop – 5 years
Director of Maintenance/Back country pilot – 2 years
Aerial photography pilot – 1 year
Career Highlights
Built a Navy N3N Biplane from the frame up
Teaching and instructing students and sharing the experiences I've had over the years
One of Your Favorite Professional Experiences
It's tough to choose just one experience over another when you're in Aviation. However, a few that come to mind are flying the N3N, flying a 206 into Sulfur Creek for the first time, and taking a plane that crashed and restoring it for the customer while watching him happily fly away. It has all been a great experience.
Matthew Weaver
Clinical Instructor
Office: Aviation Mechanics - Aircraft Hanger 6