Do you aspire to a leadership role advancing higher education organizations? Step into a career of leading coalitions and building relationships that elevate educational organizations towards the mission of student development and academic achievement as a Higher Education Administrator.
The Doctor of Education (Ed.D.) is the highest university degree awarded in recognition of academic preparation for professional practice in Educational Leadership. While research is an important component of the Doctor of Education program, candidates are provided with coursed and experiences to prepare them to be effective practitioners and leaders in higher education and related fields.

Educational Leadership, Higher Education Administration Concentration, Ed.D.

Preparing professional educators for leadership and administration in schools and higher education:
Admission and Program Requirements
Meet the ISU Graduate School admissions requirements
Hold a master's degree in educational administration or a related field from a regionally accredited institution
Have a minimum of 3.5 GPA at the graduate level
Submit a letter of interest, stating why the applicant is interested in the Ed.D. with an emphasis in Higher Education Administration
Submit a current resume, including the names of and contact information for at least 2 professional references
Successful complete an interview with faculty in the Higher Education Administration emphasis
Successful performance on an on-site writing sample completed in conjunction with the interview
The ED.D. in Educational Leadership (Higher Education) requires a minimum of 64 credits:
18 credits in the doctoral core
24 credits in the area of emphasis
3 credits of elective coursework
9 credits of cognate courses (500 level or above)
10 dissertation credits
Comprehensive Examinations
Candidates are required to take written comprehensive examinations over the Doctoral Core and may take written comprehensive exams over the K-12 School Educational Administration emphasis. Successful completion of the EDLA 7751: Case Study (required for the Ed.S.) may be used as an alternative to the Educational Administration emphasis comprehensive exams. Comps are normally written during or immediately following the last semester in which the candidate takes formal coursework. Procedures for comps are explained in the EDLP 8801 Capstone Seminar.
Continuous Enrollment
Candidates are required to maintain continuous enrollment, including during summers, throughout the Ed.D. program.
ISU Course Catalog
Higher Education Administration, Ed.D.
Doctoral Core Courses (18 credits)
EDLP 7700 Change Strategies 3 credits
EDLP 7703 Leadership & Organizational Development 3 credits
EDLP 7705 Advanced Research Design – Qualitative 3 credits
EDLP 7706 Advanced Research Design – Quantitative 3 credits
EDLP 7721 OR 7722 Intermediate OR Advanced Education Statistics 3 credits
EDLP 8800 Doctoral Seminar 1 credit
EDLP 8801 Capstone Seminar 1 credit
EDLP 8830 Doctoral Comprehensive Exams 1 credit
Higher Education Administration Emphasis Courses (24 credits)
EDLH 7730 History and Philosophy of Higher Education 3 credits
EDLH 7731 Law in Higher Education 3 credits
EDLH 7732 College & University Curriculum 3 credits
EDLH 7733 Finance in Higher Education 3 credits
EDLH 7734 Issues/Trends in Higher Education 3 credits
EDLH 7736 Instructional Leadership & Faculty Affairs in Higher Ed 3 credits
EDLH 7737 Practicum 3 credits
EDLH 7738 Assessment & Accountability in Higher Education 3 credits
Electives (3 credits) must be from the list below or in consultation with the student's advisor
COUN 6680 Foundations of Student Affairs 3 credits
EDLH 7735 Government and External Relations 3 credits
EDLC 7730 The Modern Community College 3 credits
EDLH 7739 Higher Ed Leadership: Strategic & Enrollment Planning, Governance, and Institutional Research 3 credits
Cognate Courses (9 credits)
Cognate (minimum 9 graduate-level credit (500 or above); may include courses taken as part of a previous graduate degree; the cognate and the courses that are to comprise the cognate are to be determined prior to cognate study enrollment in consultation with the candidate's advisor and confirmed by emphasis area faculty).
Dissertation (minimum of 10 credits)
EDLP 8850 Dissertation 10 credits
Career Opportunities
Graduates with a degree in higher education administration could be qualified for the following types of positions:
Higher Education Student Services
Higher Education Student Life
Higher Education Academics Oversight
Higher Education Enrollment Director
Higher Education Admissions
Higher Education Administrator
Higher Education Office of Registrar
Higher Education Recruitment Director
Job Outlook
Because higher education administrators are highly desirable in today's job market, the job outlook includes:
Average salary (according to the government's Occupational Outlook Handbook) is $96.910 for postsecondary education administrators.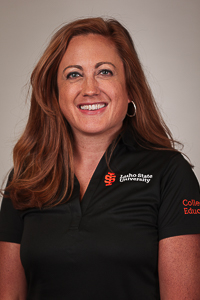 Brooke Bolinger
Director of Graduate Studies, College of Education
Office: College of Education 232