Prepare to be an effective post-secondary leader with the Master of Education in Educational Leadership. Lead faculty, staff, and students to accomplish academic and student success goals. Create positive interactions among students, faculty, staff, and other educational constituents. Consider a career as Educational Leader with an M.Ed. in Educational Leadership – it may be just right for you!
Admission and Program Requirements
The Master of Education in Educational Leadership is designed to help students develop the knowledge, skills, and dispositions necessary to engage in more effective leadership practice.
The Master of Education in Educational Leadership requires a minimum of 30 credits.
Applicants must apply to and meet all criteria for admission to the ISU Graduate School. The applicant must also meet the following minimum SPEL admission requirements:
A bachelor's degree from an accredited institution; usually that degree is in an education-related field
One year of professional experience
A letter of interest, stating the applicant's interest in the program
Current resume, including the names of and contact information for at least 2 professional references
A minimum GPA of 3.0 for all upper-division credits taken at the undergraduate level
ISU Course Catalog
Core Professional Studies Courses (9 credits)
EDUC 6601 Research and Writing 3 credits
EDUC 6610 Applied Educational Statistics 3 credits
OLP 6621 Theories of Adult Learning 3 credits
General Leadership Studies (15 credits)
EDLH 6649 Issues in Educational Leadership 3 Credits
EDLP 7702 Supervision and Empowerment 3 Credits
EDLP 7703 Leadership and Organizational Development 3 Credits
EDLH 7730 History and Philosophy in Higher Education 3 Credits
EDLH 7731 Law in Higher Education 3 Credits
Electives - Collaboratively determined by student and advisor 6 Credits
Career Opportunities
Graduates with a master's degree in educational leadership could be qualified for the following types of positions:
Department Chair
Student Services Coordinator
Education Policy Consultant
Entry to Doctorate in Higher Education Administration
Job Outlook
Because educational leaders are highly desirable in today's job market, the job outlook includes:
Average salary (according to the government's Occupational Outlook Handbook) is $96,910 for postsecondary education administrators.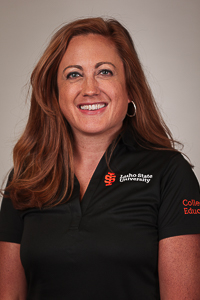 Brooke Bolinger
Director of Graduate Studies, College of Education
Office: College of Education 232