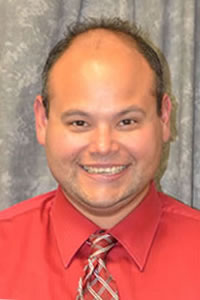 Wesley Usyak, CPhT, M.Ed
Program Coordinator /Clinical Sr. Instructor
Office: Roy F. Christensen Complex (RFC) Room 150
Professional Work Experience
M.Ed- Master of Education-Adult Education and Training, 2012, American Intercontinental University
B.B.A.- Bachelor of Business Administration- Healthcare Management- 2010- American Intercontinental University
A.A.S.- Associate of Business Administration- 2008- American Intercontinental University
CPhT- Certified Pharmacy Technician- 20 Years
Certified Sterile and Non-sterile Compounding Technician/Instructor- 7 years
Career Highlights
Licensed/Registered Pharmacy Technician in Illinois, Minnesota, and now Idaho
Certified from the National Pharmacy Technician Association in Intravenous, Chemotherapy and Extemporaneous Compounding of Medications
Teaching and Instructing for the last 10 years graduating roughly 300 Pharmacy Technicians!
Favorite Professional Experience
During my professional career, one of the most rewarding things was becoming an instructor. I worked for two different pharmacies during my professional experience. Each pharmacy has taught me the valuable skills needed in being a pharmacy technician.
A Little About Me…
In 2007, I made a decision to leave my current role as a certified pharmacy technician and discovered an opportunity to start teaching at Job Corps. Job Corps was a vocational institution for disadvantaged youth between the ages of 16-24. Individuals were given the opportunity to earn a GED/vocational trade. I was nervous about teaching students and my first 6 months were the hardest. Although, I remembered my two previous managers in the back of my mind saying "Any new journey will have some bumps in the road. It is finding a way around the bumps and learning the value from the bumps as well." I have taken that advice throughout my teaching career. It has helped me become a better instructor and allows me to see the value in everything I do as teacher and/or program director. I enjoy preparing someone for a career field that they can have for the rest of their lives.