Christy Sabel, MS, RN, CNE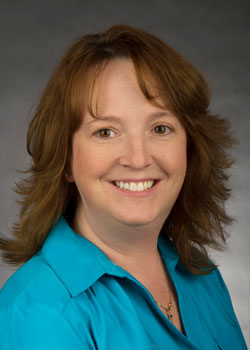 Clinical Associate Professor
School of Nursing
Idaho State University
921 S. 8th Ave Stop 8101
Pocatello, ID 83209-8101
Office: Beckley 324 – Pocatello Campus
Phone: 208-282-5190
Email: sabechr2@isu.edu
Education
B.S. in Nursing, Idaho State University
M.S. in Nursing, Idaho State University
Research Interests
Creating an Effective Online Learning Enviroment
Curriculum and Instructional Design
Lateral Violence in Nursing
Compassion Fatigue in Nursing
Profile
Sabel teaches in the traditional and BS Completion undergraduate, B.S., nursing, program. Sabel has worked 2 years in medical/surgical nursing, 10 years in pediatric/neonatal acute and intensive care, and 5 years in infection prevention. Sabel began teaching in the undergraduate program in 2009 while she completed her Masters of Science in Nursing Education. Professor Sabel received her Certification in Nursing Education (CNE) in 2014. She teaches Fundamentals of Nursing, Informatics, and Women and Childbearing Families Nursing Clinical. Sabel loves to be in clinicals with the students, as well as working with students in the skills and simulation lab, to integrate theory and critical thinking into practice. Sabel is pursuing a Doctorate of Educational Leadership, with emphasis in Instructional Design and Technology. Professor Sabel is a member of the National League for Nursing and Sigma Theta Tau International Honor Society of Nursing.
Featured Scholarship and Publications
POSTER PRESENTATIONS (Peer Reviewed):
Sabel, C. (2018). Lateral Violence in Nursing Profession and Organizational Metaphors. Elsevier Nursing Education Conference, Las Vegas, NV. January 3-5, 2018.
Belliston, S. L., Sabel, C. (2016). Scholarship of Practice in Nursing through Certification by Specialty. Division of Health Sciences Research Day 2016. Idaho State University, Division of Health Sciences, Pocatello, ID
Sabel, C., Belliston, S. L. (2016). Scholarship of Practice through Nurse Educator Specialty Certification. Division of Health Sciences Research Day 2016, Idaho State University, Division of Health Sciences, Pocatello, ID
Sabel, C. (2014). Recognizing and Preventing Compassion Fatigue in Nurses and Other Care-Giving Professions. Idaho Nurse Educator's Conference, Idaho Nurses' Association, Idaho State University, Pocatello, ID