ISU College of Pharmacy Welcomes its First Class from Alaska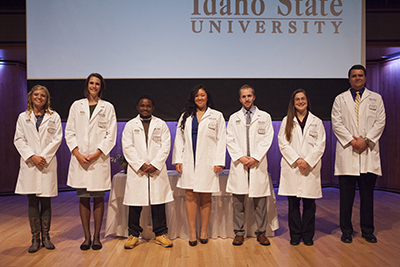 Anchorage, AK- The Idaho State University College of Pharmacy welcomes its first class from Alaska this year. The new program is a partnership between ISU and the University of Anchorage Alaska. With the addition of the class in Alaska, all 50 states now have a Doctor of Pharmacy (PharmD) degree available within their borders.
The seven student cohort will graduate in 2020 with a PharmD degree from Idaho State University. Students in Anchorage will learn the exact same materials as their peers in Pocatello and Meridian, Idaho thanks to the College of Pharmacy's distance learning technology. Students in all three campuses will receive the same lectures whether the course is taught by faculty in Pocatello, Meridian or Anchorage. Video and audio are streamed to all three locations simultaneously, allowing interaction between students and instructors.
The Alaskan students in Anchorage were officially welcomed into the program during a White Coat Ceremony in Anchorage. The students were recognized and called to receive their white coats before reciting the Pharmacist's Code of Ethics together. A dinner was then held in the students' honor, attended by officials from Idaho State University, the University of Anchorage Alaska and the Governor of Alaska and his wife.
08/20/2016
Written by: Jake Dixon
Connect with KDHS
208-282-4899
208-282-2946
921 S. 8th
Stop 8055
Pocatello, ID 83209-8055
Imagine yourself at ISU with our virtual 360° tour: http://youvis.it/xYoT2l