About the Kasiska Division of Health Sciences
Since the late 1980s, the Kasiska Family Foundation has donated $18 million to ISU and pledged additional support, bringing the total gift to over $20 million. The money has funded scholarships, health science programs, equipment, special events and conferences. Read more about the Kasiska family impact below.
Students in the Kasiska Division of Health Sciences make up one-third of the student body at Idaho State University. In addition to 30+ academic program offerings in the health professions, the KDHS is a hub for health and wellness research and innovation. The KDHS main campus and offices are located in Pocatello, ID, including a multitude of community health clinics and research centers. A branch campus location in Meridian, ID offers many of the same programs offered in Pocatello, along with health clinic services unique to the needs of Treasure Valley residents.
Mission Statement
Idaho State University's Kasiska Division of Health Sciences provides leadership in the delivery of rural health care by educating caring and competent professionals across all dimensions of health and promoting interprofessional research and practice in the health sciences.
Vision
The Kasiska Division of Health Sciences is a destination site for health profession education.
Core Values
Professional Integrity - Promoting professional ethical standards and respecting the integrated roles of all health professionals.
Holistic Approach to Health - Emphasizing a comprehensive view of human health, including curative and preventive dimensions.
Collaboration - Recognizing the value of internal and external partnerships through professional and community engagement.
Discovery and Innovation - Seeking new evidence to improve health.
Dedication - Supporting the mission and vision of the KDHS.
Excellence - Striving for excellence in all aspects of professional, academic and personal endeavors.
Leadership Team
Rex Force, PharmD, Vice President for Health Sciences and Senior Vice Provost
Christopher Owens, PharmD, MPH, Associate Vice President for Health Sciences
Gabriel Bargen, PhD, CCC-A/SLP, Executive Director, ISU-Meridian
Brian Hickenlooper, Assistant Vice President for Clinical Services
Teresa Conner, PT, PhD, MBA, Dean, College of Health
Tom Wadsworth, PharmD, BCPS, Interim Dean, College of Pharmacy
Gina Clarkson, PhD, ARNP, NNP-BC, Interim Associate Dean and Director, School of Nursing
Chris Sanford, PhD, CCC-A, Associate Dean of Research and Faculty Development, College of Health
Ellen Rogo, BS, MEd, LDH, PhD, Associate Dean of Curriculum and Assessment, College of Health
William Woodhouse, MD, Associate Dean for Graduate Medical Education and Professional Relations
Goal Areas
Goal 1 - To provide high quality programs that are efficient, cost effective, and student oriented.
Goal 2 - To create an environment conducive to inquiry.
Goal 3 - To facilitate interprofessional health services to the community.
Goal 4 - To expand/improve the image and reach of the KDHS as a destination site for health professions education.
Kasiska Family Legacy
Since the late 1980s, the Kasiska Family Foundation has donated $20 million to ISU and pledged additional support, bringing the current total gift to over $20 million. The money has funded scholarships, health science degree programs, equipment, special events and conferences.
Kasiska support for ISU began in the 1960s and 70s, thanks to sisters Eva and Mabel who inherited their father's philanthropic spirit.
The Kasiska Family legacy began with William F. Kasiska, who came from East Prussia (now Germany) with his wife, Mary, to New York, then to Wisconsin, to Seattle, and eventually to Pocatello in 1890. An astute businessman, William Kasiska invested in land, operated banks and ranches and served as Mayor of Pocatello for two terms. The Kasiska's owned substantial real estate in Pocatello, including the home now occupied by the President of Idaho State University, and the old Bannock Hotel. Through hard work, William and Mary Kasiska accumulated a significant estate, which they bequeathed equally to their daughters, Mabel and Eva.
Kasiska, who died in 1945, was known for helping young people finance their education or dipping into his pocket to help a friend in need.
After the passing of their father, Mabel and Eva carried forward the family enterprises. They carried, also, their father's devotion to service and philanthropy. In his memory, and in honor of his birthday, Mabel and Eva established a scholarship program at Idaho State College in December of 1949, funding scholarships for young women studying to become nurses.
In 1968 they founded the "ISU Scholarship Club" as a means to encourage others who may be capable of giving to support the student scholarships.
"He always said he made his money here and he wanted to show his appreciation to the community that made it possible. It gave him great pleasure to help people and we like to carry on his work…'' said daughter Eva in an Idaho State Journal newspaper article published in February 1974.
That same article highlighted the Kasiska sisters' early support of ISU—Eva and Mabel were often the first in the community to donate to an academic program or annual scholarship drive.
"We like to think we are helping to attract worthwhile students to the university," Eva said.
Mabel was one of the first women to be a banking executive in Idaho. She lived in Lava Hot Springs and managed and owned the bank in Lava. In addition, she served on the Board of Directors of the Cassia National Bank in Burley and was an investor in the Twin Falls Bank.
Eva and Mabel utilized the services of the Speech and Hearing Clinic at then Idaho State College, and developed a special relationship with the department and its Chair, Dr. Larry Sant. The Kasiska sisters purchased the audiology booths still in use today in the Speech and Hearing Clinic, and were especially generous in providing funds for equipment and scholarships benefitting that department.
They continued to provide this support throughout their lifetimes, although records are not available to determine the exact level of support.
Mabel died in 1976 and Eva in 1986, but their spirit of giving continues through the Kasiska Family Foundation. Since 1987, close to 7000 ISU students have received Kasiska scholarships. Many have pursued advanced degrees—becoming nurse practitioners, physician assistants, pharmacists, speech-language pathologists and physical therapists. Others have chosen to practice in rural Idaho communities, improving access to quality health care for thousands of citizens.
Kasiska Family Foundation
Kasiska Family Foundation Community Challenge - click to learn how you can be part of creating another $1 million for ISU!
Eva Kasiska established the Kasiska Family Foundation with her estate, and in August 1987 Wes Merrill, Neal Jordan and Edward Berrett met with Idaho State University President, Dr. Richard Bowen and presented a check in the amount of $108,750 to provide scholarships for students enrolled in the health professions. Ed Berrett described the meeting in his written history of the Kasiska Family Foundation:
"President Bowen had no prior knowledge that the university would receive such a sum, free and unfettered for use for student scholarships. He was even more surprised when he was told by Mr. Merrill, that a similar sum would be forthcoming every year for approximately 35 years from the Kasiska Family Foundation. Mr. Merrill explained that Eva Kasiska had created a family foundation for the purpose of giving scholarships to students at Idaho State University enrolled in a health related course of study. Merrill told Bowen that he, Jordan and Berrett were designated by the trust to be the initial board of managers."
At the time it was the largest cash gift ever received by Idaho State University and began a long tradition of support for the health professions.
The Foundation's stated purpose is to devote property for charitable, scientific, literary and educational purposes, and especially to create scholarships at Idaho State University for deserving students who want to obtain their college educations. The Foundation assists long-term Idaho residents with direct educational costs in health-focused academic or applied-technical programs of study at Idaho State University. Undergraduate and graduate students are welcome and encouraged to participate in this prestigious scholarship program.
The Foundation is now directed by a Board of Managers: Mr. Kirk Reeder, Mr. Alan Van Orden, and Mr. Dave Gallafent. They direct the trust funds and have elected in part to make grants to the Idaho State University Foundation to direct the details of contributions and scholarships.
Impact
The Kasiska Scholarship has helped thousands of students majoring in the health professions at Idaho State University. Kasiska scholars range from Nursing to Pharmacy, Radiographic Science, Dental Hygiene, etc. This scholarship is awarded to Idaho Resident students who are admitted to eligible Kasiska majors and who meet certain criteria. For more information, please contact the ISU Scholarship Office.
Kasiska Scholarship Recipients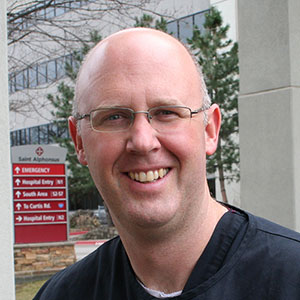 Grant Gundersen, nurse anesthetist
As a kid growing up in Blackfoot, Idaho, Grant Gundersen loved science and dreamed of a career where he could help people.
In 2005, he enrolled in ISU's four-year nursing program and received a Kasiska Family Foundation scholarship to help cover tuition and books.
"It would have been difficult without this scholarship. It was a blessing to my family to have it, said Gundersen, who was married with two young children at the time.
In 2008, Gundersen earned his bachelor's degree in nursing at ISU, then pursued a master's degree with a specialty in nurse anesthesiology at Gannon University in Erie, Pennsylvania.
As a certified registered nurse anesthetist or CRNA, he administers and monitors anesthesia under the supervision of an anesthesiologist, surgeon or other qualified medical professional.
Gundersen credits the Kasiska scholarship with giving him the time to focus on his ISU studies and maintain the good grades necessary to enter Gannon's highly competitive program.
Today, Gunderson, 33, is employed at Saint Alphonsus Regional Medical Center in Boise, fulfilling the dream of that science-loving kid from Blackfoot who wanted to help people.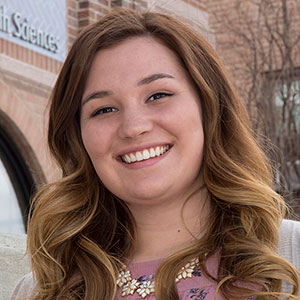 Alyssa Brock, future occupational therapist
Honors student Alyssa Brock, 19, graduated from Meridian, Idaho's Rocky Mountain High School in spring 2016 and entered ISU as a sophomore, thanks to credits earned through dual-enrollment and advanced placement classes.
A health science major, Brock received a Kasiska scholarship, easing the financial burden on her family.
Brock's goal is to become an occupational therapist, a profession that will enable her to help people of all ages recover from injury, illness or learn to live with a mental or physical disability.
"I appreciate the holistic values of O.T.," she said.
Brock chose to study at ISU because of the friendly atmosphere on the Pocatello campus and the university's reputation as the state's leader in health professions education.
She thanks the Kasiska Family Foundation for its generosity. "The scholarship is allowing me to pursue my education more fully. The things I am learning today will allow me to improve lives tomorrow," Brock said.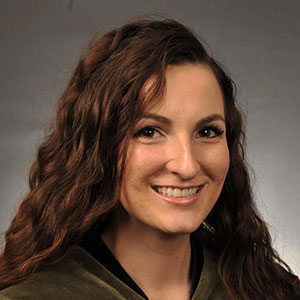 Kylie Auger, pharmacist
Kylie Auger was the first in her family to go to college.
After graduating from Preston High School in southeastern Idaho, she enrolled in Brigham Young University, then transferred to ISU to study pre-pharmacy.
"I knew I wanted to do something in the medical field and pharmacy seemed interesting," she said.
Thanks to a Kasiska scholarship and additional financial aid, she was able to complete her pre-pharmacy studies with limited debt before enrolling in the ISU College of Pharmacy's rigorous doctorate program.
Auger, who graduated in 2016 with a Pharm.D., manages a Walgreens' pharmacy in Twin Falls.
She loves her job—especially interacting with customers and providing health education.
Auger is grateful to the Kasiska Family Foundation for helping her achieve her career dream.
"I say to them, 'Thank you for believing in me and making an investment in my future.' I certainly plan to pay it forward," Auger said.
Ready to Apply?
Incoming freshmen who have declared a health professions major are eligible for Kasiska Scholarships. On average, ISU awards over $10 million annually to ISU students. Visit https://www.isu.edu/scholarships/ to apply for scholarships.
Simple Guide to follow when applying for scholarships at ISU:
Get admitted by the required deadlines. If you are a new incoming (first time) Freshman, Transfer, or International students you will automatically be considered for our 1, 2, 4 year Recruitment Scholarships just by being fully admitted by the required deadlines.
Apply in the Bengal Online Scholarship System (once admitted & throughout your career at ISU).
Check with your major department for any other opportunities in which they may control/be aware of. Not all opportunities are listed/available in BOSS.
Check outside scholarships. Look at the "external" section in BOSS for several outside scholarships; search databases for scholarship opportunities that pertain to your situation or background; check into local agencies, parents/your place of work, etc. Watch for scams!.
If an Idaho Resident, don't forget to check the Idaho State Board of Education Scholarships.