ISU Professor Sandra Hoffman Recognized with Prestigious American College of Sports Medicine Award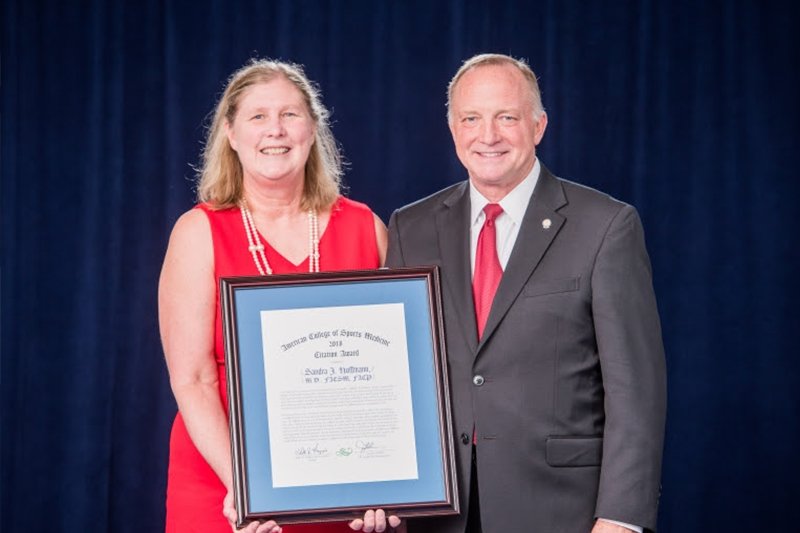 Dr. Hoffmann receives her ACSM Citation Award from immediate past president, Dr. Walt Thompson
June 18, 2018 - INDIANAPOLIS, IN
Sandra J. Hoffmann Receives Prestigious ACSM Citation Award - Recognized for major achievements in sports medicine and the exercise sciences
The American College of Sports Medicine is pleased to announce that Sandra Hoffmann, M.D., FACSM is a recipient of its 2018 Citation Award. Dr. Hoffmann was one of seven people selected for this award because of her significant contributions to sports medicine and the exercise sciences. She was recognized at an awards banquet during the association's recent annual meeting.
"Citation award winners are selected for their outstanding performance in the areas of research and scholarship, clinical care, administrative services or educational services," said ACSM President Kathryn Schmitz, PhD, MPH, FACSM. We are happy to recognize Dr. Hoffmann's outstanding accomplishments."
Dr. Hoffmann is associate clinical professor at Idaho State University, former team physician at Idaho State University and Western Michigan University, and is active practicing internal medicine hospitalist.
Through her ACSM career, Dr. Hoffmann has served on or led numerous ACSM committees including - Membership, Ethics, Program, Musculoskeletal Task Force, SHI on Aging, and Medical Education. Dr. Hoffmann has served as faculty to ACSM's Team Physician and International Team Physician Courses. She also served on the Board of Trustees from 2006-2009. Among her many accomplishments is her successful leadership in assuring that ACSM retains its full accreditation from the Accreditation Council for Continuing Medical Education (ACCME).
Connect with KDHS
208-282-4899
208-282-2946
921 S. 8th
Stop 8055
Pocatello, ID 83209-8055
Imagine yourself at ISU with our virtual 360° tour: http://youvis.it/xYoT2l