Idaho State University's Family Medicine Residency Program graduates prepare for practice across the United States
June 29, 2018 - POCATELLO, ID
Seven family medicine physicians, two pharmacotherapists and one clinical psychologist will soon begin practicing in locations around the US, after completing their residencies at Idaho State University. The ten graduates of ISU's residency program were honored, and mildly roasted, at a special ceremony Friday evening at Stephens Performing Arts Center, with their families, friends, faculty and training physicians in attendance.
The graduates came to ISU from all over the US, including Arizona, California, Colorado, Nevada, Michigan, Washington, Oregon, Utah and New York. Some plan to return to their original homes to practice, but many now call Idaho their home. Doctors choosing to stay in the area where they completed their residency is a common trend, and one that the physicians and staff at ISU's Family Medicine Residency program continually work to encourage.
In the last 25 years, since the program's initial accreditation, the ISU Family Medicine Residency has graduated 123 family medicine physicians, including 61 who now practice in the Gem State. These ISU Family Medicine Residency graduates now provide primary care to an estimated 120,000 Idahoans, addressing a crucial need in the state.
"Idaho ranks 49th in the country for physicians per capita, leaving us with multiple underserved communities in rural populations throughout the state," said Dr. Bill Woodhouse, director of external relations for the ISU Family Medicine Residency. "There is a need for more residency spots in Idaho where residency students can train. Site of residency is the strongest predictor of where someone will practice."
The graduates honored Friday evening were:
Physician Graduates

Lance Spencer Adams, M.D.

Ashley Camille Curtis, D.O.

Squire D. Hepworth, M.D.

Eric Jensen, M.D.

David Vern Kimball, D.O., D.C.

Jessica Lynn Mendez, M.D.

Andrew James Thomas, M.D., M.P.H.

Pharmacotherapy Graduates

Jordan Ferro, Pharm.D.

Kori Ann Wittrock, Pharm.D.

Psychology Graduate

Justin Schrotenboer, M.S.
At the same time the graduates were honored, a new class of residents were welcomed to ISU by representatives from Health West, Inc. and Portneuf Medical Center. The resident interns were each presented with a ceremonial white coat, given to them by a nurse. Dr. Brandon Mickelsen, program director for ISU's Family Medicine Residency Program, said the gesture was meant to be both symbolic and nonsymbolic at the same time, highlighting the critical importance of the nurse and physician collaboration in caring for patients. "Remember this, you will fail without your nurses, plain and simple. As you are working, remember to not bite that hand that feeds you, so to speak," Mickelsen explained. The new interns were also given $500.00 from the Portneuf Medical Center Auxiliary, as a way to welcome them to Pocatello and provide some assistance with living expenses. The new residents began work in the HealthWest ISU Family Medicine Clinic June 18, and as of July 1, are now available to accept new patients.

The new interns are:
Family Medicine Interns

Scott Bontrager, M.D.

Chance Christensen, M.D.

Cameron MacInnis, M.D.

Scott Nagao, D.O.

Daniel Sterner, D.O.

T.J. Tolman, D.O.

Steven Webster, D.O.

Pharmacotherapy Interns

Alex Lystrup, Pharm.D.

Kelvin Tran, Pharm.D.

Psychology Intern
Class of 2018 Family Medicine Residency Graduates (from left) Squire Hepworth, David Kimball, Lance Adams, Jessica Mendez, Andrew Thomas, Eric Jensen, Ashley Curtis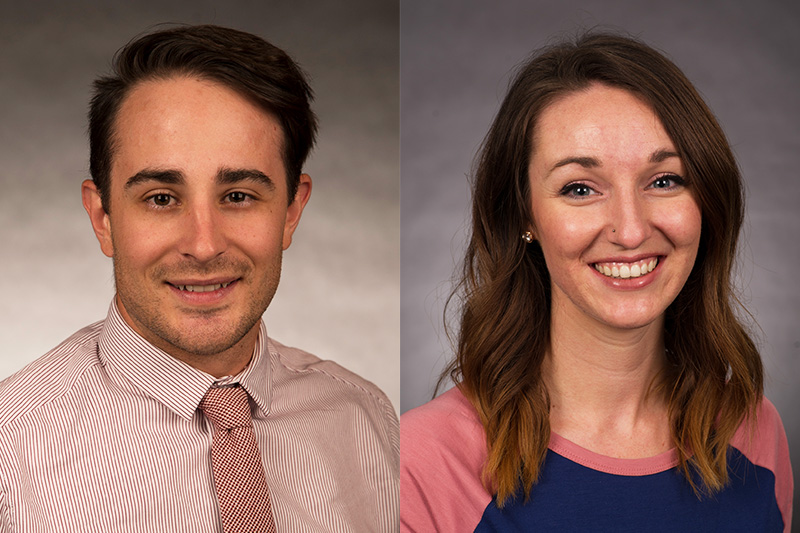 Class of 2018 Pharmacotherapy Residency Graduates Jordan Ferro (left) and Kori Wittrock (right)
Class of 2021 Family Medicine Residency Interns (from left) Cameron MacInnis, Steven Webster, Scott Bontrager, Daniel Sterner, TJ Tolman, Scott Nagao, Chance Christensen
Connect with KDHS
208-282-4899
208-282-2946
921 S. 8th
Stop 8055
Pocatello, ID 83209-8055
Imagine yourself at ISU with our virtual 360° tour: http://youvis.it/xYoT2l