KDHS Research Day: April 20, 2018 | "Navigating Idaho's Opioid Epidemic: A Holistic Approach"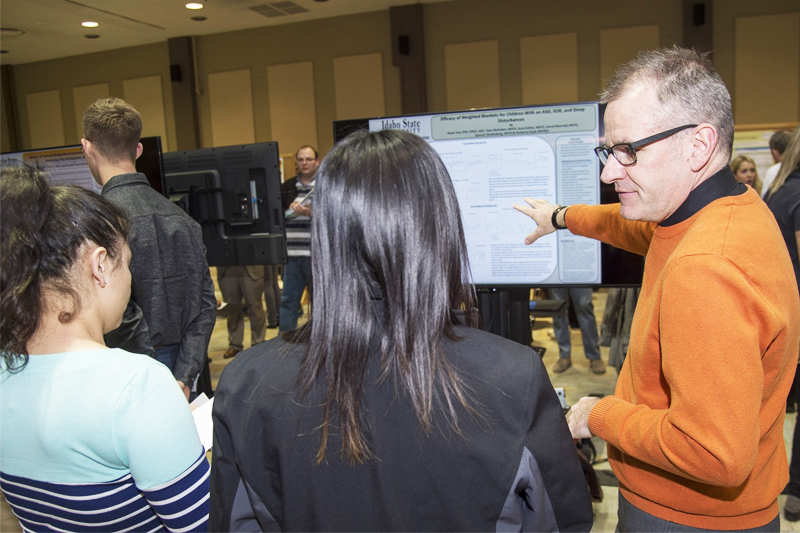 POCATELLO and MERIDIAN - "Navigating Idaho's Opioid Epidemic: A Holistic Approach" is the theme of the 2018 Idaho State University Kasiska Division of Health Sciences annual Research Day. Research Day 2018 will be Friday, April 20th, 7:30 a.m. to 1:00 p.m., in Pocatello and Meridian.
Research Day is a way to show the importance of research in addressing real and prevalent issues in the healthcare community. This year a panel of opioid experts will discuss the opioid crisis in Idaho, how it impacts the community and healthcare workers, and alternatives to opioids in managing acute and chronic pain. Christopher Wertz, program director and assistant professor for ISU's Kasiska School of Health Professions says, "The opioid crisis in Idaho affects everyone. There is no event fee, so we're not looking to increase revenue, but instead to inform the ISU community and the community at large of the current state of the opioid crisis in Idaho, how it's being combated, and alternatives to opioid use."
Health care providers, faculty, students, and the public are invited to Research Day activities, which will feature presentations across multiple health care professions. Research Day is a free event, and registration will take place at the door from 7:30-7:45am. Activities will be held in the ISU Pocatello Pond Student Union, 921 South 8th Avenue, and at the ISU-Meridian Health Science Center, 1311 E. Central Drive, north of I-84 between Locust Grove and Meridian Road. Podium sessions will be broadcast simultaneously using distance-learning technology.
This year's keynote address will feature a panel discussion by experts from across the state on the various issues surrounding opioid use and abuse. The discussion panel will include:
Dr. Marcia Witte, Public Health Physician for the Idaho Division of Public Health

Charles Wahl, Diversion Investigator for the Drug Enforcement Administration

Dr. Magni Hamso, opioid addiction treatment expert

Dr. Steve Pote, pain management psychologist
For more information about Research Day 2018, visit isu.edu/ichr/kdhs-research-day.
Connect with KDHS
208-282-4899
208-282-2946
921 S. 8th
Stop 8055
Pocatello, ID 83209-8055
Imagine yourself at ISU with our virtual 360° tour: http://youvis.it/xYoT2l