Fire Services Administration
Faculty
Dave Hanneman
FSA Program Director/Clinical Assistant Professor
Office: ISU, Emergency Services Department, Fire Services Administration Program Director
Dave Hanneman has over 37 years of experience in firefighting, emergency management, and emergency medical services. He assisted in developing the ISU Fire Services Administration (FSA) degree program. Since 2007 Dave has taught courses in FSA and Homeland Security and Emergency Management programs.
He started his career in 1984 with the Cole-Collister Fire District in Boise. He transferred to Boise Fire Department in 1988, where he worked for 21 years and achieved the rank of deputy chief. In 2008, he became the fire chief of the city of Chula Vista, where he implemented a new paramedic program and developed a fire facility master plan. In October 2014, Dave became the new fire chief of the Idaho Falls Fire Department and is now retired. Hanneman holds an AAS and BAS in fire service technology from Boise State University and an M.Ed. in professional technical education from the University of Idaho. He serves as Chair of the Committee on Incident Management Teams with the National Fire Protection Association and contributes to several publications in the Fire Service. Since 2008 he has been designated as chief fire officer of the Center for Public Safety Excellence. He has provided instruction in many fire and EMS services areas, including leadership, incident management, and public information.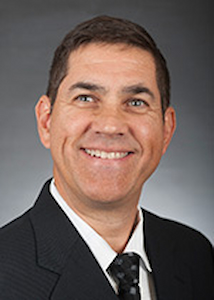 Michael Mikitish
Department Chair
Office: Emergency Services Department, ISU Meridian Institute of Emergency Management
Mr. Michael Mikitish is the Department Chair of the Emergency Services Department and Director of the Institute of Emergency Management at Idaho State University-Meridian (ISU). Michael holds a Master of Science in Business Administration from Boston University, a Master's in Public Administration from Boise State University, a Bachelor of Science in Public Administratiand in Criminal Justice major from the University of Arizona. From 1982-2005, he served in the US Army in a variety of positions, including Pershing missiles Platoon Commander and Operations Officer, Field Artillery Battery Commander, Combat Maneuver Training Center Observer Controller, Field Artillery Instructor, Battalion Executive Officer, Division Fire Support Coordinator, Training Support Battalion Commander, and Professor of Military Science.
Adjunct Faculty
Charles Butterfield
Deputy Chief Butterfield
Office: Division Chief, Meridian Fire Department, Idaho
Experience/Career Path: Deputy Chief Charlie Butterfield began his fire service career in 1996. Chief Butterfield has worked in various Idaho fire departments, including the City of Sun Valley Fire Department, Wood River Fire and Rescue, and the City of Meridian Fire Department. Chief Butterfield has held several ranks, including Firefighter, Senior Engineer, Lieutenant/Paramedic, Assistant Fire Chief, Division Chief of Planning, Deputy Chief of Operations, and Interim Fire Chief. He currently serves on the Executive Board of the Idaho Fire Chiefs' Association. Additionally, he represents the Idaho Fire Chiefs on the Board of Western Fire Chiefs' Association- an International Association of Fire Chiefs division.
Academic Achievements: Associate's Degree in Fire Service Technology from the College of Southern Idaho, a Bachelor's Degree in Fire and Emergency Services Administration from Colorado State University, and a Master's Degree in Education from Colorado State University. Chief Butterfield is Pro-Board certified as a Fire Officer II and designated Chief Fire Officer (CFO) by the Center for Public Safety Excellence. He is a graduate of the Executive Fire Officer Program at the National Fire Academy.
Charlie enjoys traveling, snow skiing, boating, and spending time in his spare time with his son Bryson and his wife, Amy.
Thomas Hughes
Battalion Chief
Office: Fulshear Simonton Fire Department, Fulshear, Texas
Thomas is a Battalion Chief with Fort Bend County Emergency Services District #4 and the Fulshear Simonton Fire Department in Fulshear, Texas, concurrently working as a Training Specialist for the Harris County Fire Marshals Office stationed in Texas. Historically Chief Hughes has served as Fire Chief for the City of Jerome, Idaho, from 2013-2017. Chief Hughes has served in the fire service industry for 24 years. His career has taken him to New Jersey, Connecticut, and Oklahoma. Additionally, he spent nine years working for the International Fire Service Training Association (IFSTA) at Oklahoma State University on various state and national projects, such as firefighter education, firefighter health & safety, and public fire & life safety education.
Academically Chief Hughes has held several positions as a part-time fire instructor with Eastern Idaho Technical College. Chief Hughes's areas of expertise are structural firefighting, fire safety education, and firefighter/officer training. He has a Bachelor's Degree in Executive Fire Officer Program at the National Fire Academy, Fire Administration &Fire & Arson Investigation from the University of New Haven in Connecticut. In addition, he obtained a Master's degree in Public Administration.
Robert Kronenberger
Fire Chief
Office: City of Middleton Fire Department, Ohio
Robert has been in the fire service for over 27 years between volunteer and career departments. He has served the Middletown Fire Department in Connecticut for 23 years in various ranks, including Lieutenant, Training Division Captain, and Deputy Chief, and in 2014 was promoted to Fire Chief.
Robert is involved in many community organizations, including the Vice President of the Middletown Kiwanis and the Advisory Board of the Middletown Salvation Army.
He graduated from the National Fire Academy's Executive Fire Officer Program. He earned a B.S. in Applied Management from Grand Canyon University in 2008 and his M.S. in Executive Fire Service Leadership from Grand Canyon University in 2009.
Jeff Parsons
Adjunct FSA program
Office: Retired Division Chief of Training from the Idaho Falls Fire Department
Jeff Parsons is a retired Division Chief of Training from the Idaho Falls Fire Department. After he retired from Idaho, he and his wife, Kaaren, moved to Saudi Arabia, and the Saudi Aramco Fire Protection Department employed Jeff as a Senior Industrial Trainer. Jeff has retired from Saudi Aramco and lives in Boise, ID, with Kaaren and their dog Sox, a Saudi Arabian Canaan. Jeff has two adult children, Casey, a lawyer in Boise, and Mikay, a marketing consultant for a pharmaceutical company in San Diego. Jeff loves the outdoors, fishing, and diving. He is a certified PADI diving instructor working part-time as a fishing guide in Panama. His wife, Kaaren, works as Fire Administration Specialist Senior for the Boise Fire Department.
Michael Ward
Captain II/Medic (retired)
Mike Ward has four decades of emergency service experience, starting as a hometown volunteer firefighter/EMT. Spent a career as a firefighter/paramedic with the Fairfax County (Virginia) Fire and Rescue Department in suburban Washington D.C. Worked in every division, retiring as the acting director of the EMS Division. While on the job, obtained state/ProBoard Fire Officer III, Fire Instructor IV, HazMat Technician, and EMT Instructor-Coordinator credentials. Earned a Bachelor of Science in Fire Science Management and a Master of General Administration in State and Local Government from the University of Maryland Global Campus. Credentialed as a Member of the Institution of Fire Engineers.
He was appointed to a non-tenure Assistant Professor of Emergency Medicine position at George Washington University (Washington D.C.) to build an online bachelor's degree completion program serving working EMS caregivers—author of the NFPA/IAFC textbook Fire Officer: Principles and Practice, 4th edition. Later, Ward worked as an executive director in hospital-based paramedic/911 ambulance/medical transportation departments in New Jersey and Tennessee. He was credentialed as a Fellow (executive) with the American College of Paramedic Executives. He was completing a Ph.D. in Public Policy focusing on Emergency Services at the University of Maryland Baltimore County.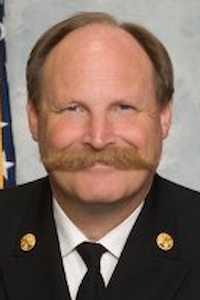 James L. Wenzel
Fire Chief (Retired)
Office: Klamath County Fire District No. 1
Jim has been involved in the provision, training, education, and administration of fire and emergency services for over forty years, with 20 years at the Chief Officer level. His experiences have ranged from Fire, Emergency Management, EMS, Hazardous Materials, and Rescue to training, education, supervision, management, administration, and leadership. Educational experiences include curriculum management and online course development and instruction. Through those experiences, Jim learned to deal positively with students, teachers, responders, administrators, community leaders, and elected officials, from planning and training to crisis and recovery situations.
Jim has an Associate's and Bachelor's Degree in Fire Science, and a Master's Degree in Education, specializing in Instructional Technology. In addition, he has almost completed his Doctoral research, focusing on Distance Education and its implication for the national and international Fire Service and Emergency Management response communities. Certification as an Executive Fire Officer from the National Fire Academy and California Certified Chief Officer rounds out his education and training background.