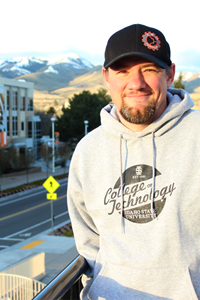 Tim Leishman
Robotics and Communication Systems Engineering Technology Instructor
Office: Trade & Technology 323
208-282-2886
Professional Work Experience
Idaho State University, Robotics and Communication Systems Engineering Technology Instructor– 2013 to current
Providence St Vincent Medical Center, Certified Biomedical Equipment Technician – 7 years
Tektronix, Field Service Electronics Technician – 4 years
United States Air Force, Electronics Technician, Visual Imagery and Intrusion Detection Systems – 4 years
Career Highlights
In the Air Force, I was trained as a Television and Intrusion Detection Systems Technician. After completing my enlistment, I returned home with the GI Bill to attend Idaho State University. The three year Electronic Systems program, currently known as Robotics, was highly recommended and touted as a premier program at ISU by a friend. The knowledge and skills I developed as a student at ISU have really given me the freedom and power to choose my own path. Prior to graduation, I had two job offers. I accepted a position at the world's greatest Test and Measurement company, Tektronix. At Tektronix I got to work on Vectorscopes, Waveform monitors, Test Signal Generators, Optical Time Domain Reflectometers, and Oscilloscopes. After the birth of my first child, I chose to leave Field Service and accepted a job at Providence St. Vincent Medical Center as a Biomedical Equipment Technician. At the hospital I got to work on all kinds of medical equipment and technologies. My primary areas of responsibility were Respiratory, Emergency, NICU, and EKG departments. I was one of two technicians certified to work on the 3100 HFOV Ventilator. I took pride in working on the 3100 High Frequency Oscillator Ventilator because it is a lifesaving technology used for premature babies whose lungs are not fully developed. It was always nice to visit the NICU and see one year, two year, three year,…birthday pictures sent in by appreciative and grateful parents.
Returning to ISU to teach in the program that I graduated from is definitely a career highlight. I consider it an honor and privilege to help students achieve their goals.
One of Your Favorite Professional Experiences
I have a lot of great memories and stories spanning 20 years in the field of electronics. My favorite professional experience is attending graduation commencement and shaking hands with my graduating students. Knowing that my students are prepared and ready for successful careers in the field of electronics gives me great satisfaction.
Randy L. Norton
Asst. Professor Robotics and Communications Systems Engineering Technology
208-282-7139
Professional Work Experience
U. S. Navy – 4 years
NASA/Goddard Space Flight Center, Greenbelt Maryland – Research and Development Laser Technician, Bendix Field Engineering Contract – 2 years
NASA/Jet Propulsion Laboratory, Pasadena, California – Cognizant Operations Engineer for Interagency Telemetry Array - Deep Space Network - Voyager Flight Team. Allied Signal Aerospace Contract – 12 years
ISU College of Technology – Asst. Professor, Robotics and Communications Systems Engineering Technology – 20 years
Career Highlights
During the Voyager/Neptune encounter I was the responsible party for the Interagency Array Capability worldwide. This capability included the combining of telemetry data from the Voyager spacecraft obtained by the National Science Foundation VLA facility in New Mexico and the Goldstone Deep Space Communications Complex in California. Other tracking stations were arrayed in Australia and Spain.
During the actual encounter, I was on the floor of the dark room in the Space Flight Operations Facility at the Jet Propulsion Laboratory. Television stations from around the globe broadcast the activity in this facility live as spacecraft data was coming in.
My favorite professional experience
While at the Goddard Space Flight Center, I was asked to travel to the Kwajalein Atoll in the Marshal Islands to perform emergency repairs on the satellite ranging laser at that station. After performing the repair, I remained on the atoll for several weeks to monitor operations and ensure the station was operational. This allowed me time to explore the atoll's history.
Kwajalein was the location of a major battle in WWII. The remains of that battle were spread across the island. Gun emplacements destroyed by American battleships were plentiful as were the remains of several Japanese fighter planes. The highlight was finding the Japanese underground hospital where I found x-ray plates, an examination table, and numerous other items.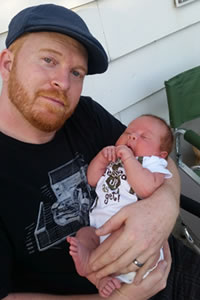 Tim Rossiter, AAS, AWSM
Robotics and Communication Systems Engineering Technology
Professional Work Experience
Electronics Technician Tektronix Inc – 2 years
Biomedical Technician Providence Health – 3 years
Biomedical Technician Providence Health – 6 years
Career Highlights
Graduate: Robotics and Communication Systems Engineering Technology
Became expert at troubleshooting complex systems
Worked directly with healthcare professionals and patients. Helped to ease their way.
Mentor and roll model to many new technicians
One of my Favorite Professional Experiences…
As I started my career as a technician, I thrived on the challenge of solving complex problems and becoming the "go to guy" on many systems. Later in my career, I found the biggest reward came from sharing my knowledge and being a mentor and role model to new technicians. My goal became to build up the people around me and create a powerful team.
In 2016, I jumped at the chance to be an instructor at the College of Technology Robotics program. Many say that the path to happiness and fulfillment is to ask yourself "how would you spend your time if you won the lottery?" My answer is to do and teach electronics and robotics. The robotics program and my instructors changed my life in a powerful way. I'm excited for the opportunity to affect so many in the same way. What an honor. There is nowhere I'd rather be.