Idaho State University Paleontologist Helps Successfully Lead Charge to Name State Dinosaur
April 7, 2023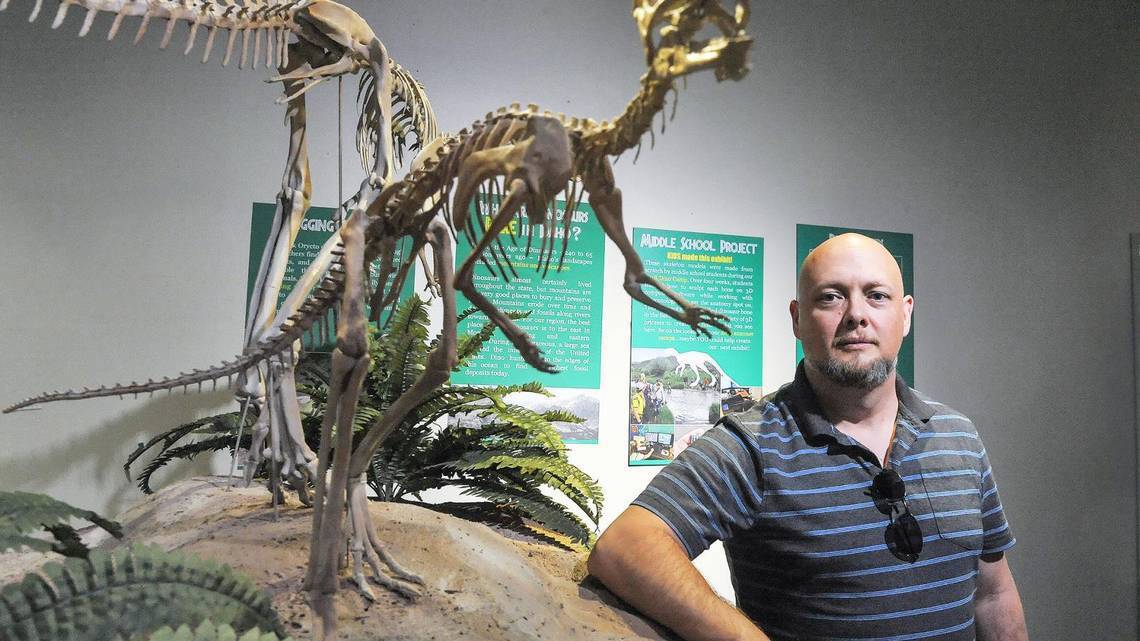 Nearly two decades after its discovery, an animal that roamed ancient Idaho will be the Gem State's official dinosaur thanks to the efforts of an Idaho State University professor.
With Governor Brad Little's signature on March 31, Oryctodomeus was given the title of State Dinosaur. One of those championing Oryctodomeus was L.J. Krumenacker, adjunct professor of geosciences at ISU and affiliate curator at the Idaho Museum of Natural History. Krumenacker and Joel Walton's class of fourth graders at Ucon Elementary started their push for the designation in 2022 by enlisting the help of Senator Kevin Cook of Idaho Falls to sponsor a bill and writing letters to state senators and representatives asking for their support on the upcoming measure. Senate Bill 1127 was introduced on February 27 and on March 10 Krumenacker and co. attended the bill's hearing before the Senate State Affairs Committee to plead their case. After snagging a "Do Pass" recommendation from the committee, SB 1127 sailed through the Senate and House before receiving the Governor's approval.
"This process has been a great review for me to see how the legislative process works and to be able to help some great students see this process in action and succeed with a special goal," said Krumenacker. "The best part has been seeing all the students excited and enthused. I love to see students excited about science like that."
Back in 2004, Krumenacker was one of the first paleontologists to discover remains of the prehistoric critter that lived nearly 100 million years ago. Checking in at about the same size as a golden retriever with a seven-foot tail, Orcyctodomeus is only found in Southeast Idaho and Southwest Montana.
"Knowing anything about dinosaur social lives is rare, and Oryctodromeus is special since we know it lived in family groups and raised its kids in these groups that sheltered in burrows," explains Krumenacker. "It is something any family can relate to."
Oryctodomeus will officially join the ranks of just over a dozen Idaho State Emblems on July 1. They include the State Flower (Syringa), State Fruit (huckleberry), State Fish (cutthroat trout), and more. In 1988, the legislature named The Hagerman Horse as Idaho's state fossil.
"I see this as a recognition of the importance of science to our future and our way of life," Krumenacker said. "Sure, dinosaurs are just a small part of our much broader, awesome universe, but having this as a state symbol will certainly inspire future scientists and educators in multiple disciplines. It is worth it if even one person goes into education or science because of this."
Oryctodomeus' christening is another milestone in a busy couple of years or so for Krumenacker. Last summer, he published his findings on the first tyrannosaur found in Idaho and had a prehistoric crustacean named after him. Then, in late 2021, a paper he co-authored was published in Nature that detailed how quickly life bounced back after the Permian mass extinction.
"My next non-Orycto project is describing two new species of crocodiles. These will be the first crocodylian fossils to be named from Idaho," said Krumenacker. "Additionally, my students and I are cleaning a skeleton of a large, armored dinosaur from Idaho which is also looking to be a new species. Recently, I started a full-time position as a geology and biology instructor at the College of Eastern Idaho. We are working to build the Geology program and hope to set up a paleontology lab where local students can participate in active research projects. I'm excited for what the future holds."
More on ISU's Department of Geosciences can be found at isu.edu/geosciences.
---
Categories: