Idaho State University Paleontologist's Fossil Finds Shed Light on Life after Permian Mass Extinction
November 5, 2021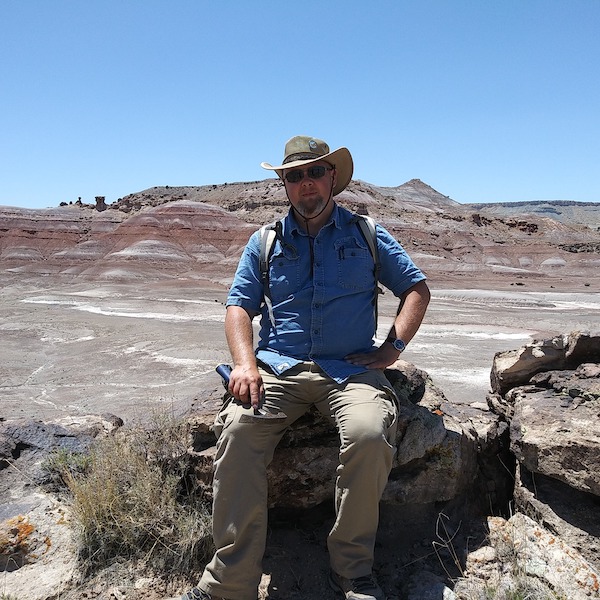 A new article in the journal Nature co-authored by an Idaho State University paleontologist details how life bounced back after the world's most severe mass extinction event.
Over the last eight years, L.J. Krumenacker, ISU Geosciences adjunct professor and affiliate curator at the Idaho Museum of Natural History, and his co-authors studied 250 million-year-old fossils found in Caribou and Bear Lake Counties in Southeast Idaho as well as specimens from northeastern Nevada. What they discovered shows how fast - geologically speaking - life recovered after the Permian mass extinction. During the Permian mass extinction, more than 90 percent of species were lost.
"It took about 1.5 to 2 million years for this ecosystem to get going after the massive Permian/Triassic extinction," said Krumenacker. "The fossils show how complex marine ecosystems established themselves soon after the extinction."
Researchers found simple organisms like algae and shellfish, crustaceans, squid-like animals called cephalopods, and top-tier predators like fish and marine reptiles at the dig sites.
"The ecosystem resembles what we see in today's oceans," Krumenacker said. "There are all the levels of a complicated food chain, and this ecosystem shows abundant life."
Now, the fossils will be housed and featured in the "This is Idaho" exhibit at the Idaho Museum of Natural History in Pocatello.
"The wilderness of Idaho records an abundance of world history that we are only now beginning to realize," said Leif Tapanila, Director of the Idaho Museum of Natural History. "We're excited to curate these new fossils so that future generations of Idahoans can make a personal connection with our shared history."
For more information about the Idaho Museum of Natural History, visit
i
su.edu/imnh
.
---
Categories: