Stochastic Objective Decision Aide (SODA) Download Page
About SODA
Nonreactor nuclear facilities operated under the approval authority of the U.S. Department of Energy (DOE) use unmitigated hazard evaluations to determine if potential radiological doses associated with design basis events (DBEs) challenge dose evaluation guidelines. Unmitigated DBEs that sufficiently challenge dose evaluation guidelines for members of the public or workers, merit selection of safety structures, systems, or components (SSCs) or other controls to prevent or mitigate the hazard.
Idaho State University (ISU), in collaboration with Idaho National Laboratory (INL), has developed a portable and simple to use software application called SODA (Stochastic Objective Decision-Aide) that utilizes a Monte Carlo based code system to stochastically calculate the radiation dose of hypothetical radiological material release scenarios. Rather than producing a point estimate of the dose, SODA produces a dose distribution to allow a deeper understanding of the dose potential. Thus, SODA provides improved risk understanding leading to better informed decision making associated with establishing material-at-risk (MAR) limits and safety SSC selection. It is important to note that SODA does not replace or compete with codes such as MACCS or RSAC, rather it is viewed as an easy to use supplemental tool to help improve risk understanding and support better informed decisions. The work was funded through a grant from the DOE Nuclear Safety Research and Development (NSRD) Program.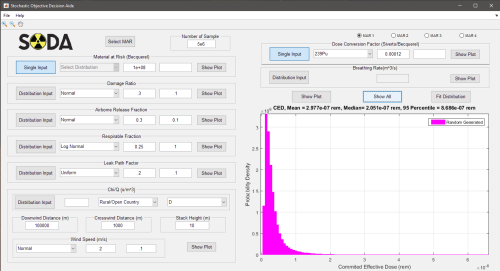 General Installation Instructions
Download the Web Installer, link is found on the left sidebar.
Run the installer, give windows permission to proceed, or contact your system admin for permissions.
Installer will download and install the MATLAB runtime environment, this may take some time.
Installer will then load SODA and finish.
More details instructions can be found in the Help File.
System Requirements
64-Bit Windows or Mac OS. (For MATLAB Runtime Environment)