Pharmacy Day at the Capitol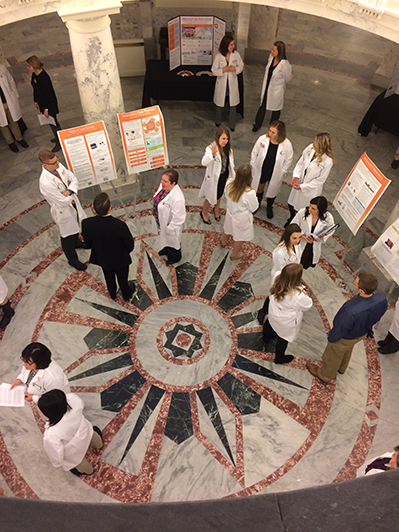 Boise- Idaho State University College of Pharmacy students hosted Pharmacy Day at the Idaho State Capitol Building on Jan. 16. Students set up stations in the Capitol rotunda to offer flu shots as well as several free services including blood sugar testing, cholesterol screening and health information on topics like immunizations, smoking cessation and prescription drug abuse. The services were offered to anyone in the Capitol and members of the public in Boise and the surrounding areas.

While at the Capitol, student pharmacists also spoke with state lawmakers and Lt. Governor Brad Little about issues facing the pharmacy profession. This year's topics included expansion of Medicaid to cover reimbursement for pharmacists providing medication therapy management services, creating additional certifications for pharmacy technicians and promoting the use of Naloxone kits to reverse opioid overdoses.
This event is a yearly tradition for ISU students that not only expand the reach of their health service projects, but also encourages them to engage in issues that affect their professions and prepares them to become leaders in pharmacy. The ISU College of Pharmacy is proud of the students' commitment to pharmacy and the communities they serve.
01/17/2017
Written by: Jake Dixon
Connect with KDHS
208-282-4899
208-282-2946
921 S. 8th
Stop 8055
Pocatello, ID 83209-8055
Imagine yourself at ISU with our virtual 360° tour: http://youvis.it/xYoT2l