Donated Gurney to Help ISU Radiographic Science Students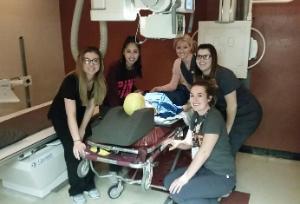 Students in Idaho State University's Radiographic Science Program now have a new tool to aid in their education thanks to the Oneida County Emergency Medical Services. The Oneida County EMS recently donated a gurney to the program. Trevor Ward, instructor of positioning labs, says the stretcher will help students be better prepared for real-world scenarios where they are required to take x-rays with the patient on a gurney.
"Students will now be able to practice trauma radiography on an actual ambulance gurney," Ward says. "Also, students will be able to simulate portable chest x-rays by sitting the simulated patient in the erect position whereas our old table did not have that capability"
Ward says Radiographic Science Program at Idaho State University, is extremely grateful to Oneida County EMS for their generous donation, which will not only help students to succeed, but will benefit their patients when the students begin practicing in Idaho and throughout the United States.
12/16/2016
Written by: Jake Dixon
Connect with KDHS
208-282-4899
208-282-2946
921 S. 8th
Stop 8055
Pocatello, ID 83209-8055
Imagine yourself at ISU with our virtual 360° tour: http://youvis.it/xYoT2l