ISU Counseling Students Spend Thanksgiving Serving in Mexico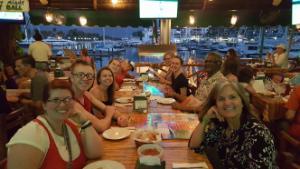 While many students were heading home to be with their families for Thanksgiving, one group from Idaho State University was spending their holiday break in Mexico serving at a domestic violence shelter. The trip is part of a class offered by the ISU Department of Counseling. The group consists of six master's students, one doctoral student, one counseling professional, Clinical Assistant Professor Dr. Thana Singarajah and Assistant Professor Dr. Steven Moody.
"We are going to be spending our entire trip in the Puerto Vallarta area," says Moody, "While there, we will be working with women at a local domestic violence shelter for about 4-5 hours a day and the rest of the time will be spent exploring the Mexican culture in the area."
The course is designed to provide students with a culturally rich experience while looking at mental health issues. But students aren't the only ones who can benefit. The trip is also available for practicing professionals who are looking to continue their education and gain broader experiences.
"The major reason we are doing this is to provide an opportunity for our students and professionals in the surrounding area to experience other cultures, engage in service learning and learn how health care professionals in different countries care for their clientele." Moody said.
Written by: Jake Dixon
Connect with KDHS
208-282-4899
208-282-2946
921 S. 8th
Stop 8055
Pocatello, ID 83209-8055
Imagine yourself at ISU with our virtual 360° tour: http://youvis.it/xYoT2l