Coming Up in the Next Edition of the Bulletin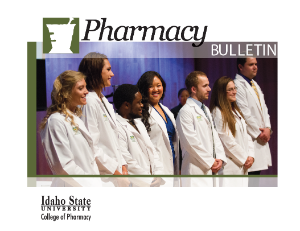 The upcoming edition of the Bulletin contains all the latest news from the Idaho State University College of Pharmacy. Here is a preview of some of the topics that will be covered.
An in-depth look at the College of Pharmacy's expansion into Alaska
A farewell to the graduating class of 2016
A recap of student-led events including the Spaghetti Feed
The White Coat Ceremony for the Class of 2020
Updates from the Departments of Pharmacy Practice & Administrative Sciences, Biomedical & Pharmaceutical Sciences and Experiential Education
Features of our outstanding students, faculty, preceptors, and alumni
A look at the Skaggs Research Symposium
A recap of the 2016 Gem Legacy Banquet
A tribute to the alumni we have lost this year
The Bulletin will begin mailing at the beginning of November. You will also be able to find the digital version of the Bulletin and previous editions on our website by clicking here.
Written by: Jake Dixon
Connect with KDHS
208-282-4899
208-282-2946
921 S. 8th
Stop 8055
Pocatello, ID 83209-8055
Imagine yourself at ISU with our virtual 360° tour: http://youvis.it/xYoT2l