Idaho State University faculty interpreting COVID-19 for Deaf community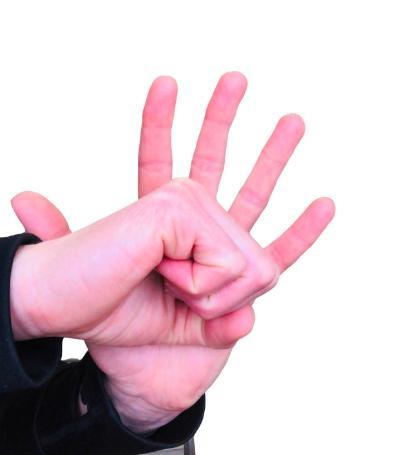 BOISE - March 30, 2020
In response to the COVID-19 pandemic, two new signs have been added to the American Sign Language vocabulary. The sign for COVID-19 is a fist with one hand while the other hand is open and making a "crown shape" that swoops behind the fist. The other sign, for "virus," which in past had been spelled out, is actually the same sign as "snake bite" and other things that are considered dangerous.
BOISE - At a time when many are experiencing information overload surrounding the COVID-19 crisis, not everyone has equal access to all of the critical details of the disease and what to do to help limit the spread throughout Idaho. For at least one of these groups, the Deaf community in Idaho, licensed sign language interpreters who are also Idaho State University faculty are answering the call for help.
Steven Stubbs and LaVona Andrew, along with other interpreters in Idaho, have been preparing for a crisis such as the COVID-19 pandemic for about 15 years. Stubbs is a clinical assistant professor and Andrew is the program chair and clinical assistant professor for the Sign Language Interpreting program at ISU's Meridian campus.
Alongside Idaho Council for the Deaf and Hard of Hearing, Office of Emergency Management, Homeland Security and other officials, they were ready when Governor Brad Little began holding regular press conferences to address COVID-19. They knew in advance that Stubbs would be on camera whenever possible, as the state's only Certified Deaf Interpreter (CDI). A CDI is a person who is Deaf themselves and who interprets using American Sign Language. Stubbs primarily and Andrew, on occasion interpret the governor's announcements into a language understood by not just those who are deaf, but those who are also monolingual users of ASL. This method of interpreting allows the two to render the governor's words into ASL so that those who are hard of hearing or deaf who are also unable to utilize English captions can still get the information they need.
As the governor speaks, Andrew or another interpreter relays the message to Stubbs, who then conveys it using this method. The two say there is only a small amount of time in advance to preview the speeches.
There are about 200,000 people in Idaho who experience some sort of hearing loss, including those who use hearing aids. Of those, about 5,000-10,000 use ASL as their primary language and 2,000-3,000 are monolingual ASL users.
Stubbs gained internet attention during Little's press conference announcing the stay home order for all of Idaho. Comments during the Facebook live presentation both praised and ridiculed his use of exaggerated hand gestures, body movements, and facial expressions. Turns out, those are the only ways to relay the message properly.
"American Sign Language is not visual English. It has its own vocabulary, its own grammatical structure, its own linguistic features," explains Stubbs.
Stubbs says ASL doesn't have prepositions such as over, on, and in.
"Because of the way we use space in ASL, it's 3D so we can replicate that visually to create those different linguistic features that are unique to sign language," he adds. "So you have hand shapes, you have space and location, you also have information on your face, which we call non-manual signals, like eyebrow raising. It emphasizes different parts of the sentence. Or you have mouth movements, not necessarily where there is a word presented but you could illustrate 'some work is being done, or it's tough work or strenuous work,' all of that is indicated through changes and the way you use your mouth. You use your body like an object as well. It's a very visual language. It's not an English word to ASL sign equivalent. It's taking one language and interpreting it into a completely different language."
Andrew says the Deaf community in Idaho has benefited from the advanced crisis preparation, and that because of this planning, there were only a few last-minute details to arrange as the threat of COVID-19 became a reality here. Two new signs were added to the ASL vocabulary. The sign for COVID-19 is a fist with one hand while the other hand is open and making a "crown shape" that swoops behind the fist. The other sign, for "virus," which in past had been spelled out, is actually the same sign as "snake bite" and other things that are considered dangerous.
Andrew's preparations have been focused on researching terms to make sure she can accurately interpret the information to Stubbs, in the moment. "On the other side of the coin, in terms of English, because that's my job, is to get the English and give it to Steven. There are words that I think I know, but now I have to know exactly. I think most people know an epidemiologist is a 'disease doctor' but I had to look at how to express it so Steven can see in the moment that they mean something different than an infectious disease doctor. I have to make sure that my understanding of the English term is as robust as it can be. We work together as a team to make sure that what is said is properly conveyed in the moment," she explains.
Emotionally, interpreting can be a stressful job, similar to emergency response workers, firefighters, and police officers. Interpreters have to control their personal responses to what is being said, and this situation is no different.
"One of the skills that interpreters learn is that we will feel emotions, but how do we handle those in the moment? So interpreting for the COVID-19 press conferences is a stressful situation, but this isn't the most stressful thing interpreters have had to deal with," explains Andrew.
Stubbs adds, "Figuring out a coping mechanism is extremely important for us, especially in the moment while interpreting. While all of this is going on, I'm thinking about my family, but I want to make sure that all deaf people understand what's going on and have the same understanding that I do, because this community is my family. It's a large, extended family and I care for them, and I want to be sure that there is access provided."
Both say as interpreters, they have the responsibility to first render the information, and only when they have finished can they think about and respond from their own personal viewpoints.
The two interpreters both identified this unusual time as an opportunity for those who've been thinking of learning sign language to pursue that goal. Stubbs says there are resources within ISU and across the state for those wishing to learn the language.
For more information about the Sign Language Interpreting program at Idaho State University, visit isu.edu/signlanguage/.