Idaho State University Dental Hygiene professor named top author by Journal of Dental Education
March 17, 2019 - POCATELLO, ID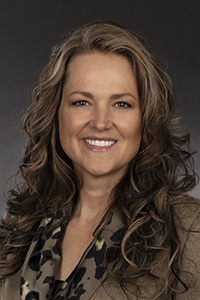 Idaho State University's Leciel Bono, assistant professor for dental hygiene, has been designated as a top author by the Journal of Dental Education (JDE). The prestigious publication selected Bono to receive an Olav Alvares Award for Early Career Scholars Who Published Outstanding Articles in 2018. Each year, the JDE awards four authors of remarkable articles written by those who are just beginning their dental hygiene careers, as assistant professors, instructors, residents, or students.
Bono is being awarded for her article "Post-Graduation Effects of an Advocacy Engagement Project on Alumni of a Dental Hygiene Program." She expressed the endeavor of writing her thesis as "truly a labor of love," and added "The mentoring of the faculty during this process is a demonstration of their commitment to student success."
The Alvares Awards are presented each year at the American Dental Education Association (ADEA) conference. Recipients receive a certificate and monetary award, as well as a photo taken with the Chair of the ADEA Board of Directors and current JDE editor, Dr. Nadeem Karimbux. This year's session was held in Chicago, Illinois on March 17th and Bono was excited to attend.
Bono has had several articles published in the JDE as well as provided workshops at their annual sessions. In regards to the reward, Bono stated, "This award would not have been possible without the support of my thesis committee Dr. Rogo, Kathleen Hodges, Dr. Frantz, and the ISU dental hygiene master's program! I am humbled to be considered for the Olav Alvares Award but I cannot take full credit as it was truly a team effort by my thesis committee, the dental hygiene master's program and Idaho State University."
Ellen Rogo, RDH, PhD, dental hygiene professor for ISU, worked with Bono as her major thesis advisor, working closely with her on research as well as the development of the document that received the award. She shared her excitement for Bono's recognition by saying, "Leciel has the distinction of being a graduate dental hygiene student who developed a theoretical model for the discipline of dental hygiene. This demonstrates the exceptional commitment and collaboration between the faculty and students of the dental hygiene master's program. What we are able to achieve working together, is just one more reason to choose ISU!"
The Olav Alvares Awards began when Dr. Olav Alvares launched the awards during his time as editor of JDE in order to honor as well as inspire scholars as they begin their academic career. When Dr. Alvares retired in 2009, the awards were named after him, recognizing his support and effort he displayed for the journal and early career scholars. Bono's award marks the third time an ISU student has received an Alvares award.
Connect with KDHS
208-282-4899
208-282-2946
921 S. 8th
Stop 8055
Pocatello, ID 83209-8055
Imagine yourself at ISU with our virtual 360° tour: http://youvis.it/xYoT2l