KDHS Honors Distinguished Alumni, Faculty, Students at Annual Awards Reception
May 3, 2019 - POCATELLO, ID
As part of the annual graduation and end-of-year festivities at Idaho State University, the Kasiska Division of Health Sciences (KDHS) celebrates the accomplishments of each school year at an annual reception.
The KDHS awards four Professional Achievement Awards each year to alumni of programs within the division who have made a distinct impact in their industry. These individuals are honored for their contributions to the mission and vision of the KDHS, along with the exceptional levels of excellence they practice in their daily work in the health professions.
College of Pharmacy Professional Achievement Award - Barbara and Dan Fuchs
At a reception in the Stevens Performing Arts Center Rotunda May 3, the College of Pharmacy honored Barbara and Dan Fuchs. Barbara and Dan met and fell in love as pharmacy students at ISU. They graduated in 1985 and married that same year. After graduation, Dan went to work for his father, Richard (Dick) Fuchs at Dick's Pharmacy and Barbara worked for Smith's Pharmacy for 5 years. When Costco Wholesale opened in Twin Falls in 1993, she was hired as their pharmacy manager. She retired as the pharmacy manager in 2017 after 24 years of working at Costco.
Barbara and Dan have been very involved in the pharmacy profession throughout the State of Idaho. Barbara held the position of President of the Magic Valley Pharmacy Association in 1992-1993 and was followed by Dan in 1993-1994. Barbara also received several awards including the Eli Lilly and Company-Ethics Scholarship for Leadership, the Smith Kline and French-Laboratory Award for Superior Achievement in Clinical Pharmacy, and the Idaho State Pharmaceutical Association Certificate of Outstanding Achievement in Scholarship and Service. Both Barbara and Dan have donated their time, talents, and resources to the College of Pharmacy for many years. They have volunteered as preceptors and through the years have helped educate numerous pharmacy students. In addition, they have hired several Idaho State Pharmacy graduates. They have both been active members on the ISU College of Pharmacy Deans Advisory Council for nearly ten years. Without Barbara and Dan's continued commitment, students would not have gained the experiences and expertise on rotations at their 4th year rotations.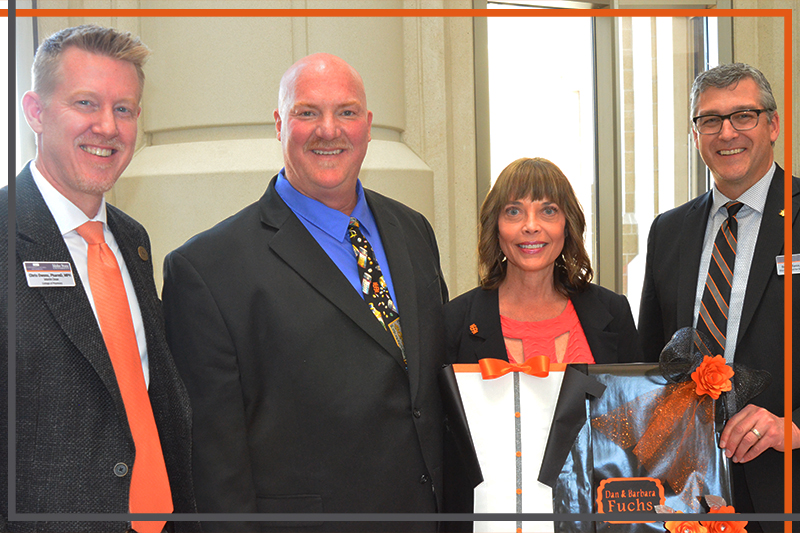 College of Nursing Professional Achievement Award - Joan Agee
The College of Nursing selected Joan Agee as their Professional Achievement Award recipient. Agee is the Chief Operating and Nursing Officer of St. Luke's Health System Medical Center in Nampa. Previously, she served as the vice president of patient care services and chief nursing officer at St. Joseph Regional Medical Center in Lewiston. She holds a bachelor's degree in nursing from University of Alaska, Anchorage, a master's in nursing administration from ISU and a Doctor of Nursing Practice in health care leadership from Gonzaga University in Spokane, Washington. She has held numerous nursing leadership positions for the past 30 years. She is nationally certified as a Fellow of the American College of Healthcare Executives and a certified perioperative nurse. She serves as the president-elect of the Nurse Leaders of Idaho. She is the Idaho State Advocacy Captain for the national Chronic Obstructive Pulmonary Disease Foundation. Her recent work on a scholarly project received the Idaho Qualis Award for innovation and success. She was the recipient of the Idaho Hospital Association 2017 Award of Excellence in Patient Care.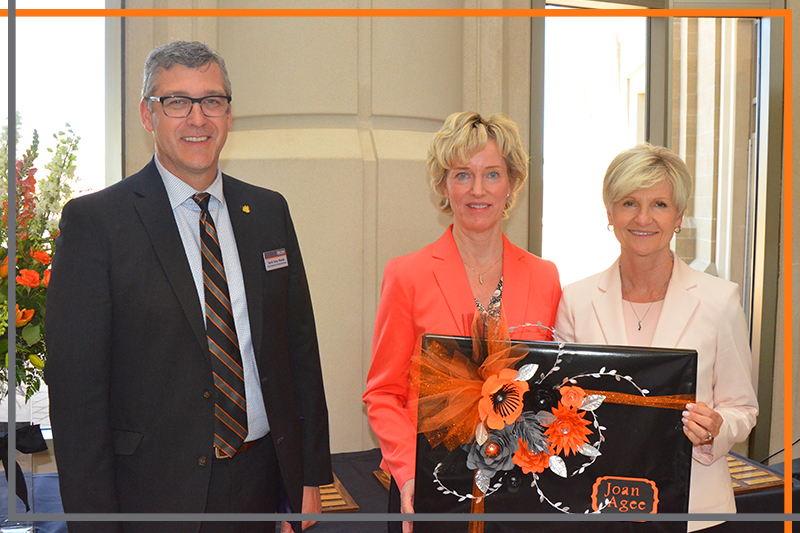 College of Health Professions Professional Achievement Award - Heidi Halverson
The College of Health Professions selected Heidi Halverson as their 2019 Professional Achievement Award recipient. Halverson is a 1980 graduate from the ISU Department of Dental Hygiene and started her career in private practice in Washington, prior to enlisting in the U.S. Peace Corps and subsequently returning to her home state of Montana. She is one of the first dental hygienists in Montana to obtain a Limited Access Permit and is one of the groundbreakers in the movement towards prescription ability and unsupervised practice of dental hygienists. Recently, her efforts were recognized by the American Dental Hygienists' Association (ADHA), for all her outstanding contributions to the profession and community in which she serves. Halverson began her new business Dental Hygiene at Home in Missoula after working in a private practice for 25 years. Dental Hygiene At Home provides dental hygiene services for people who are homebound and unable to get to their dental office. With portable equipment, Halverson is able to go where patients live to provide dental cleanings, scaling, fluoride treatments and dental education. Halverson now works in six long-term care facilities.
College of Rehabilitation and Communication Sciences Professional Achievement Award - Dan Mills
The College of Rehabilitation and Communication Sciences selected Dan Mills as their 2019 Professional Achievement Award recipient. Mills is a practicing physical therapist in Cottonwood Heights, Utah. He specializes in outpatient orthopedics. He currently serves on the board of directors for the American Physical Therapy Association. He has taken 12 humanitarian trips to the developing world to provide wheelchair education to physical therapists along with over 3,000 chairs primarily to West African countries of Sierra Leone, Liberia, Ghana, Togo, and Kenya in east Africa. He has contributed to curriculum for the World Health Organization. He enjoys Ironman Triathlons and canyoneering in the slot canyons of southern Utah. His start at Idaho State in 1996 was formative in his desire to serve and to make a difference. Mills graduated from ISU with a master's degree in physical therapy in 1998 and earned a Bachelor of Science Degree in kinesiology and exercise science from the University of Utah in 1996.
Vice President's Excellence Award - Dr. Mark Roberts
Also honored at the KDHS reception was Dr. Mark Roberts from St. Luke's Health System. KDHS Vice President for Health Sciences Dr. Rex Force presented Roberts with the Vice President's Excellence Award.
The Vice President for Health Sciences' Excellence Award is presented annually to individuals who have made meaningful contributions to the success of the Kasiska Division of Health Sciences at Idaho State University. Dr. Mark Roberts of St. Luke's Health System is the recipient of the award for 2019. Roberts was also honored at the ISU-Meridian commencement ceremony on May 6.
Because ISU's health sciences programs operate without an academic medical center, a unit that is critical for the learning process of their students, ISU and the Kasiska Division of Health Sciences are dependent upon community partners, such as hospitals and clinics, to provide the practical training health professions students require. In addition, these partnerships also offer opportunities for research collaboration. Mark Roberts, MD, MMM and the St. Luke's Health System will receive this year's Vice President's Excellence Award for being stalwart supporters of ISU.
Dr. Roberts, who is now the Administrator for Clinical Research, came to St. Luke's Health System in January, 2012 to become the inaugural Medical Director for Research. This subsequently expanded to include oversight for Medical Education for residents, and medical, physician assistant, and nurse practitioner students. Clinical research at St. Luke's has grown to include more than 240 active clinical trials spanning a number of disciplines and specialties. A division of Applied Research was created in 2014 with both academic and community partners focusing on healthcare delivery research relating to population health, quality of life and economic improvements. Robert's current title is Administrator Clinical Research.
"Dr. Roberts has assisted with coordinating thousands of hours of practical experiences for ISU's health professions students within the St. Luke's Health System. From pharmacy students to family medicine residents to audiology and medical laboratory science students, we are grateful for the opportunities provided for our learners," says Force.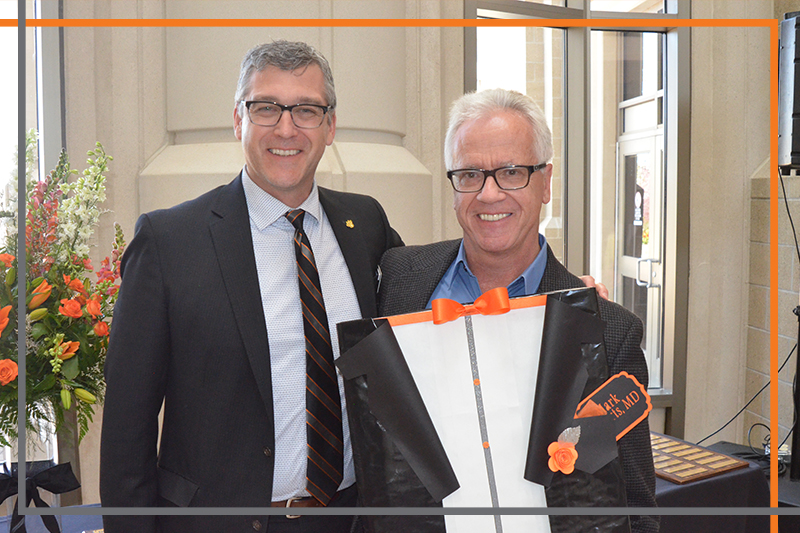 KDHS Graduates of Distinction, Outstanding Student Achievement Awards, and Distinguished Faculty
The KHDS took time during the reception to honor three students with Graduates of Distinction awards, who received a $200 award along with their recognition during the reception. These students were:
Tanna Woods, College of Nursing, Outstanding Researcher
Jacob Crossley, College of Pharmacy, Outstanding Leader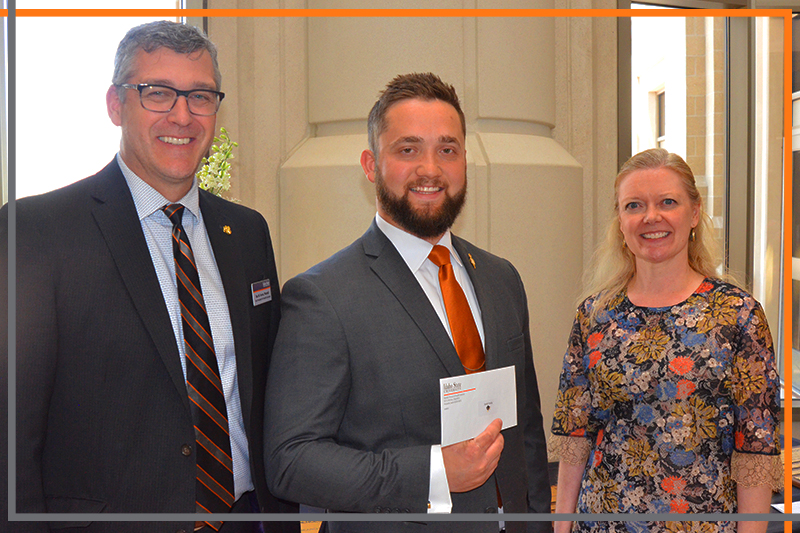 Elizabeth Overdorf, College of Health Professions, Department of Radiographic Science, Outstanding Clinician
Five other students, honored as Oustanding Student Achievement Award recipients in an earlier ceremony by the ISU Alumni Office, were recognized at the KDHS reception as well. These include:
College of Health Professions: Kirby Kinghorn (emergency management) and Cassandra Smith (dental hygiene)

College of Pharmacy: Trager Hintze

College of Rehabilitation and Communication Sciences: Jenna Strop (communication sciences & disorders)

College of Nursing: Whitney Heuer (accelerated nursing)
Also honored during the annual reception were Distinguished Faculty members of the KDHS:
Outstanding Service Recipient: Cindy Seiger, PT, PhD, GCS, CEEAA (physical therapy)
Other nominees for Distinguished Faculty awards include:
Nominated for Outstanding Master Teacher: Wendy Mickelsen, MHE, RT(R)(M)(ARRT) (radiographic science)

Nominated for Outstanding Service - Karissa Miller, MS, CCC-SLP (speech language pathology)
Nominated for Outstanding Service: Theodore Peterson, DrOT, MBA, OTR/L (occupational therapy)
Connect with KDHS
208-282-4899
208-282-2946
921 S. 8th
Stop 8055
Pocatello, ID 83209-8055
Imagine yourself at ISU with our virtual 360° tour: http://youvis.it/xYoT2l