ISU readies Meridian campus for physical therapy program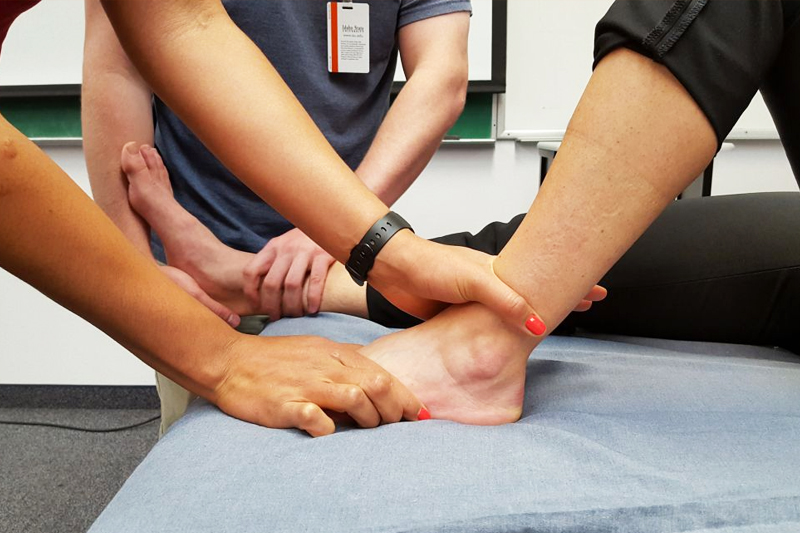 ISU physical therapy students examine and assess an ankle
June 7, 2018 - MERIDIAN, ID
Idaho State University will offer the Doctor of Physical Therapy degree at its Meridian campus this fall.
The national Commission on Accreditation in Physical Therapy Education granted final program approval in May, according to ISU's Deanna Dye, program director and associate professor.
"Expansion of the three-year program will add 24 seats to Meridian, complementing the existing 24 in Pocatello," said Dye.
The new digs are part of a $3.4 million, 30,000-square-foot build-out on the second floor of the Sam and Aline Skaggs Health Science Center at ISU-Meridian. The project includes orthopedic skills and neuromanagement laboratories, offices, a wellness room, and classrooms equipped with distance-learning technology to connect Meridian to Pocatello.
Classrooms and labs on the Pocatello campus have also been upgraded to accommodate the program expansion and ensure physical therapy students on both campuses share comparable educational experiences. Renovations include a new ventilation system in the anatomy and physiology labs, remodeled classrooms, and state-of-the art distance-learning equipment.
PTs in demand
Physical therapists or PTs help people improve their movement and manage their pain after an injury, surgery, disease or a catastrophic event like a stroke, spinal cord or traumatic brain injury.
"Our job is to get you moving, functioning and enjoying life again," Dye said.
Employment of physical therapists is projected to grow 25 percent nationally through 2026, according to the most recent statistics from the U.S. Department of Labor.
In Idaho, the job outlook is even better with the profession expected to grow 30 percent through 2024 with PTs earning a median hourly wage of about $38, reports the Idaho Department of Labor. ISU offers the only doctorate of physical therapy program in Idaho.
Connect with KDHS
208-282-4899
208-282-2946
921 S. 8th
Stop 8055
Pocatello, ID 83209-8055
Imagine yourself at ISU with our virtual 360° tour: http://youvis.it/xYoT2l